MindOnMap Free Image Upscaler Online
Magnification:

2x

4x

6x

8x

Image Upscaler Online
Please long press on the image to save it
Back
Enhance Images Automatically by AI Technology
With the advanced AI technology, MindOnMap Free Image Upscaler Online enables you to enhance your video quality without extra operations. For instance, when you get a tiny blurry photo from others, and you want to make this picture clearer, you can use this tool to fix and enlarge this photo. After using this image upscaling tool, you can check more details of your images easily.



Provide Various Options for You to Enlarge Photos
In addition, if you want to make your images bigger, you also can use MindOnMap Free Image Upscaler Online. Choose the magnification times from 2X, 4X, 6X, and 8X based on your needs before uploading your images, and then you will get images with the resolution changed. Therefore, when you are bothered by small pictures, you can try to use this online tool. And because of multiple choices of magnification times, you can get your photos with different resolutions.

Upload Images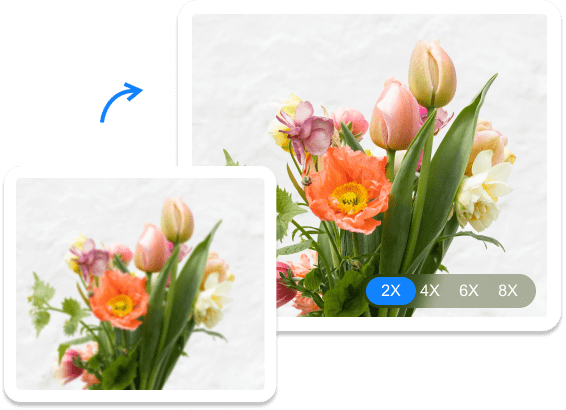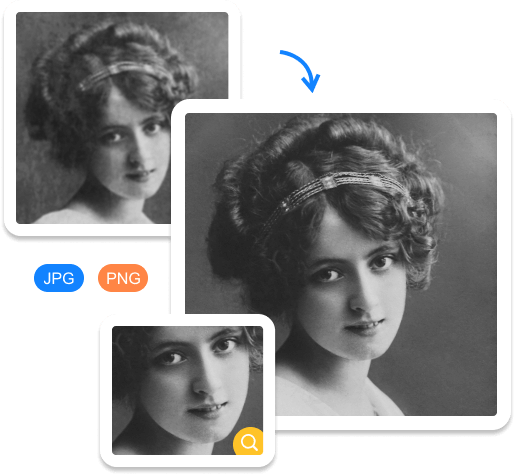 Upscale JPG/PNG Pictures Whatever Your Goal Is
Usually, you find old pictures from your parents or grandparents, but they are blurry and small. You can use MindOnMap Free Image Upscaler Online to restore their original appearances. Sometimes, you may take blurry photographs when you are moving, and then you can use this free tool to improve the quality of your photos. You also may get blurry images from the internet because of your poor network, and you can use this tool to make these images sharper later.

Upload Images
Why Choose MindOnMap Image Upscaler
No Watermark
You will get your image without any watermarks after enhancing your image quality with MindOnMap Free Image Upscaler Online.
Simple Operation
You can use MindOnMap Image Upscaler to change your image resolution with one click, which is easy to operate.
100% Online
Using MindOnMap Image Upscaler to sharpen your images does not need you to download anything on your computer.
Available on All Browsers
You can use MindOnMap Image Upscaler without browser limitation, including Chrome, Firefox, Microsoft Edge, Safari, etc.
User Reviews
Check what our users say about MindOnMap Image Upscaler and try it yourself.

Joey
It's a very intuitive platform and very easy to use. There are no issues with the different processes.

Ricky
It did make a noticeable improvement to a fuzzy photo that I have. It will help improve photos for people who don't do their photo editing.

Maria
It is helpful when I want to make my photos larger and sharper. And the process is easier and quicker than other tools I used before.
FAQs About MindOnMap Image Upscaler
How can I upscale a picture?
You can use MindOnMap Image Upscaler to upscale your image by choosing the magnification times and clicking the Save button.
Does upscaling improve picture quality?
Yes. Upscaling is a process that increases an image's pixel count to a higher resolution. So, upscaling improves the picture quality.
Is MindOnMap Image Upscaler free?
Yes, MindOnMap Image Upscaler is free. You do not need to purchase any plans to enjoy its functions.
Is 1080p better than 720p?
1080p is clearer and smoother than 720p, but the size of the 1080p image is larger than the 720p image.
MindOnMap Free Image Upscaler Online
Upload Images
Enjoy More Helpful Tools from MindOnMap

Free Watermark Remover Online
MindOnMap Watermark Remover is an easy-to-use watermark eraser that helps remove watermarks, logos, texts, etc., from any photos.
Try Now
Free Background Remover Online
Remove the background from JPG/JPEG/PNG images online for free. It also supports changing the image background.
Try Now
Free PDF JPG Converter Online
Enables you to convert PDF to JPG or JPG to PDF online easily. This tool supports other file converting, like DOC, PNG, etc.
Try Now