Brush Size:

Guide

1. Polygonal: Click the left mouse button to identify a point at a time.

2. Lasso: Long press the left mouse button to lasso the watermark area.

3. Brush: Long press the left mouse button to select precisely.

4. Eraser: Erase unnecessary parts from the selected area.

5. Click the Remove button to start effacing the unwanted watermark.

Remove

Watermark Remover
Please long press on the image to save it
Back
Current status will not be saved. Are you sure go back to Home?
Due to the change in size of your browser window, we need to initialize display settings to avoid a messy webpage.
When You Can Use MindOnMap Watermark Remover
Remove Text
Remove Logo
Erase Object
Delete Date








Select Exact Watermark Area to Delete
MindOnMap Free Watermark Remover has multiple tools you can use to select the watermark area and erase it, including the Brush tool, the Lasso tool, and the Polygonal tool. Because of these tools, you can select the exact watermark area no matter what types and shapes of watermarks you want to remove. Therefore, you can use this eraser to delete watermarks from pictures without damaging other parts.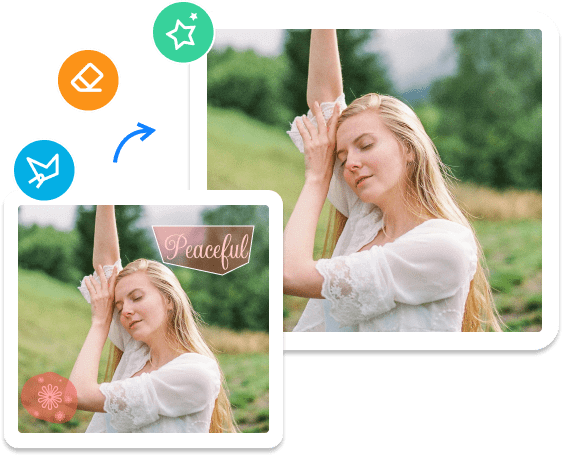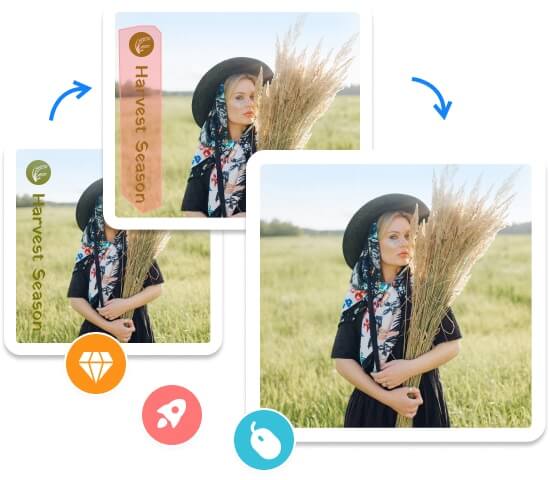 Erase Watermark from Images No Trace Left
If you worry that removing watermarks from photos will damage your original image content and quality, you can use MindOnMap Free Watermark Remover Online. This tool can erase watermark from photos without any trace left. Besides, it is a simple-to-use watermark remover that can help you or beginners remove watermarks quickly online. The whole watermark removing process only takes three steps: upload the image, choose the watermark area, and get rid of the watermark.
Why Choose MindOnMap Watermark Remover
Support All Images
This watermark remover supports removing watermarks from photos, like JPG, JPEG, PNG, BMP, etc.
Totally Online
When using MindOnMap Watermark Remover, you can remove watermarks online without installing anything.
Safe to Use
MindOnMap does not bring any virus to your device or disclose your privacy when and after your use.
No Advertising
When you are using MindOnMap Watermark Remover, your use process will not be disturbed by any ads.
User Reviews
Check what our users say about MindOnMap Watermark Remover and try it yourself.
Rex
Rex
MindOnMap Watermark Remover is a great photo editing tool. It helps me remove watermarks from my pictures when I use other tools to edit them and get pictures with watermarks.
Vicky
Vicky
I found that some of my photos have unwanted objects, and I used MindOnMap Watermark Remover to erase these objects from photos successfully.
Silvia
Silvia
I think that MindOnMap Free Watermark Remover is better than other watermark removers because it also enables me to crop images when removing watermarks.
FAQs of MindOnMap Watermark Remover
What is a watermark?
A watermark is a logo, pattern, image, or text placed on pictures or videos. A picture or video with a watermark can make others use or copy this picture or video become difficult.
How to remove a watermark from a photo?
Enter MindOnMap Watermark Remover's official page, click the Upload Images button to select the photo, use Brush, Lasso, or Polygonal to select the watermark area, and click the Erase button to remove the watermark.
Can I use this watermark remover in Safari?
Yes. MindOnMap Watermark Remover can be used in all browsers, including Chrome, Safari, Firefox, Microsoft Edge, etc.
How to erase date stamps from photos taken by cameras?
You can use MindOnMap Watermark Remover to remove the date stamp from photos.
MindOnMap Free Watermark Remover Online
Enjoy More Helpful Tools from MindOnMap
Free Background Remover Online
Remove the background from JPG/JPEG/PNG images online for free. It also supports changing the image background.
Try Now
Free Image Upscaler Online
It enables you to improve your image quality and make your photos larger free online. It is a powerful tool with an easy interface.
Try Now
Free PDF JPG Converter Online
Enables you to convert PDF to JPG or JPG to PDF online easily. This tool supports other file converting, like DOC, JPG, etc.
Try Now