Upload files.
Choose a format.
Click Convert All.
Save the file.
Change PDF to PNG Easily
MindOnMap Free PDF PNG Converter Online can help convert PDF files to PNG images. When you think your PDF files are too large to send to others, you can use this PDF to PNG converter to turn your PDF files into PNG images. And the converted PNG image can show the content of your PDF clearly. Furthermore, it is an easy-to-use PDF to PNG converter with a straightforward interface and detailed guide.

Upload PDF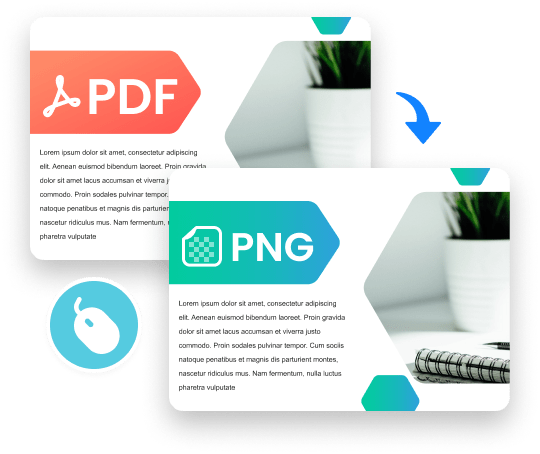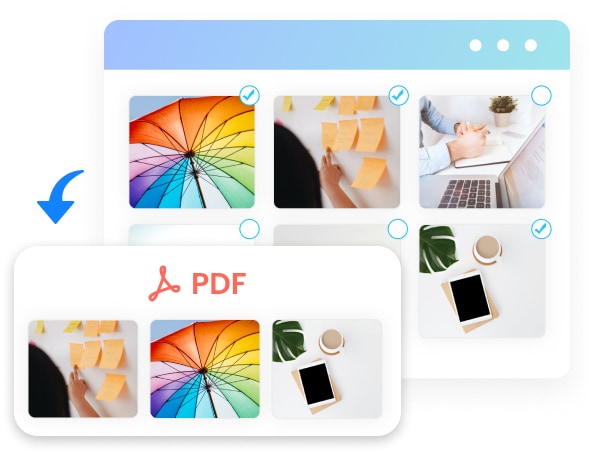 Turn Multiple PNG Images into One PDF File Accurately
Moreover, you can change PNG images to PDF files with this PNG to PDF converter. When converting, if you have a lot of PNG photos, this tool supports batch converting them to PDF files one by one. Besides, if you want to turn your multiple PNG images into one PDF file, you also can use MindOnMap Free PDF PNG Converter Online. What's more, because of the OCR technology, the PDF file you get will present the content of your PNG image clearly and accurately.

Upload PNG
Encrypt Converted Documents Based on Your Needs
Nowadays, many PDF files are protected by passwords. To meet the needs of the majority, MindOnMap Free PDF PNG Converter Online launches a function that enables you to encrypt PDF, DOC, and other files before converting images to these files. To encrypt your files, you should enter your password into the box of Document Encryption after uploading images.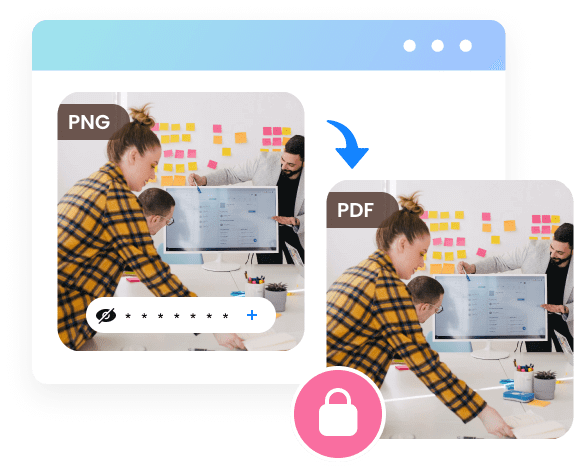 Why Choose MindOnMap PDF PNG Converter
Convert Online
MindOnMap PDF PNG Converter is an online file converting tool. You do not have to install anything on your device to use it.
Free to Convert
This PDF PNG Converter lets you convert PDF to PNG or change PNG to PDF for free.
Change Quickly
The file uploading and converting speed of MindOnMap PDF PNG Converter is rapid as long as your network is stable.
Support Various Files
Except for converting between PDF and PNG, you also can use this tool to convert Word, Excel, PPT, JPG, BMP, TIFF, etc.
User Reviews
Check what our users say about MindOnMap PDF PNG Converter and try it yourself.
Arthur
Arthur
It is my first time using MindOnMap PDF PNG Converter, and its straightforwardness is beyond my expectation.
Brent
Brent
Thanks to the help of MindOnMap, I can successfully change mine over 30 pictures into one PDF file without quality loss.
Monica
Monica
About MindOnMap Free PDF PNG Converter, the thing I love best is that it is not only a PDF PNG Converter but also supports other file formats.
FAQs About MindOnMap PDF PNG Converter
How do I convert PDF to PNG?
MindOnMap Free PDF PNG Converter Online can help you change PDF to PNG. Here are the steps:
1.Click the Upload PDF button to choose the PDF file you would like to convert;
2.Click the Convert All button to finish turning PDF into PNG.
What is the best PDF to PNG converter?
Many PDF to PNG converters are good, including CloudConvert, FreeConvert, Convertio, and more. MindOnMap PDF PNG Converter is also an excellent tool.
Is PNG or JPEG better?
If you need an image without quality loss, PNG is better than JPEG. If you need pictures not to occupy your storage space too much, JPEG is better than PNG.
MindOnMap Free PDF PNG Converter Online
Upload Files
Enjoy More Helpful Tools from MindOnMap
Free Background Remover Online
Remove the background from JPG/JPEG/PNG images online for free. It also supports changing the image background.
Try Now
Free Image Upscaler Online
It enables you to improve your image quality and make your photos larger free online. It is a powerful tool with an easy interface.
Try Now
Free PDF JPG Converter Online
Enables you to convert PDF to JPG or JPG to PDF online easily. This tool supports other file converting, like DOC, PNG, etc.
Try Now
Thank You!
Your Feedback has been submitted successfully.