Reviewing 7 Remarkable Org Chart Makers for Knowing the Most Comprehensive Tool for You
A concrete structure is a must In every organization or company. As we all know, one of the organizational communication goals is the structural goal. This element possesses a considerable part in strengthening the foundation of your group. That is why an org chart is an essential diagram that we must have. This diagram will help us in presenting the status and the connection hierarchy. This chart aims to help us showcase the structure of your company, business, or organization. Therefore, if you want to create your chart for a better organization system, this post can help you. Join us as we review and unveil the seven of the best org chart makers for desktop and online usage. These tools are PowerPoint, OneNote, EdrawMax, Word, MindOnMap, Venngage, and Canva. Let us review their features, pros, cons, and more details. In the end, we are hoping that you can choose the most suitable tool for you.

Part 1. 4 Org Chart Creator Programs
PowerPoint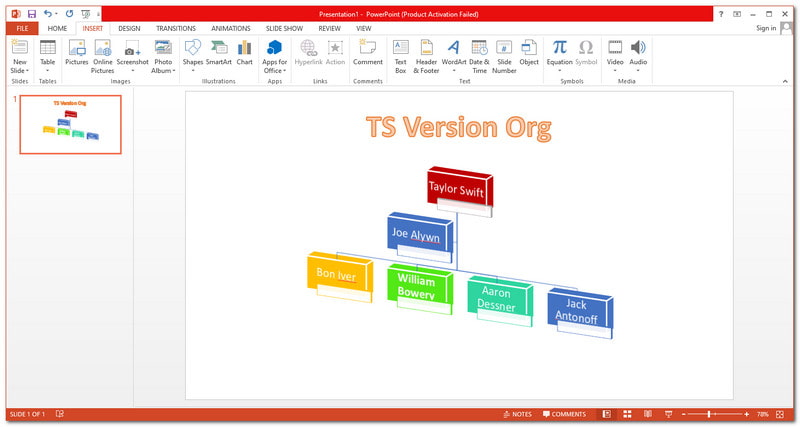 First on the list is PowerPoint. This tool is from Microsoft, which means we can expect tremendous features. As we all know, Micosftsoft offers the most excellent features and tools that we can use in layouts and editing different charts and presentation mediums. PowerPoint possesses other elements in creating org charts. We can now get an org chart with ease through its SmartArt feature. Then after that, we can use its different aspects like the shapes, colors, and symbols. In addition, this tool also will allow you to present your file to your workmates directly. However, you can also save your outputs with different file formats. That is only an overview of its features. We can use more of it as we try to use it.
PROS
Professional chart and presentation maker.
Great with performance.
Trusted by many users.
CONS
The tool is not for free.
OneNote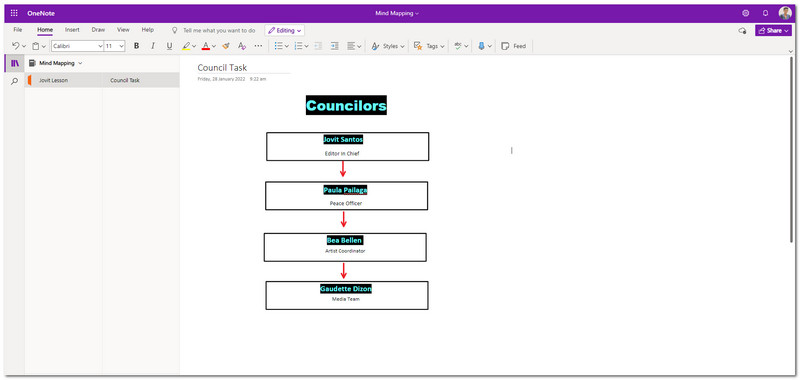 OneNote is another excellent tool that we can use for creating org charts. This tool is perfect, especially for the students. The devices help academic personnel create their files and presentations for educational purposes. That means it is also effective for creating an org chart with ease. As we all know, an org chart is essential for an institution, administration, classroom officers, councils, and even a single group for a thesis. Its features possess an outstanding performance and intuitive interface. No wonder why OneNote is one of the best tools in the market.
PROS
Intuitive and smooth interface.
The process is hassle-free.
Its features are straightforward to utilize.
CONS
The premium version is expensive.
EdrawMax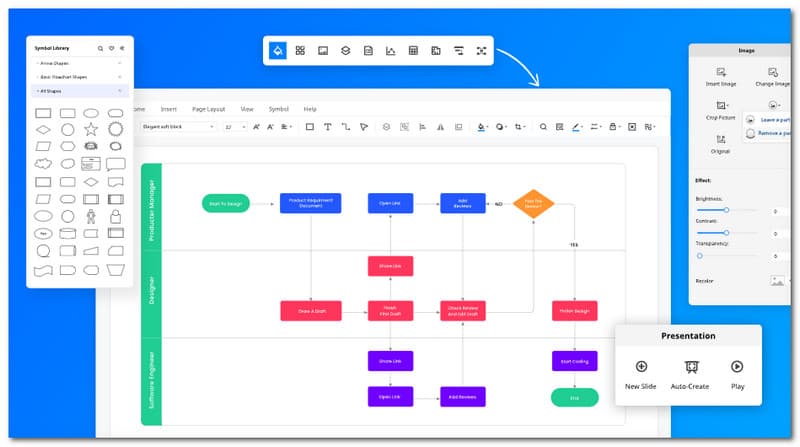 EdrawMax is another incredible tool that can help us quickly make an org chart. This tool is a suitable medium for the user who needs a tool that can perform collaboration of ideas and plans. As we can see from its interface, the tool aims to help professional users like people in business create the chart they need. Through the features it offers, we can make sure that you will have a fantastic creating experience with EdrawMax.
PROS
Spotless interface.
Superb elements and features.
CONS
It is overwhelming at first.
The tool is not for free.
Word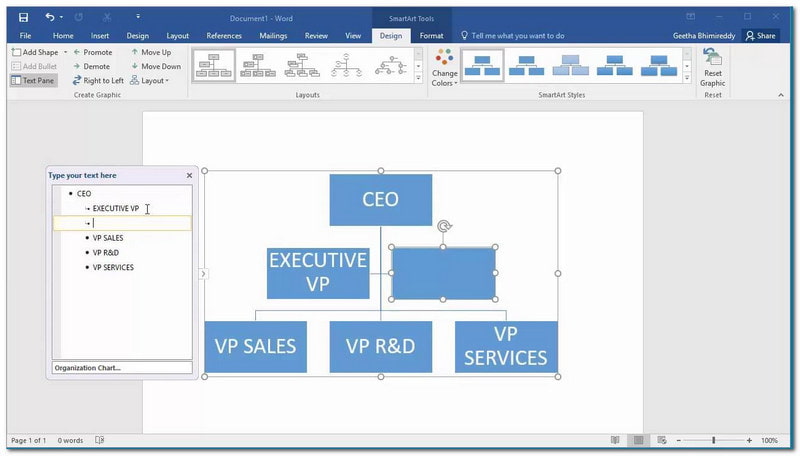 Proceeding with the fourth easy org chart maker, Word is an infamous tool that can create different kinds of document files. This feature also includes creating various charts and diagrams. We also know that Word is from Microsoft, like PowerPoint. Word also possesses a fantastic SmartArt feature where we can easily make our org chart.
PROS
The software is very flexible.
Easy process of creating documents.
CONS
The tool is overwhelming to use at first.
Part 2. 3 Org Chart Creators Online
MindOnMap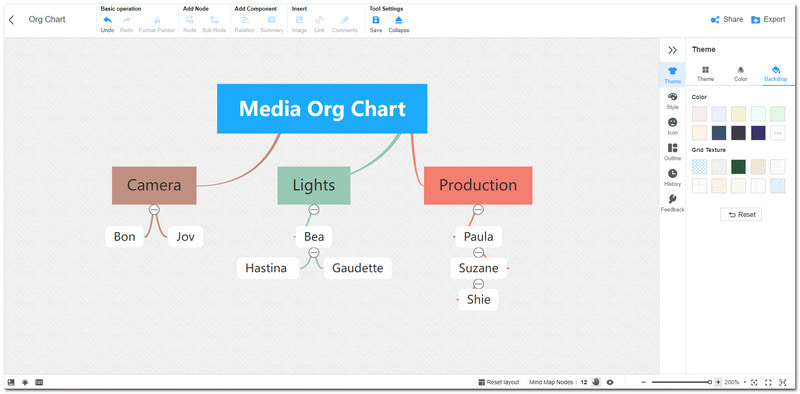 As we go with the best online tool, MindOnMap is first on the list of being the best org chart tool. This online tool is free yet equips impressive features. We can now have a flexible process of creating our maps or charts through this mapping tool. The device possesses ready-made templates and styles that you can use immediately. It has an awesome font, color palettes, and background designs. In addition, this online tool can produce super-high-quality outputs with different kinds of results.
Furthermore, MindOnMap is also an excellent tool for users who want to add some aesthetic aspects to their chart. That is possible because the tool possesses unique icons and symbols. In addition, adding images to your chart is also possible for a more comprehensive chart of our organization.
PROS
It has various features.
The tool offers great templates and themes.
The process of creating is straightforward.
The output is high-quality.
All of the features are free.
Accessible for everyone.
CONS
It requires the internet when using it.
Venngage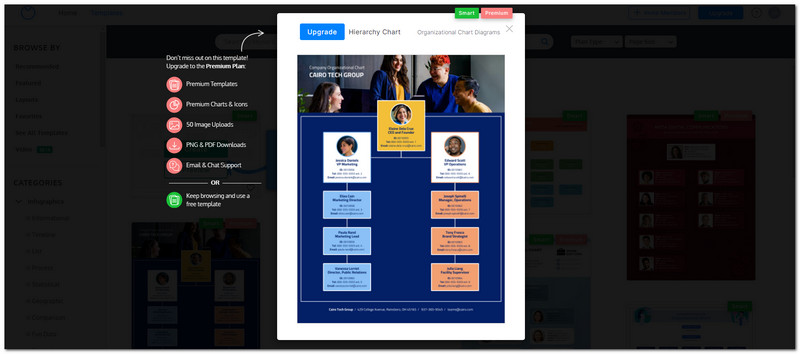 Venngage is an addition to the org maker that is easy to use. This medium is a professional online tool that will enable everyone to create their chart easily. Many big companies around the world trust this tool. That is because of its ability to offer unique features for everyone. Venngage does not require any skills or experience with editing a pub mat because the tool is straightforward to understand and use at the same time. In addition, the tool possesses unique features such as importing icons, customizable org charts, and the ability to access royalty-free images. These features are a massive factor in why many users choose Venngage over other tools.
PROS
It is an adaptable maker.
Less complicated process.
24/7 customer service.
Canva
Canva is the third on the list of the online tools that we can use for creating an org chart comprehensively and professionally. This tool is famous for being adaptable and incompatible with different platforms. This tool is suitable for online tools and applications. Despite that, Canva possesses very flexible features for us. It has incredible features that are very easy to use. Many professionals are using this because of its quality and outstanding performance.
PROS
Incredible templates are available.
A smooth process is guaranteed.
CONS
Its full version is expensive.
Part 3. Compare These Makers in a Table
| | | | | | | | | | |
| --- | --- | --- | --- | --- | --- | --- | --- | --- | --- |
| Tree Diagram Makers | Platform | Price | Money Back Guarantee | Customer support | Ease-to-use | Interface | Features | Availability of Default Theme, Style, and Background | Extra Features |
| PowerPoint | Windows and macOS | $35.95 | 30-day Money Back Guarantee | 8.7 | 8.5 | 9.0 | 8.5 | SmartArt | Slideshow maker, animations |
| OneNote | Windows and macOS | $6.99 | 30-day Money Back Guarantee | 8.7 | 9.0 | 8.9 | 9.0 | Teamplates, Custom tags | Web clipper. Data organization, virtual notebook |
| EdrawMax | Windows and macOS | $8.25 | 30-day Money Back Guarantee | 8.7 | 9.0 | 8.9 | 9.0 | P&ID Drawing, Floor design | Scale diagram, share visuals |
| Word | Windows and macOS | $9.99 | 30-day Money Back Guarantee | 8.7 | 8.5 | 9.0 | 8.5 | SmartArt | Slideshow maker, animations, merge documents, hyperlink |
| MindOnMap | Online | Free | Not Applicable | 8.7 | 8.5 | 9.0 | 8.5 | Theme, Style, and Background | Insert pictures, Work plan |
| Venngage | Online | $19.00 | 30-day Money Back Guarantee | 8.6 | 8.6 | 9.0 | 8.5 | Templates, import icons, styles, background | Manager, storage, collaboration |
| Canva | Online | $12.99 | 30-day Money Back Guarantee | 8.6 | 8.6 | 9.0 | 8.5 | Templates, icons, emoji, GIF | Slideshow maker |
Part 4. FAQs about Org Chart Creators
Can I add a fancy background with my Org Chart?
Yes, adding a different background with your Org Chart is possible. There are different backgrounds with various styles that you can use. In line with that, MindOnMap and Word are two great tools you can use to make it possible. They offer outstanding features, including changing the background of your chart.
Is adding animation with my chart possible?
Adding an animation with a good chart is possible. We all know that these animations can be an excellent medium for emphasizing a certain point in your chart. One of the tools you can use is PowerPoint. It offers features in line with adding animation to your org chart.
Is the Org chart the same as organograms?
Org charts are also popular as hierarchy charts or organograms. Therefore, the org chart and organograms are the same. They present the structure within an organization and the relationship between them.
Conclusion
In concussion, we can see the importance of an org chart with your business and organization. It will serve as a structure and foundation for your colleagues. In line with that, we can see the seven great org chart makers you can use. They vary with two aspects- the program and online tool. We suggest that you try to use PowerPoint for program tools because of its flexible features. On the other hand, you can try MindOnMap for online procedures. It is free and possesses many features that you may enjoy.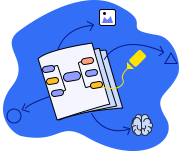 Create Your Mind Map as You Like
Get Started