How to Make a Mind Online for Free with Useful Mind Map Makers
Perhaps you are trying to learn complex and complicated concepts. The procedure of creating a mind map will help you with this kind of need. Mind maps can help you understand the topic better, and a mind map tool allows you to recall the information being dissected better. It is indeed an excellent study material for reviewing and understanding lessons.
Mind map making promotes better comprehension rather than traditional notes. It uses visuals, analogy, associates, and abstractions, stimulating creativity and memorization since it is brain-friendly. Therefore, we will demonstrate how to create a mind map online using the best mind map makers you can find on the web. After the jump, you should learn how to make this visual illustration yourself.

Part 1. Best Way to Create a Mind Map Online
The first tool we have is MindOnMap. It is a web-based utility developed to make a mind map, tree diagram, fishbone diagram, flowchart, and other diagram-related tasks. The tool offers useful pre-designed templates for mind maps or concept maps. On the other hand, you could also make a template from scratch. Besides, it comes with the essential customization tools and dedicated shapes, icons, and elements you need for making mind maps.
The intuitive editing interface is one huge reason this program is the best mind map online tool. Whether first-time or repeat users, you will always find the program easy to operate and handle. Another highlight is that you can definitely share your diagram with other people you shared the diagram link with. Below we listed the steps on how to make a mind map online using MindOnMap.
1
Launch MinOnMap on a web browser
First, open a browser you commonly use and go to its official page by typing the tool's link on the address bar of your browser. Then, you should arrive at the home page. Next, tick the Create Your Mind Map to begin the process of creation.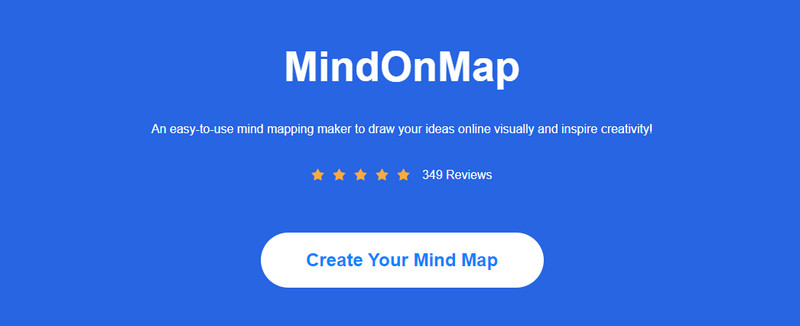 2
Select the mind map layout
It should bring you to the dashboard, where you will see different layouts and themes for mind map making. Now, select MindMap from the selection, and you will get to the main editing panel.

3
Add nodes to the mind map
This time, select the central node and press the tab on your keyboard. You can also tick the Node button on the toolbar above the interface to add nodes. Repeat the steps to get your desired number of nodes.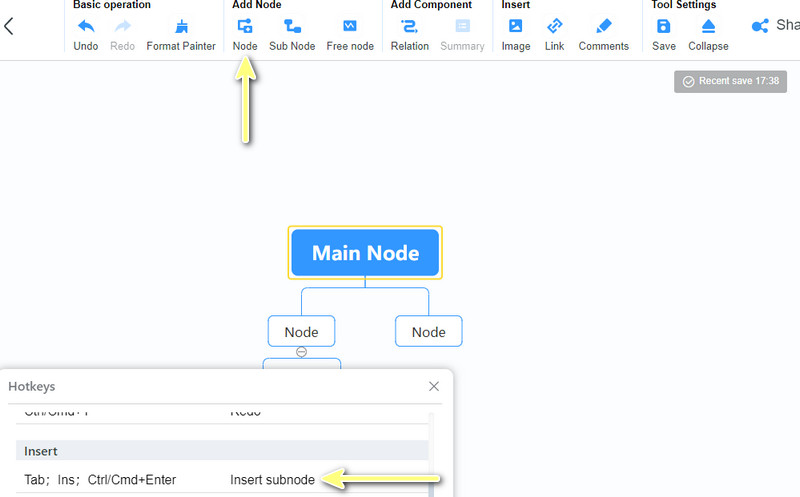 4
Edit your mind map
Now, edit your mind by expanding the Style menu on the right side menu. Here, you can edit the node fill, shape style, line style, color, font color, style, and alignment. In addition, you can adjust the style of the connection line or layout by switching to the Structure tab.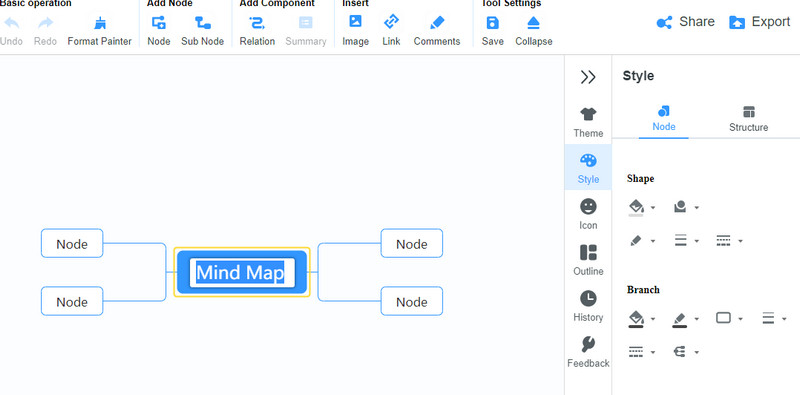 5
Style the overall map with a theme
At this point, go to the Theme menu to adjust the entire appearance of your mind map. You may select from the available themes to suit your needs or topic. You can also switch to the Backdrop tab to change the background.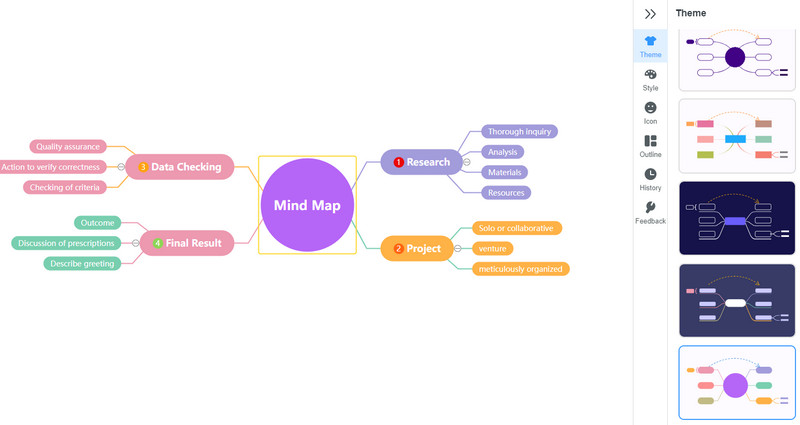 6
Share and export the mind map
At last, tick the Share button at the top right portion of the interface, get the mind map's link and share it with your friends or colleagues. You may also secure the map with a password and date duration. In case you incorporate it into other apps, you can hit the Export button and select the appropriate format. You can choose between SVG, PNG, JPG, Word, and PDF Files.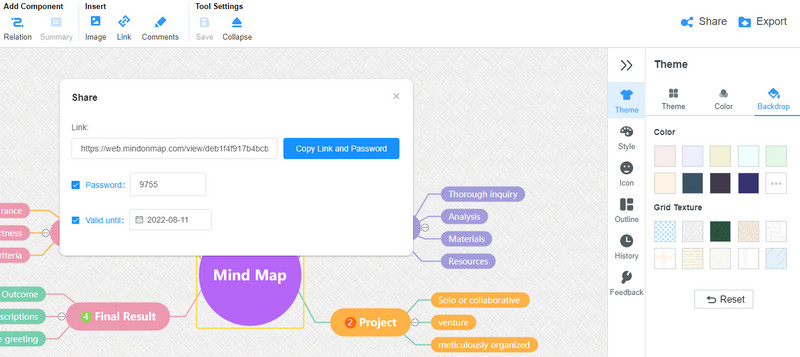 Part 2. Other Three Popular Ways to Create a Mind Map Online
No such application or program possesses all the features different users are looking for. That said, we looked for other ways to assist you in making a mind map online. Here are some tools we recommend you to use to create a mind map online.
1. Coggle
This is another great program to make a mind map for studying, teaching, and presenting. It is perfectly made for those who do not have any experience with mind mapping. It comes with a simple interface that can be navigated by any user within a few minutes. Moreover, the way it creates mind maps is colorful and organic. Suppose you are used to operating with shortcut keys. The tool supports keyboard shortcuts for inserting a node, child note, format text, remove a branch, insert branch, zoom, redo, and undo. Listed below are the guidelines on how to make a mind map online for free using Coggle.
1
Navigate the tool's main page using any browser on your computer. Then, sign up for an account to utilize its service.
2
Afterward, tick the Create Diagram from your dashboard to arrive at the main editing interface.
3
Next, hit the Plus icon that appears as you hover over the central theme. Next, click the text and key in the information you wish to insert. Then, some icons for editing the text, adding a link, pictures, etc.
4
Finally, hit the down arrow icon on the top right portion or the up arrow icon to share the mind map.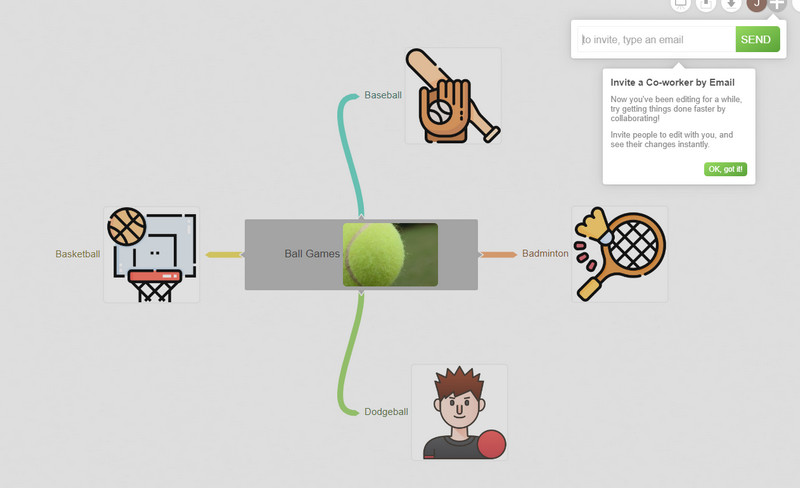 2. Mindomo
If you are looking for another that will help you learn how to make a mind map online for free, you should consider using Mindomo. It has the essential tools for making unique and creative mind maps. Using this program, you can insert multimedia files, including pictures, videos, icons, and audio recordings. Apart from that, you can also add comments, detailed descriptions, and hyperlink.
On top of that, the tool features a presenter to customize what appears on the screen when presenting your mind map. In addition, you can have a preview of how it looks like in the actual presentation. Please rely on the instructions below if you want to learn how to use this tool.
1
Visit the main website of the tool and sign up for an account to use the web-service app.
2
Next, tick Create from the dashboard and start making your mind map. Alternatively, you can import files to load your previous work.
3
Next, right-click on the central node and choose the action you need. You can add nodes by hitting the Plus icon. Also, it allows you to change the layout, customize, and much more.
4
Lastly, share the map with others by ticking the Share button in the top right corner.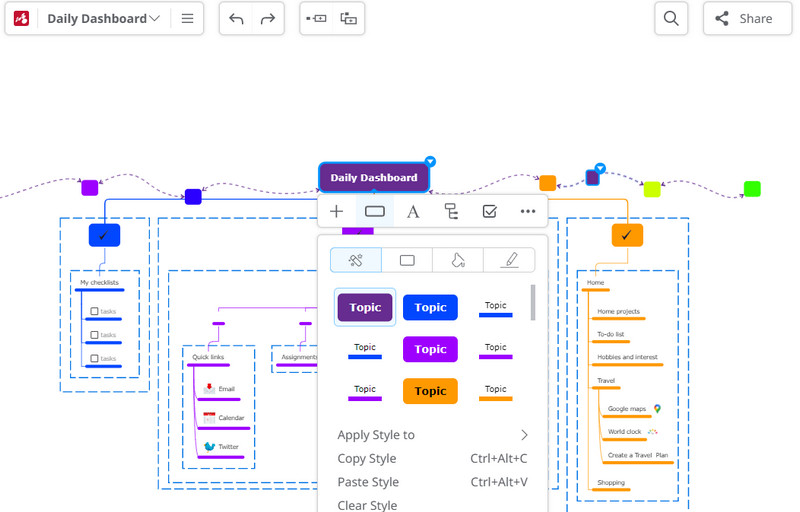 3. Miro
Professional, highly configurable, and powerful program. Miro is one of those programs you will desire to use due to its great features and functionalities. It is loaded with communication tools, and a collaboration feature that will enable you and your team to work on the same mind map. Unlike the previous tools, this program is built for businesses and organizations to work in collaboration.
Also, you can benefit from its mentions and chat support tools, so your team is on the same pace. What is more, you can access mind maps and projects from the comfort of your mobile devices. Find out how to create a mind map online by following the guide below.
1
Head to the program's official site and register to get your logins. These logins will be your proof that you are registered to their database. Just agree with the terms and conditions of the program, and you are good to go.
2
Now, tick Mind Map from your dashboard, Then, a dialog box will appear. Hit the Create team board button to begin.
3
Next, select the node you wish to modify and use the floating toolbar to customize the mind map.
4
Afterward, you can add other elements from the toolbar on the left side and save the mind map once done.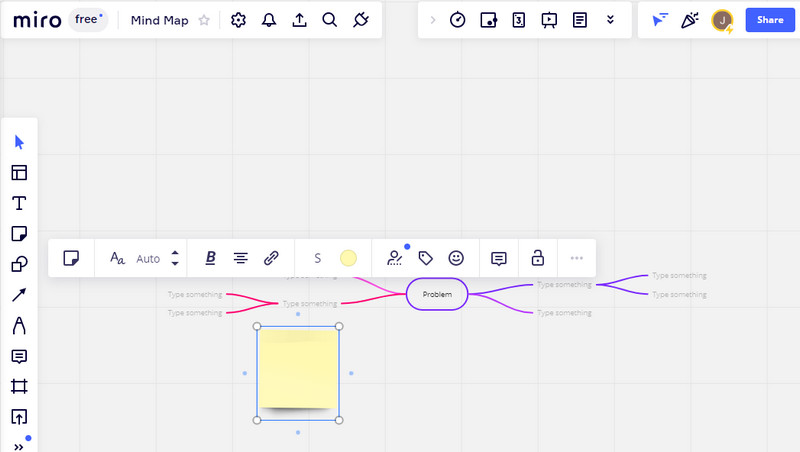 Part 3. Tips on Creating Mind Map Online
When making mind maps, we aim to make sense with the illustration, especially when presenting them. Therefore, we prepared some tips to make your mind maps easy to understand by your audience.
Get the right layout or structure. Choosing the right structures for your mind map is vital to make it understandable.
Insert attachments. Adding attachments to your mind maps will add not only flavor but also additional information and show more details.
Make the text readable. Another important aspect of a good mind map is readability. It would be best if you made the text readable by making contrast, which is one of the strategies.
Classify elements. Related and similar elements must be classified with their underlying logic. Also, you can group similar elements.
Part 4. FAQs About Creating a Mind Map Online
What are the different map structures?
The most commonly used mind map layouts include tree charts, org charts, fishbone charts, and many more.
Are there any principles in making mind maps?
Yes. Many suggest that a mind map must have these principles: clarity, variety, readability, and distinctiveness.
What are examples of brainstorming techniques?
There are a lot of brainstorming techniques you can apply for effective brainstorming. Mind mapping is an example of brainstorming. Also, you can use starbursting, role storming, brainwriting, trigger storming, and a lot more.
Conclusion
We hope we were able to present well the process of how to make a mind map online with these fantastic tools such as MindOnMap. Also, we are pleased to share the types for making a mind map. Tell us about your experience if you do not mind.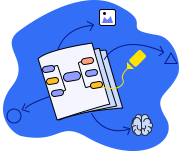 Create Your Mind Map as You Like
Get Started