How to Mind Map in Visio | See Guidelines, Tips, and the Better Choice to Learn
These are just a few of the thousand queries we always get. And this time, we will break our silence and give you the most comprehensive guidelines that you must know for you to create a persuasive and witty mind map using Visio. As we know, mind mapping is the best way to learn complex information by breaking it into smaller ideas that will help the learners retain particulars. For this reason, more and more are trying and trusting this method using the different mind mapping tools available on the web today, and one of them is Visio.
Visio is a software that is very popular for it is a Microsoft tool purposely made in diagramming and vector graphics making. In addition, using Visio for mind mapping will allow you to access its beautiful templates, stencils, and presets that are very useful in constructing creative and persuasive maps. Therefore, let us now move on to the very much awaited part, in which you will learn the most straightforward steps on how to use it in mind mapping.

Part 1. How to Create a Mind Map Using Visio
Visio provides terrific tools for the users to enjoy. It's part of the Microsoft family, so the interface looks very similar to the other members of the gang, specifically the Word. However, there would still be divergence in each program, and so does Visio. A map is just one of the tool's masterpieces aside from the beautiful diagrams that you can create out of it. Therefore, let's get started and see how this fantastic software can give you an excellent outcome by following the detailed steps below.
First, you need to download and install Visio on your computer device. You should know by now that this software is quite pricey, so choose between plans 1 and 2 wisely. On the other hand, you will still have a 1-month free subscription in the meantime. Once you have installed the tool, launch it.
2
Begin the Map Journey in Visio
On the interface, click the New tab to start. Then from the choices are given, select Mind Map. Otherwise, you can start by making a Brainstorming Diagram, and this is the fundamental mind mapping in Visio.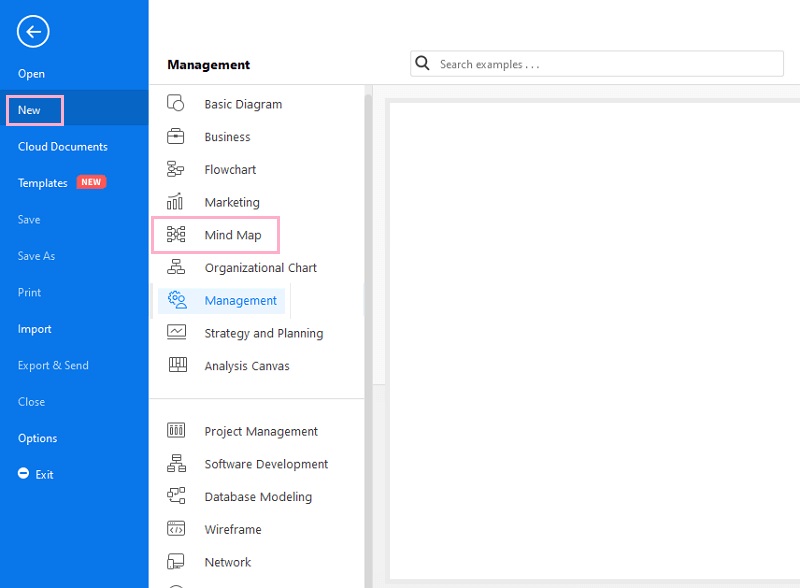 Start customizing your map when you reach the main canvas of the tool. See, you already have the base for your map when you select a template to use. Start adding designs, shapes, and other icons that will beautify your map by clicking on the Insert, Design, or the Brainstorming ribbon presented on the top of the canvas.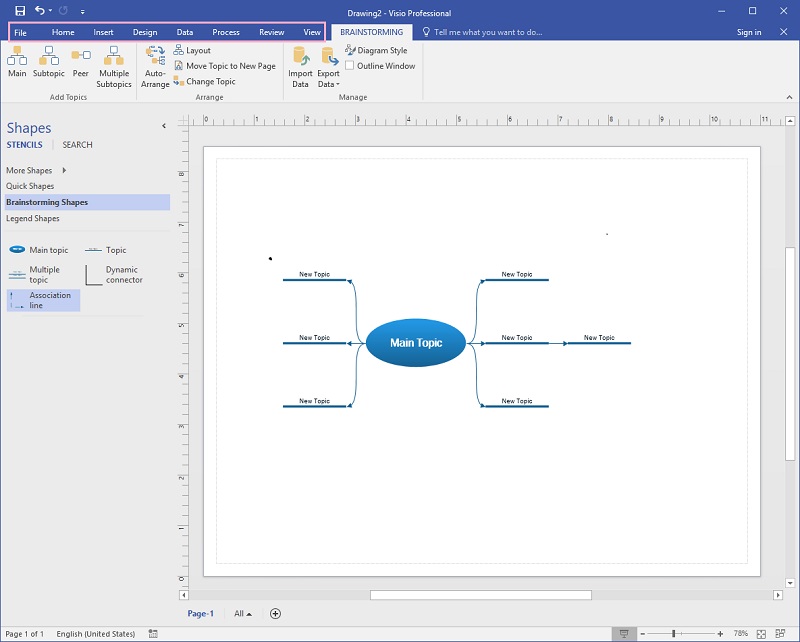 When you think you have done everything needed for your map, you can finally save it. To do so, go to File, then choose Save.
Part 2. The Fastest Way to Make Mind Map For Free
If you opt to use a free yet swift and efficient tool, switch to MindOnMap then. Furthermore, this powerful web-based tool is capable of providing you with magnificent presets, templates, themes, icons, shapes, and other options you need in creating a masterpiece on a map context. In addition, since it is an online tool, there is no need for you to download anything just to use it. Besides the intuitive and easy-to-understand interface of the Visio mapping software, MindOnMap, too, hits on top.
What's more, this fantastic mapping tool also allows the users to share their maps with others and so some collaboration. Not to mention the variety of formats that you can use in exporting your maps that are also ready to be printed out. There's nothing you need that MindOnMap doesn't have, and so, to let you know this tool more and more profoundly, take a look at below's steps and tips for you to obtain a creative mind map using this best tool.
On your browser, visit the tool's official website, and unlike Visio, this mapping tool will just require you to log in using your email account when you hit the Create Your Mind Map tab. There is no need to download anything.
Once you have completed the access, click New and start choosing a template or a theme that you want to use for your map. Otherwise, to create a map from scratch, choose the MindMap option instead.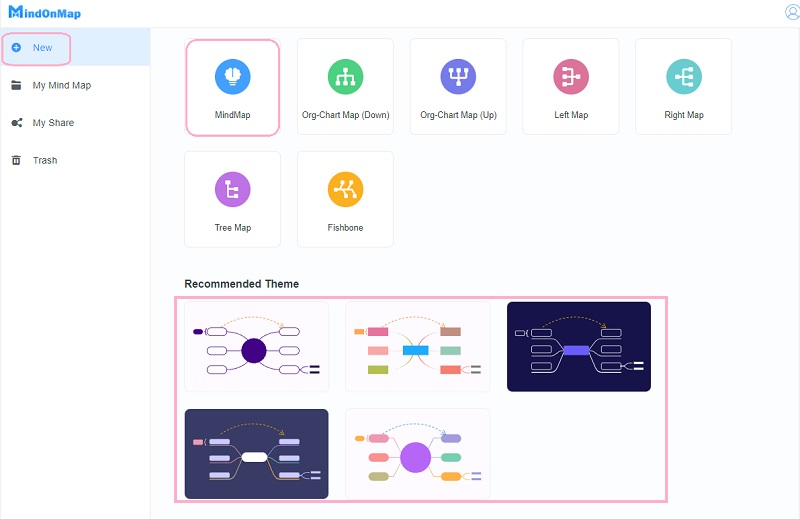 On the main canvas, start customizing your map. As you can see in the nodes from the photo below, this tool provides shortcuts that you can use, unlike the Visio mapping software. Moving on, start putting labels on the main and sub-nodes. Also, you can add various icons and images and change the shapes and colors of the map. How? See the tips below.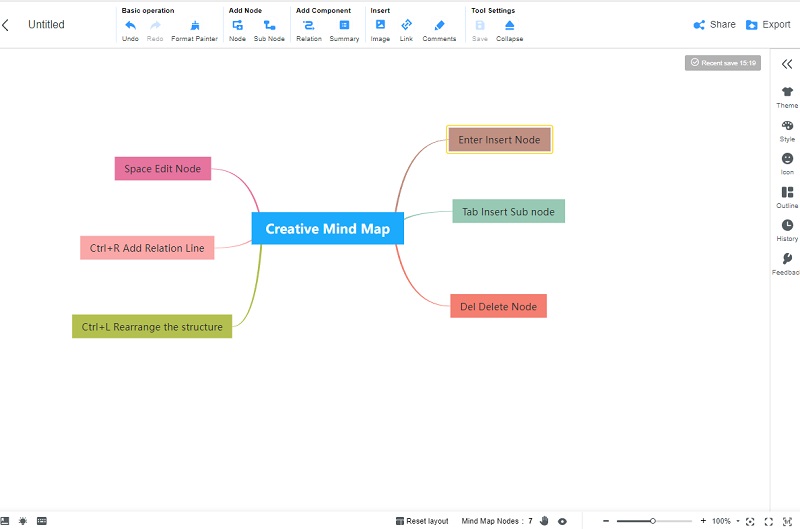 Tip 1. Change the Shape and Color
Go to Style, and navigate the options given. To change the shape, click the node you want to customize, then choose the specific form you like when you hit the Shape symbol. Changing colors will also be done in this part if you click the icon beside the Shape symbol.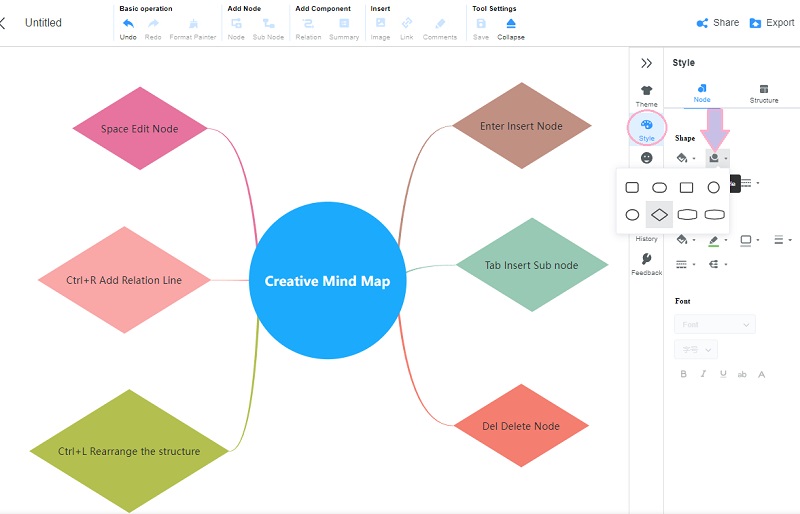 Tip 2. Add Images and Icons
To make your mind map visually clever, put some various icons or images on it. How? To add an image, click on the node, then go to Insert then Image. Upload then a photo you like to include. For the different figures, go to Icon and choose among the Priority, Flag, Progress, and Symbol options.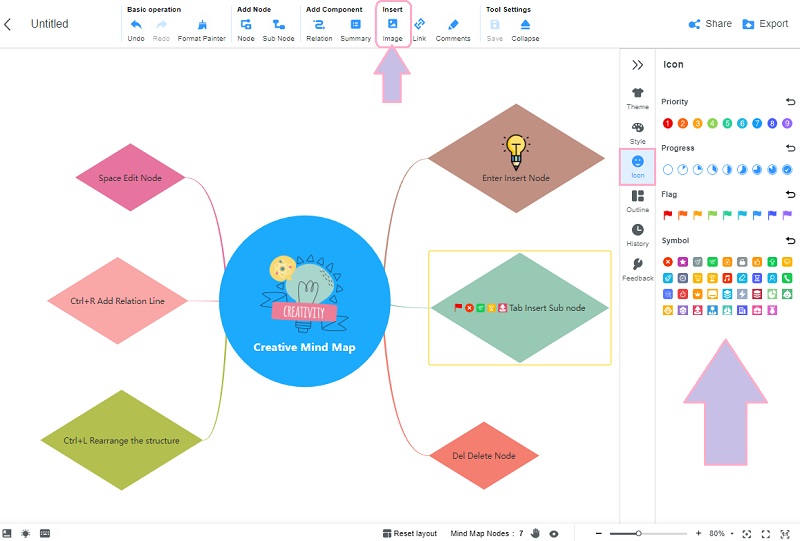 When you reach the final map, it's time to save. Click the Export tab located at the right-top corner of the interface. Then, pick among the format choices you prefer. Subsequently, the copy of your file will be automatically downloaded to your device.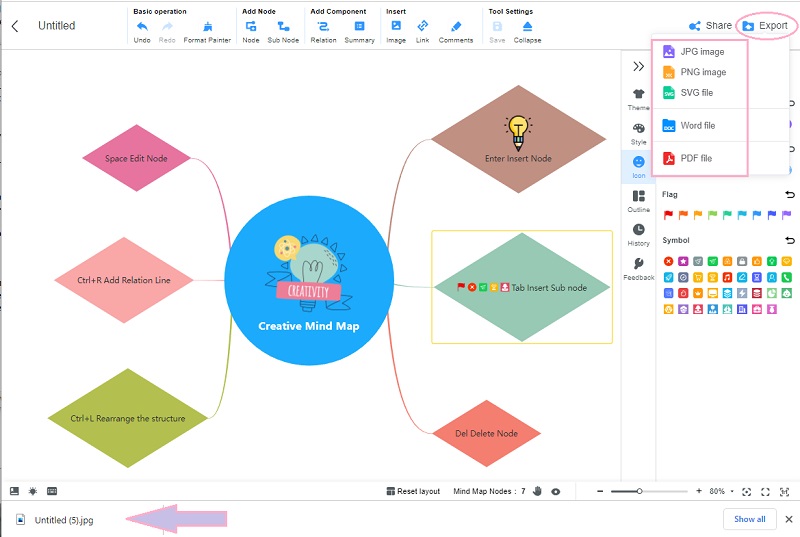 Part 3. FAQs Regarding Mind Mapping
Can I create relationship maps in Visio for free?
Visio is a paid program. Hence, it offers the users a month free trial where you can unlimitedly create any relationship maps and diagrams during the free trial period.
What are the advantages and disadvantages of mind mapping?
Mind mapping plays a very crucial role in learning and brainstorming today. It was created to help the students memorize easily, and aside from that, many come up with advantages of using it. To know about the advantages and disadvantages of mind mapping, click and read What is a mind map used for.
Can I make a value stream mapping Visio?
Yes. You can create a value stream map using Visio, for it is one of the featured templates this tool has.
Conclusion
To conclude, you should know how to make a mind map using Visio by now. Also, you have seen and learned the better alternative for Visio MindOnMap, if you want a more robust and efficient min mapping tool for free. Always follow the tips and guidelines we have given for you to be able to come up with colorful, innovative, and clever mind maps anytime.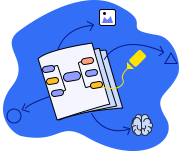 Create Your Mind Map as You Like
Get Started