What is a Mind Map Used For - Learn the Digital Way of Organizing Your Ideas
As part of the innovation, everything is turning to technology nowadays, including organizing thoughts, brainstorming, and problem-solving. Before, sharing ideas was done by jotting down or writing the notes on your piece of paper hurriedly. Hence, throughout the years, these ways have also evolved into a digital form of mind mapping, an effective method of producing excellent collaborative ideas by transforming them into maps.
Moreso, this technique is also a great way to retain or memorize information quickly. After all, our brains possess a photographic memory, which is why mind mapping was created. Nevertheless, many still ask how this mind mapping works? How does it help people to grasp the concept? On this note, let us talk about what a mind map is, the profound meaning, and the advantages and disadvantages of the mapping method.

Part 1. An Overview of Mind Map
What is a Mind Map?
A mind map is an illustration of the gathered information. In other words, it is a pecking order of the related topics or ideas assembled while conceptualizing the subject matter. Furthermore, the benefits of mind mapping for students and business-related people are increasing because this is the method in which they can elaborate on a single subject until they get a piece of massive information and details related to it by using a diagram.
We are confident that you are already getting it, but let it be elaborated more. Obviously, the term map was used to mean visual diagrams, where in fact, authors can do mapping by sketching the notes by hand. In addition, the mind map is an excellent technique to solve problems and memorize the branches of information while grasping the topic as a whole. An illustration below will give you an idea of how and when to use mind mapping accordingly.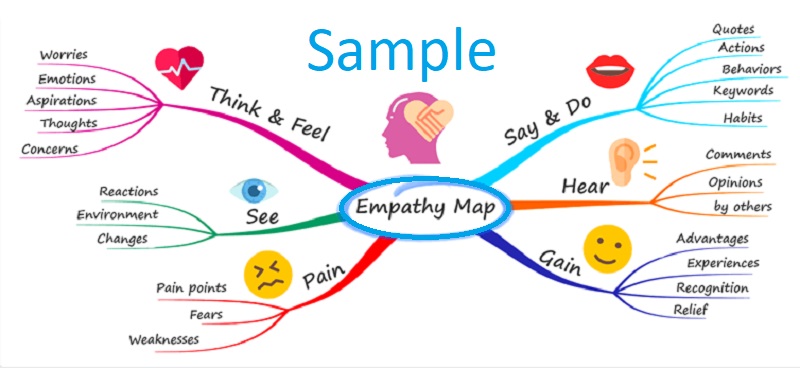 Part 2. The Theory of Mind Map
Let us now learn the theory of mind maps to know what mind mapping is better. The term mind map was initially introduced by the British TV personality and author Tony Buzan in 1974 during his TV series on the BBC. Way back, the map information method used branching and radial mapping, which made the history of visualizing, brainstorming, and problem-solving by the professionals such as professors, psychologists, engineers, and many more.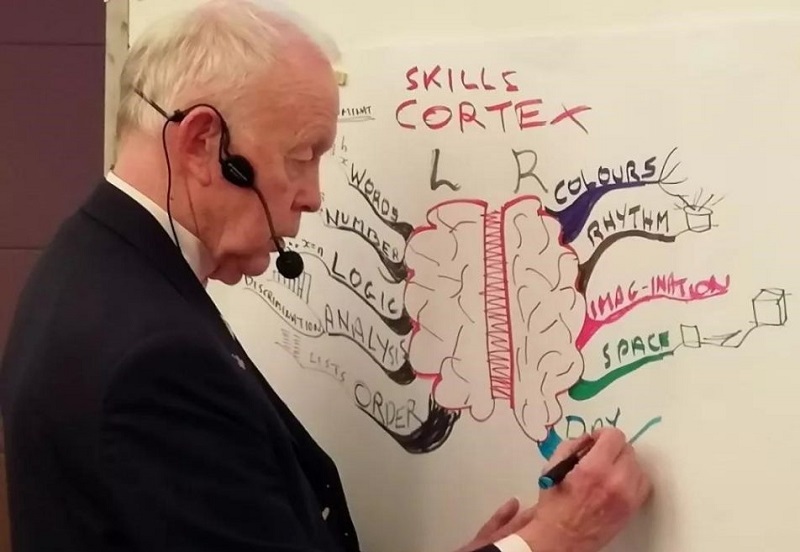 Moving forward, Buzan also called the mind mapping the " flowers of wisdom" for this process works for blooming the hidden knowledge and talents of the human brain. What is the importance of a mind map diagram? This question can lead you to the simple answer as putting together the ideas by turning them into visual representations will help the human brain capture the information quickly.
Based on the studies of Cunningham (2005), 80% of the students find mind mapping helpful in their understanding of the concept and ideas in science. At the same time, other studies are saying that mind maps work more effectively on computer technology and art students.
Part 3. What Are the Utilization Of Mind Mapping
If you think that mind mapping is only limited to conferences relating to business planning, case studies, and research, well, there are more than that. By the same token, we are giving you below five of the hundred usages of mind mapping. This way, you will have a better understanding and realization of different utilization of mind mapping.
1
Planning for a Birthday Party
Mapping a birthday party is what party-goers enjoy doing. What is birthday mind mapping, and how does it work? This type of mind mapping will definitely bring you the best surprise birthday party for your friends and loved ones, where you can prepare accurately based on the plan.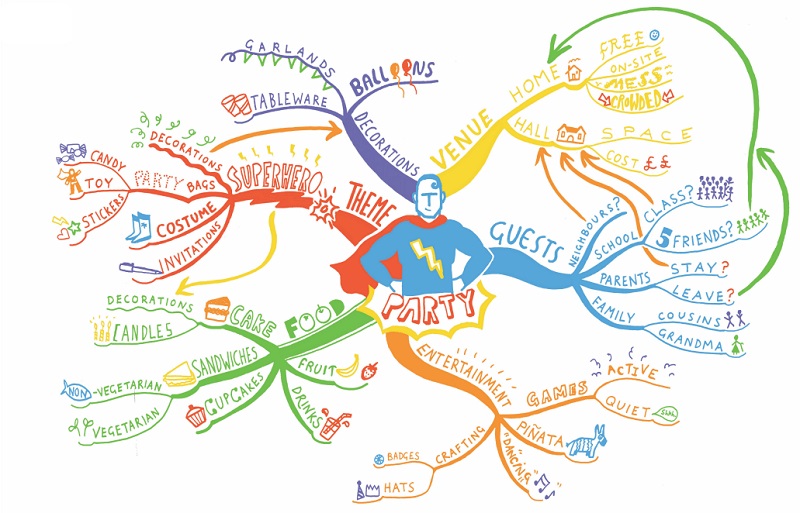 Challenges and unexpected complications may come unexpectedly. But through problem-solving using mind mapping will give you a precise solution on the matter. See to it that when you map your ideas to solve a problem, you should be calm so that you can come up with an excellent and fair remedy.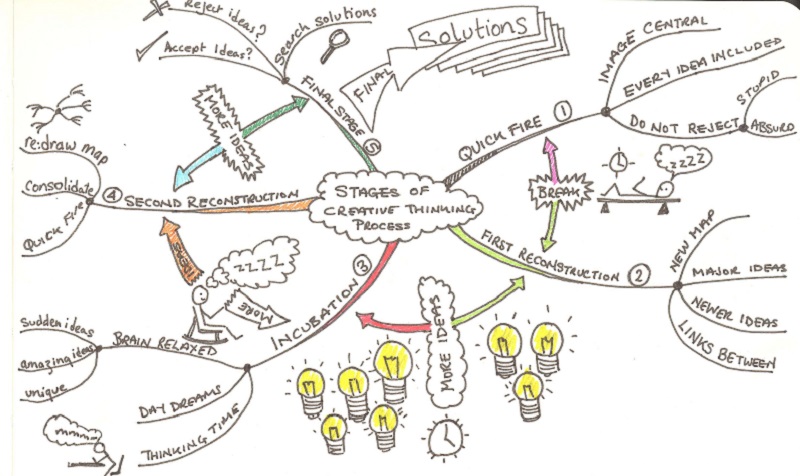 3
Job Interview Preparation
What is the purpose of mind mapping in this area? Well, if you are about to have a job interview, you can prepare the mock questions and answer them in advance in your mind map.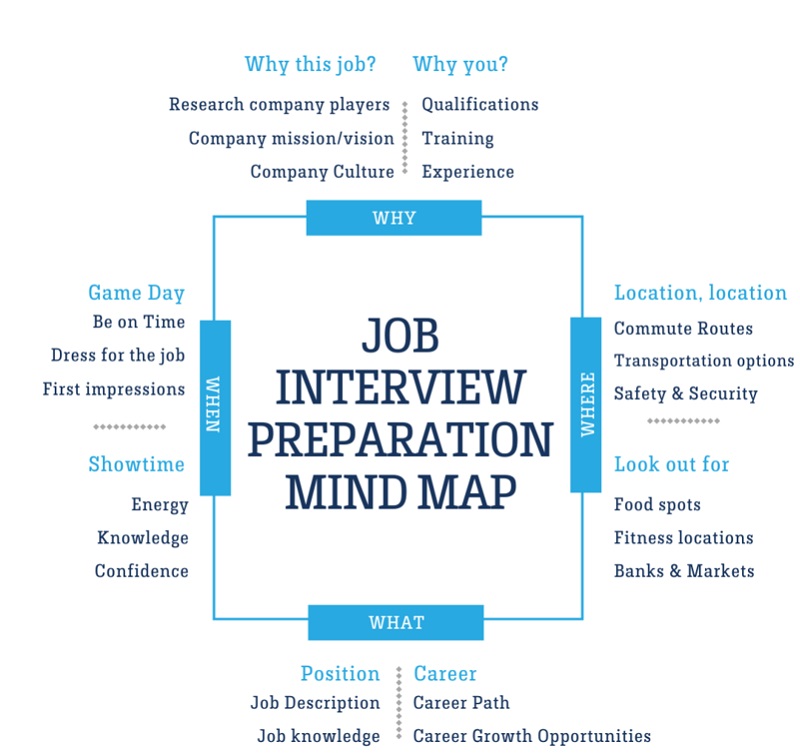 Being a project manager, you should always be available and be prepared in any circumstances that may take place in the project. Therefore, making a collaborative mind map with your team will prepare you for such coming conditions. Also, in this method, you can include team members in dividing the assignments.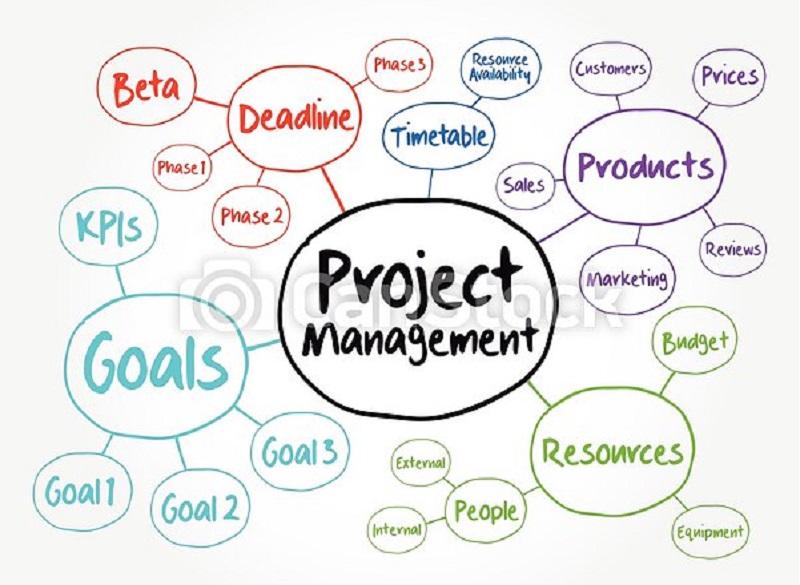 5
Travel and Bucket List Planning
Many believe that planning your travel and making the bucket list are what give the actual definition of mind mapping. Why? It is because making the bucket list ahead of time will provide you with a smooth and perfect getaway due to having a checklist out of mind map.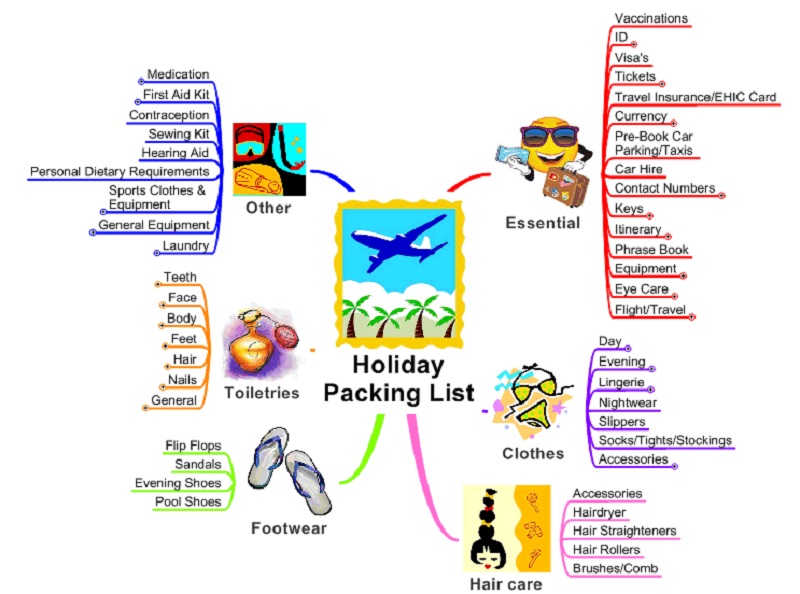 Part 4. The Best Way to Use Mind Mapping
After having enough knowledge about what mind mapping is, let us now learn the best way to do it. The MindOnMap is the latest yet the most exciting way to mind map. Furthermore, this visual thinking digital tool will make you even more excited by using its wonderful themes, layouts, nodes, components, styles, outlines, and icons within its canvas. Perhaps you may still have thoughts of the advantages and disadvantages of paper maps, but one thing is for sure, in this era, people treat technology as a necessity. This also gives evidence that even taking notes has the need to be digitized.
Things to Consider When Mind Mapping
To mind map, you must remember the following elements in accordance to making a good mind mapped idea.
Central Topic
The subject or the main idea plays the most important role in the mind map. With this being said, all of the ideas that you will gather will revolve around the subject.
Sub-Topics
The subtopics are the branches of your main idea or the subject. In addition, these branches will show what a diagram is in a mind map. Hence, in making branches, you must think of all the keywords that are related to the main topic. In addition, you can elaborate on each component until you get a perfect idea that fits it.
Code Words / Key Words
You must remember that you don't need to use sentences for each component or node in making a mind map. On the contrary, mind mapping is where you need to use specific words.
Connection Line
Choose to connect your topics for proper correlation of your ideas.
Pictures
Adding up some images on your mind map will add connections to your ideas. Through the illustrations, many will quickly grasp concepts, which benefits the students in mind mapping. Moreover, this kind of element will give life to your thoughts and definitely bring an accurate message.
Hue / Color
Aside from the images, shading each idea or branch with different colors will give them proper identification.
How to Do Mind Mapping
This time, let us learn the basic steps on how to make a practical mind map on your device. Also, we will show you how it is being done with the MindOnMap, where excellence starts.
Go to your browser, and visit the official website and start working by clicking the Create Your Mind Map tab.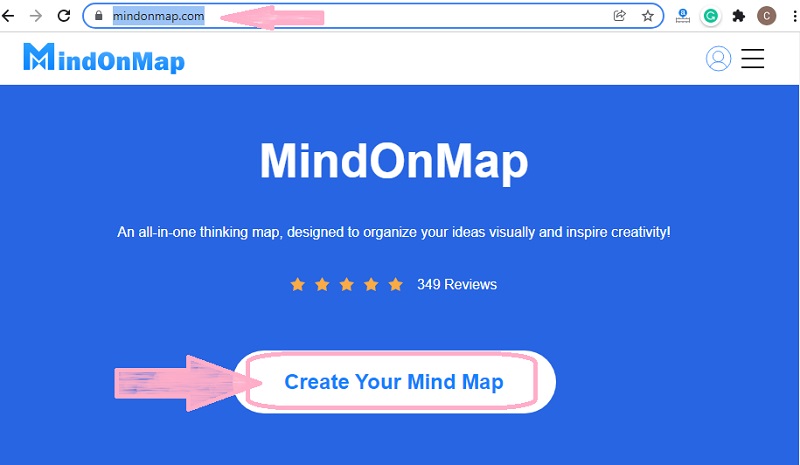 Upon reaching the next page, you must choose a layout from the given choices. Otherwise, you can make a personalized one once you click the MindMap.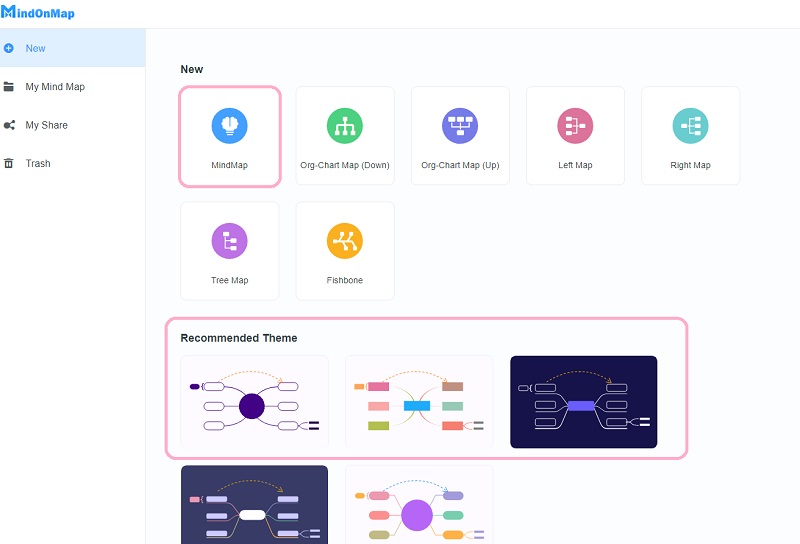 As mentioned previously, when using a mind mapping tool, you must always add branches or what we call Nodes. To add, click the Add Node located at the top part of the interface. Rename the sub-node according to your idea from the central node. On the side of the screen, you can find different icons that you can use to beautify your map.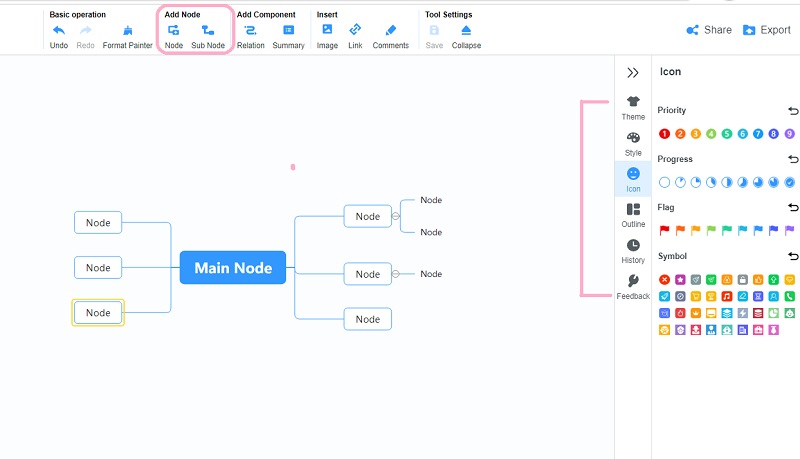 To give radiance to your nodes, go to the Style setting. To shade all the sub-branch of the node, select the color from the Branch. For a non-branched node, choose a color under Shape.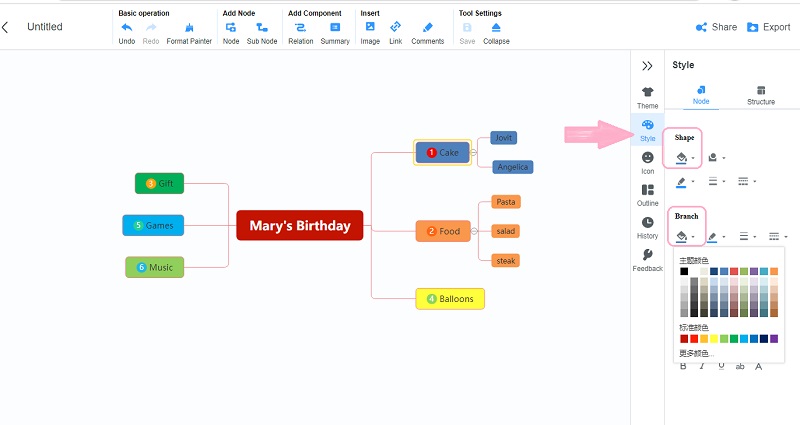 If you need to insert photos, you must click the node on which you want to add a photo. Then, hit the Image icon under the Insert portion, and choose the Insert Image to upload a picture from your device.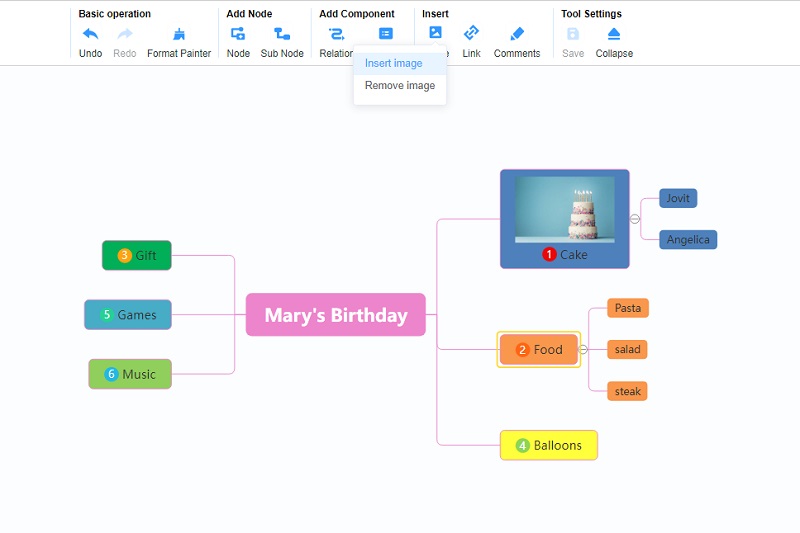 Finally, you can save the map! Hence, prior to saving it, you can rename your project by going to the left upper corner part that says Untitled. Then, to save the map file, hit the Export tab and choose your preferred format from JPG, PNG, SVG, Word, and PDF.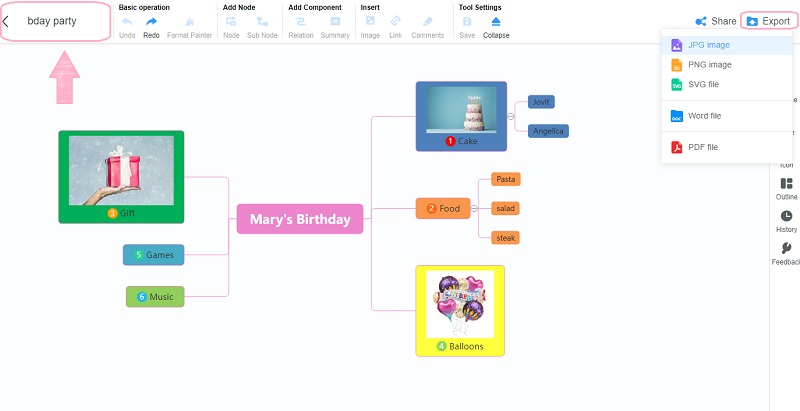 Note
The mind map will be saved automatically every two minutes, no need to worry about accidental loss during the editing.
Part 5. Advantages And Disadvantages Of Mind Mapping
Indeed, all have their drawbacks besides benefits. In this part, we will be learning some of the mind map's pros and cons. This way, you will be able to balance needing the usage of a mind map technology.
Advantages of Mind Mapping
Mind Booster - Mind mapping triggers creativity. In this way, you will be able to boost your mind to squeeze ideas from it.
Generates Bright Ideas - This method also promotes bright ideas. While you do mind mapping, you are not aware that you are creating great views out of the concept.
Makes Complex Ideas Simple - Indeed, mind mapping makes the complex topic simple by producing subtopics that dissect the main idea.
Increases Productivity - Of course, boosting productivity is one of the benefits of mind mapping. People who seriously do mind mapping certify this because this method makes them think and work orderly.
Disadvantages of Mind Mapping
Consumes Time - Mind mapping will somehow take most of your time, especially if you are new to it since you need to dig in more and more. However, as time goes by, you will get used to it and can surpass this circumstance.
Part 6. FAQs With Regards Mind Mapping
Can kids do a mind map?
Yes. Kids can also practice mind mapping. Also, this method establishes good rapport with the brainstormers and helps the kids' brains grow better.
Can we do virtual mind mapping with my colleagues?
Of course, you can. MindOnMap will let you share the link of your work or otherwise save the map via word docs for editing and sharing purposes.
How do I use a mind map for an essay?
Firstly, decide on the central topic of your essay. Then consider the related topics and put them as branches for the central topic. Lastly, think about the connection among them and reorganize them as a whole.
Conclusion
There you have it, folks, the history and the proper utilization of the mind map. This article was able to bring you ideas on what a mind map is and how to do mind mapping digitally. Yes, you can do it on paper, but to follow the trend, use the MindOnMap instead to create brighter ideas within an incredible photograph.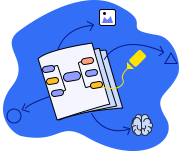 Create Your Mind Map as You Like