How to Do a Mind Map on Google Docs: Powerful Organizing Tool for Files
We all know Google tools exist to help compile our files more effectively and adequately. One of these tools is Google Docs. It is an excellent tool for creating different files using our Web browser or on the application for our Android devices. However, many people are not yet aware that Google Docs is also capable of mind mapping. In addition, the fantastic thing about it is the fact that it is easy to use. Thus, for all the students, educators, and public speakers out there, we all know how brainstorming and organizing our thoughts using mind maps is essential for all of us. That is why we are here introducing you to the proper and easy ways to create mind maps in Google Docs. Let us learn how to make your plans organized and effective. Remember, sharing your thoughts and opinions must possess substances. Let us make it possible by creating a mind map.

Part 1. How to Do a Mind Map on Google Docs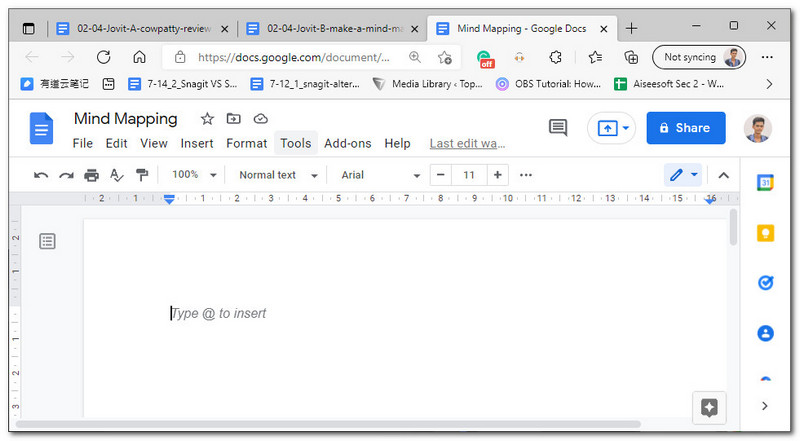 Google Docs belongs to the most amazing tools Google provides for many users. This tool exists as the Google Workplace, where everything you need is in one place. We can use these spreadsheets to create, edit, store our documents or files. These tools possess numerous elements that can help us in making the creation of files possible. A few of the most impressive aspects we can use are adding text with different fonts, colors, sizes, textures, and more.
On the other hand, we can add different images in Google Docs for more visual and elaboration of your points. In addition, different shapes, signs, and even a table applies to this tool. Moreover, all of these tools make it possible to do an online mind mapping with Google Docs. As we know, how Google Docs is effective in terms of mind mapping. Thus, we will give you a few instructions on creating Google Docs mind maps in this portion. Kindly check the instructions below that can serve as your guide in making it possible.
1
Access the Google Docs on the web browser you are using. Sometimes, you need to go on your Gmail Website and click more to see Google Docs.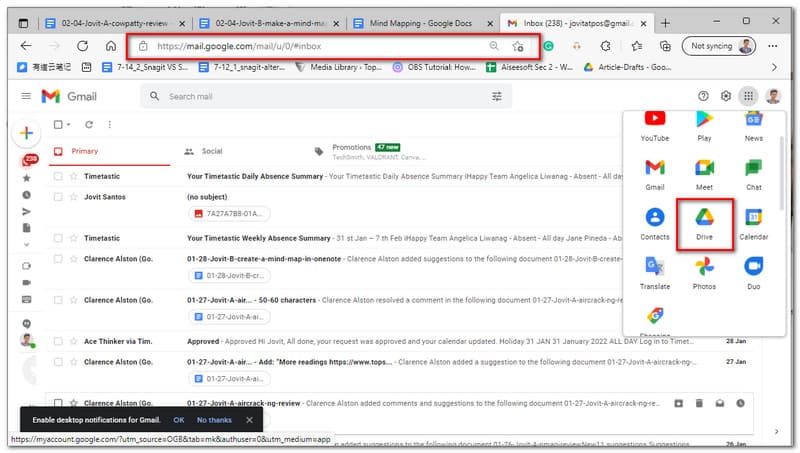 2
Rename your file in the top-left corner of the web. Then, locate the Insert Tab, click the Drawing, and click New.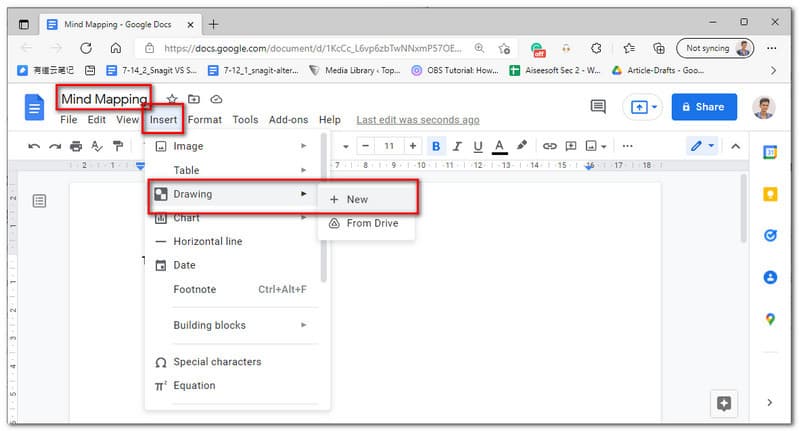 3
A new tab will appear to make your mind mapping template. You use different elements like shapes, arrows, and text above the tab. Select any feature you want and layout your template.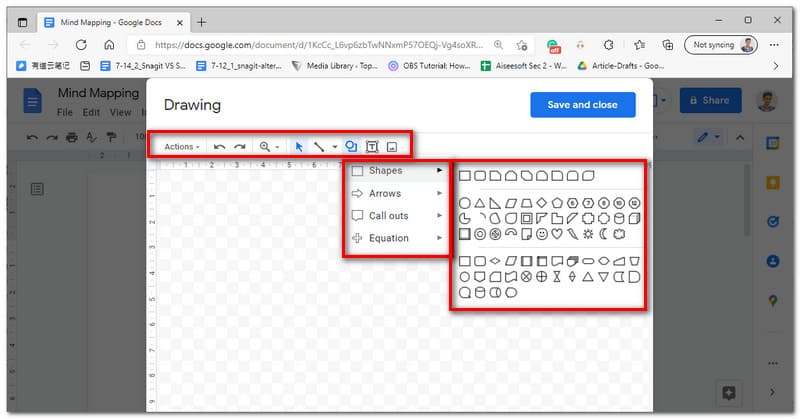 4
Click and drag the elements you are going to use based on the preference of your design. You can add as many details as you need to the drawing table.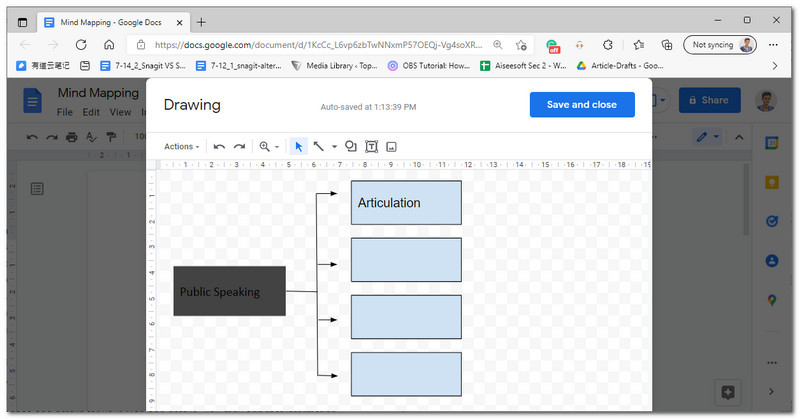 5
If your template is good to go, it is now the time to click the Save and Close at the top portion of the drawing area.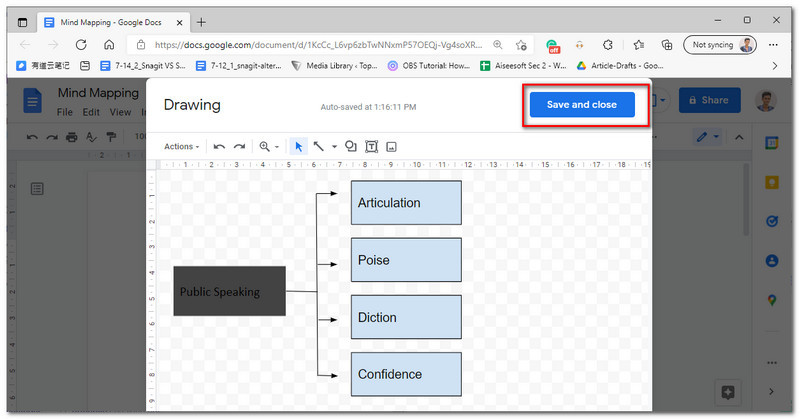 Remember, the template is up to you. You can add more elements and more details depending on the information you will need. You can also add more color and text to attract more attention.
Part 2. Best Way to Make a Mind Map with Google Docs Alternative
Google Docs may give us the ability to make mind maps, but there are more ways to create more effective and concise Mind Maps. One of these ways is the usage of MindOnMap. For those who do not know, MindOnMap is a great tool to help students, educators, and other professionals create mind mapping templates. It is one of the most beneficial tools for those people who need to organize their thoughts and plan. All of the elements it can give are very useful. In addition, all of these elements are very easy to use, and even new users can quickly join the trends.
On the other hand, MindOnMap is an online tool that we can easily access through our Web Browser like Microsoft Edge and Google Chrome. Thus, you will never need an installation process to utilize it. We only need to access the official website and start creating.
In line with that, here are the steps you need to make the mind maps possible using the MindOnMap tool. We shall now begin creating maps by following these straightforward steps. Make sure you follow guides correctly so that we may not experience any troubles while having the process.
1
Visit the official website of MindOnMap on your Web Browser. After that, you will see the website on your screen. Click the Create Online button in the middle portion or click the Free Download button below to start the process.
2
Secondly, you are in a new tab, then click the New button. Next, click the MindMap.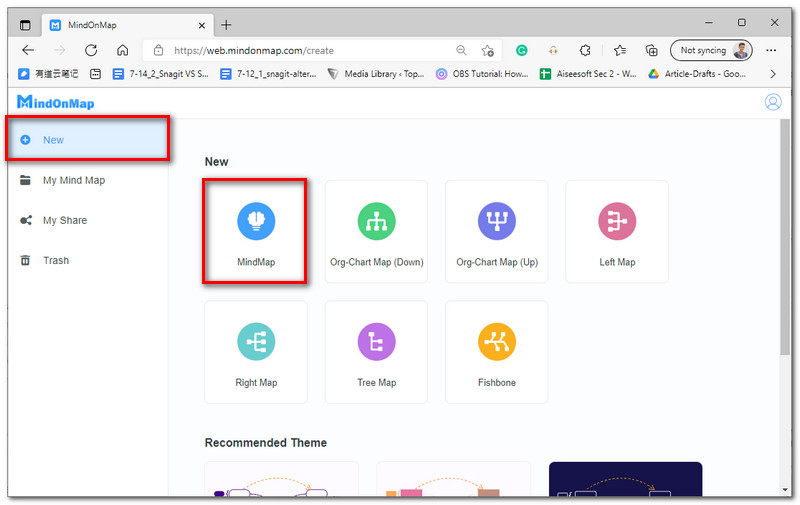 3
Rename your files at the top portion of the screen.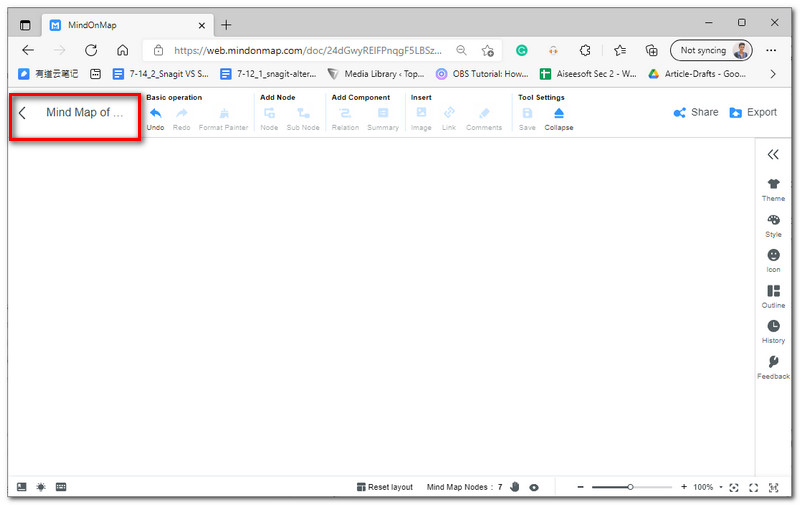 4
Right after that, we can now add our different Node for the substance and information we are about to share. Remember, the Node will serve as the core of your main topic.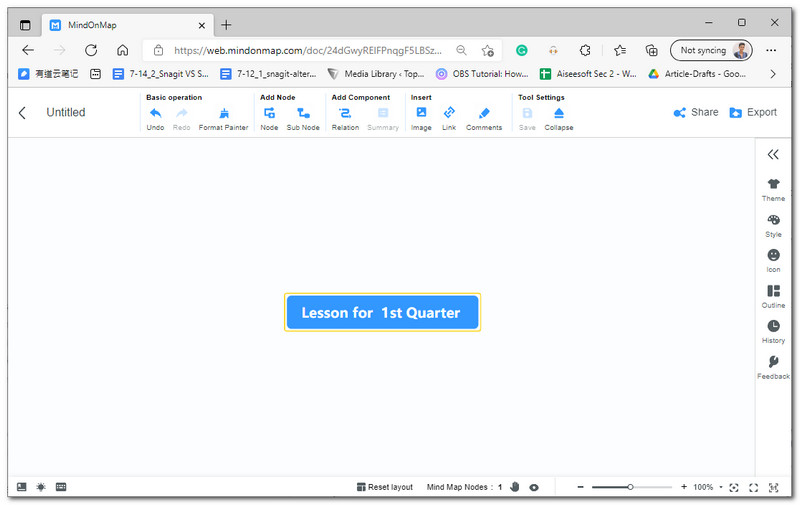 5
The next step is to add your Sub Nodes, and these will serve as the supporting information of your topic. You add sub-nodes by clicking the Add Node on the top portion of the interface.
6
You may now also add text for more information. Remember to utilize each sub node for the substance you need to add.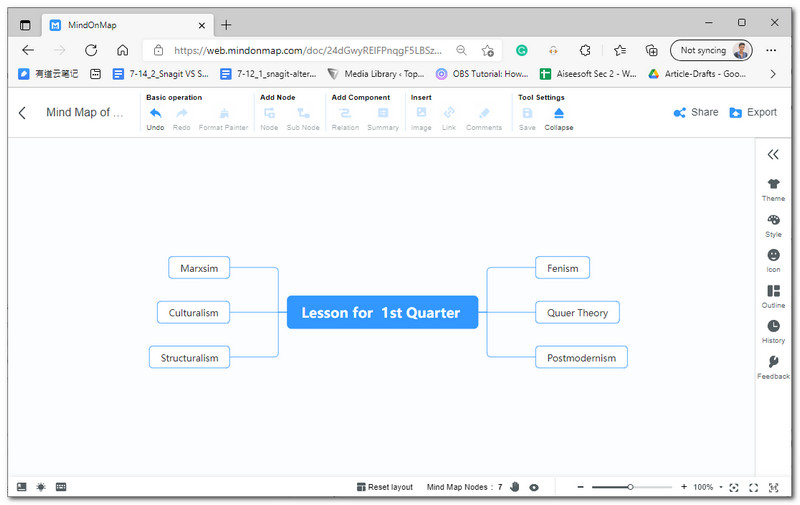 Part 3. FAQs of Making a Mind Map on Google Docs
May I add images with my Mind Maps using Google Docs?
Google docs can support adding images. This feature will help us make our mind maps more visuals and concise. All you need to do is locate the Insert tab at the top of the Docs. Find the Images and click them. After that, window tabs will appear where you can see all of your images. Select the image you want to add and click OK.
Is adding existing Mind Maps on Google Docs possible?
Yes, adding existing Mind maps from google drive is possible. Click the Insert tab and Drawing, then the Drive. It will lead you to Google Drive. From there, choose the map you want to add to your file to start making. In short, Google Docs mind mapping software is beneficial for more instant processes.
Is there an availability of Google Docs Mind Map templates?
Yes. Google Docs offer mind maps templates for an instant creating and elaborating all of your thoughts and thinking. These templates are ready to use, and the thing we just need to do is add the information we need.
Conclusion
There you are, the fantastic process of making a mind map with Google Docs. This article will prove how amazing Google Docs makes our files more organized and comprehensive. In this article, we can learn how easy it is to utilize. On the other hand, we also have MindOnMap as the most excellent online tool for making great mind maps with ease. That is why, if you are someone who might be needing these tools, share this post now with them. It can be your classmates or teachers.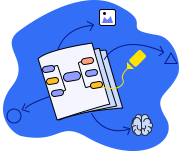 Create Your Mind Map as You Like