How to Make a Personal Mind Map With Convenient Mind Mapping Software
A mind map is a more straightforward method to master. You may be wondering why learning about mind maps is beneficial and how it can help you. It is helpful in situations where many of us struggle to interact our ideas to others. Furthermore, suppose you feel managed to lose in life and unable to comprehend your case. In that case, a personal mind map will assist you in settling everything. You can introduce yourself in a mind map, which will help you make better decisions and grow as a person. In this article, we'll learn how to make a mind map and use it in our daily lives.

Part 1. The Necessity of Making a Personal Mind Map
◆ A mind map personal diagram is an excellent way to organize ideas, thoughts, and concepts. It can be used for personal development and as a confidence booster for people.
◆ Mind maps are a superb way to discover previously unknown connections about self.
◆ A personal mind map can assist you in discovering your authentic thoughts. You can better understand your problems and develop a solution to achieve your primary goal.
◆ Creativity is an essential component of human learning and memory. Making a personal mind map for self-development will boost your creativity. You are nothing if you lack passion.
◆ People can now easily map out and share their thoughts using mind mapping software.
Part 2. Personal Mind Map Types
1. Self-Assessment Mind Map
Mind Mapping is an excellent tool for self-assessment because it allows you to quantify the amount of knowledge you have gained. Making a self-assessment in mind mapping provides a realistic understanding. You can use this software to highlight your strengths and weaknesses and your growth mindset.
2. Self-Image Mind Map
You can use this mind mapping software to reflect on your inner self, and you might be impressed by what you learn about yourself. Making a self-image in a mind map is how you see yourself, your personal view, and your character. Furthermore, you can see more opportunities to use the best mind mapping tool.
3. Self-Analysis Mind Map
It is essential to consider what is important to you and what you are passionate about. A self-analysis mind map will assist you in assessing yourself, where you are doing well, and where you can improve.
4. Self-Portrait Mind Map
Making a self-portrait mind map requires you to consider your future, including your career, skills, interests, and so on. You should also read many designs works as a reference for your design.
5. Self-Development Mind Map
Creating a self-development mind map can help you discover your deepest thoughts and feelings. You can learn about your problems and devise a suitable solution to achieve your main goal. Using the mind mapping tool, you can be taking steps to better yourself and overcome things.
Part 3. How to Make a Mind Map About Yourself
We all know that creating a perfect Mind Map is difficult for beginners. Many internet sites and software are available that make a vibrant and cool mind map. However, we determined that MindOnMap was the best of the bunch due to various factors. This tool serves as the most basic method of creating a mind map for self-improvement.
MindOnMap is one of the most preferred mind map online tools for organizing and structuring information. It has an easy-to-use interface and many tools for creating a visual representation of your thought. Moreover, you can make a personal mind map by taking note of the topic, subtopic, branches, where they are located, and the connections. Strive for yourself on MindOnMap to get a detailed view of your profession. This unique online tool is worth a try.
Follow this step-by-step guide to take your first step in mind mapping using the best mind mapping software.
Before proceeding, you must first visit MindOnMap's official website; then sign in or sign up using your email address by clicking the "Create Your Mind Map" tab.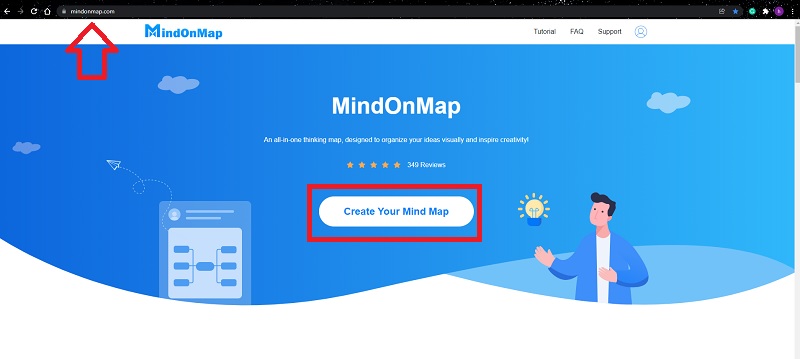 Click the New tab in the following window to choose a template or theme for your map to start making your personal map.

3
Start Making a Personal Map
You will be taken to the main interface after selecting a theme or a template, where you can proceed independently. Label your central node according to your topic first, and then determine the sub-nodes.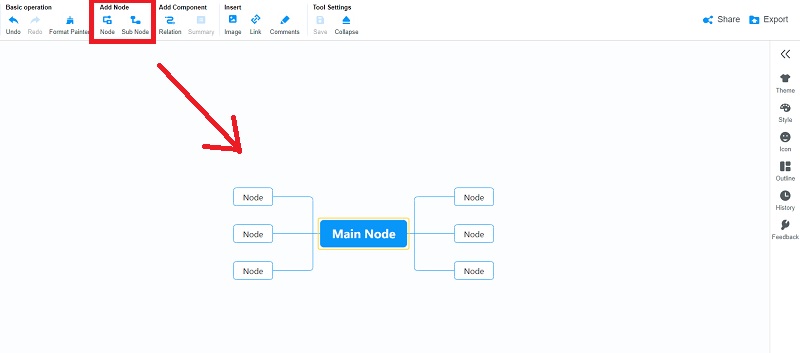 This time, you can demonstrate your creative mind map about yourself by adding images and colors to your personal map. Go to the Theme and select a color for your background to add or change. To change the color of the nodes, go to Style and make your decision.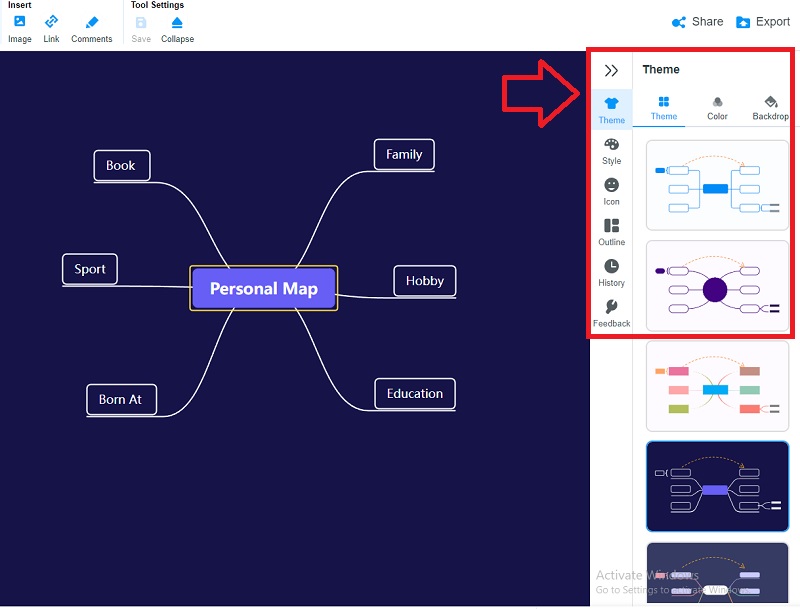 5
Save, Share, and Export
Lastly, by clicking the "Share and Export" button, you can now share your templates by copying the link and exporting it to images, office documents, PDF, and other formats.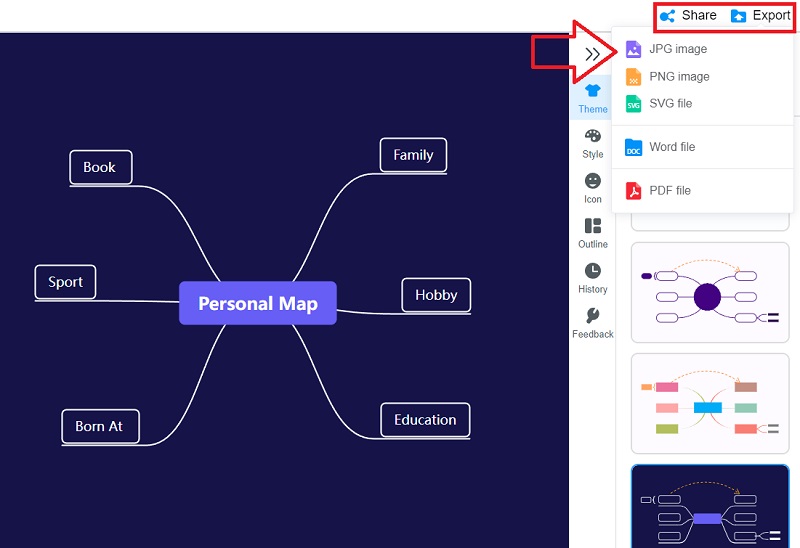 Part 4. FAQs Mind Map About Yourself
Are mind maps effective in personal development?
Yes, Using mind mapping software is the most effective way to connect your thoughts, and it also helps you improve your creativity, personality, and personal issues.
How do I make a personal map?
It is easy to make your personal map using the most convenient mind mapping tool, MindOnMap. With this, it allows you to unleash your strength and weaknesses by creating your mind map about yourself.
How does a mind map improve my skills?
Mind mapping is useful for brainstorming. It also helps you improve your ability in other ways, such as creating your map with the mind mapping tool. It enables you to satisfy your loads by producing it.
Conclusion
That's all. Making a mind map about yourself is easy and convenient to make. With the help of the best of the best mind mapping tool, MindOnMap. It will lighten your loads and it will satisfy your needs. MindOnMap is the best option for a self-improvement personal map. What are you waiting for? Feel free to try the most convenient mind mapping software.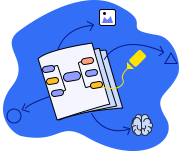 Create Your Mind Map as You Like
Get Started