Learn the Four Best Free Mind Mapping Software Of the Year
Mind mapping is an effective method of providing an excellent solution to a problem, plan, and concept. Also, it is a good source of producing awesome ideas in the form of maps. For this reason, we have come up with this article to introduce you to the free mind mapping software on Mac and Windows. We know how practical it is to have or use a tool that will cost you nothing yet give you excellent service. In addition to this is the greatest mind mapping tool everyone is talking about. So without any further adieu, get yourself ready and see how these tools will bring a significant change to your academic life.

Part 1. How to Choose a Good Mind Mapping Tool
What is the best free mind mapping software for students or other groups of people? First of all, you have to determine the unique attributes of the software before calling it a great one. And so, this part will give you things to consider before obtaining software that will be your companion with your technical thinking technique.
1. Supporting Platforms
Firstly, you need to consider the platform you are using. The software that you are about to acquire should support your OS and device.
2. Easy To Use
One of the reasons software is efficiently great is its ability to be navigated easily. It should not give a complex experience to users of any kind.
3. Contains Extensive Features
Mind map software should contain many features that will help you turn the ideas in clarity. It should have an extensive collection of images, icons, shapes, diagrams, and colors to give life to your map.
4. Collaboration Feature
This feature is needed when doing virtual brainstorming with colleagues. During this Pandemic, most conferences are being done online. Therefore, in mind mapping, it should take into consideration the other ideas of others by allowing them to work via collaboration features.
5. Accessible
You should also consider the accessibility of the tool. One that will be available anytime and anywhere would always be a good software for Tony Buzan's mind map methodology.
Part 2. Top 3 Mind Mapping Software on Windows and Mac
We know that the collation of the given attributes above will not be an easy task. Therefore, we are now giving you the top 3 mind map software with their features, advantages, and disadvantages. Through this, you will be able to see and choose among them which one meets your preference.
Top 1. MindMeister
The MindMeister is a very intuitive tool when it comes to creating vast projects in mind mapping. Furthermore, its ability is mainly granted to those who are in the industry of business, academy, and creative consumers. Hence, it extends the ability to other users of mind mapping by downloading this free mind mapping tool software on their mobile devices, for it is accessible on Android, iOS, and the web.
Additionally, the MindMeister works in detail; as you start working on the project, you will be asked to choose a detailed category for your plan. Its key features are also impeccable, where you can even place a video in your nodes. Aside from that, this tool allows you to add as many nodes as you want in accordance to elaborate the main idea.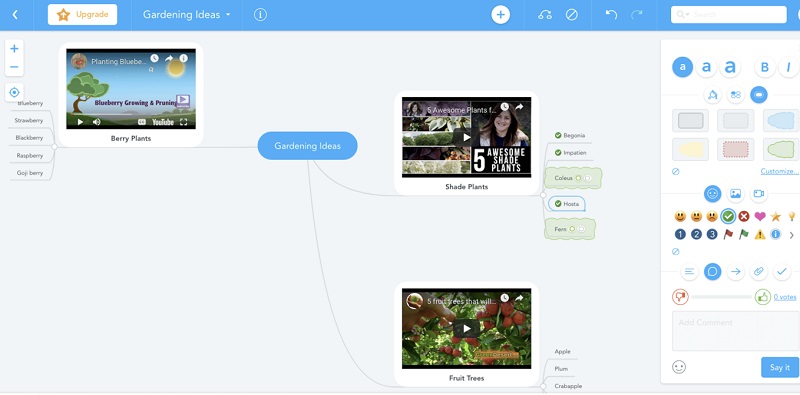 The MindMeister has a justifiable range where you can get up to 3 mind maps to import, share and collaborate for a free trial version. Hence, you can upgrade to its premium and business versions for you to enjoy more of its features.
PROS
With a variety of features.
It offers Google Drive integration.
The free trial version has the basic functions.
It is easy to learn.
Ability to embed live videos on the nodes.
CONS
The mobile app is not as intuitive as the web app.
The bigger maps are difficult to navigate.
Its paid versions are paid annually.
Top 2. Lucidchart
The Luicidchart is free mind map software on the web and mobile application that allows you to put together charts, diagrams, mappings, and drawings. Furthermore, this tool has a user-friendly interface, where you can also find great features that will definitely help you make a diagram of your own. In addition, this tool offers keyboard shortcuts where you can easily zoom in and out the graph and make adjustments to the shapes you want to add to your project.
The free version can work up to 3 editable documents, with 100 professional templates. The Individual paid version can give you a great start, where you can enjoy unlimited editable documents with more than 1000 professional templates to use. This mind map software also has the Team version, where a minimum of 3 users can enjoy unlimited editable documents, 1000+ templates, advanced collaboration, and integration to enjoy.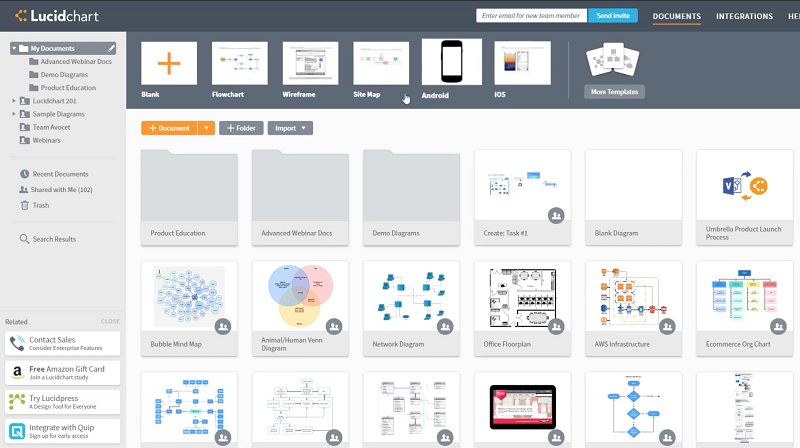 PROS
With keyboard shortcuts.
It has intuitive designs.
Flexible
It offers a variety of features.
It has a collaboration feature.
CONS
Sometimes a resized diagram does not apply to other users.
Its pricing is a little bit higher.
It has a user license restriction.
Top 3. Coggle
Coggle is an online mind mapping tool that hierarchically produces documents similar to a branching tree. Furthermore, this free mind map software contains features in which you can save changes automatically, collaborate in real-time, make private diagrams, add multiple sharing points, and more. In addition, this tool doesn't limit the features on its online platform but also to its mobile application that is available on Android and iOS.
In addition, Coggle aims to cater the small, medium, and enterprise businesses as their type of customers. However, this software still has some drawbacks that users have often encountered. Others have experienced difficulty in using the presentation, where there were collapsing branches with not-so-good visibility.
Coggle is mind map software that offers a free trial called the Free Forever plan, which allows you to make three private diagrams and unlimited for public ones. Next is its Awesome plan, which suits professional and personal use that gives privacy and advanced features. And lastly, it has the Organization plan, which is perfect for the teams who can collaborate in accessing the data and billing.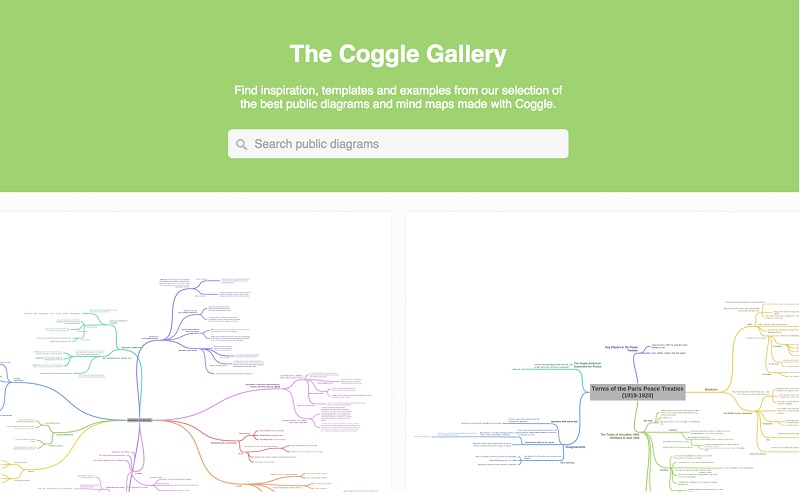 PROS
It works well with Google services.
It works fast.
It offers numerous features.
Its free version contains much functionality.
CONS
It is difficult to understand at first.
The diagrams are sometimes collapsing.
You need to have an adequate internet connection to use it.
Part 3. The Ultimate and Free Mind Mapping Tool Online
Together with the top 3 mind mapping tools on the web today is this ultimate MindOnMap, the free mind mapping software on Mac and Windows. In addition, it also is an online tool that gives every aspect you need to produce a significant mind map. Furthermore, it offers you numerous stylish templates to help you organize your thoughts well according to your need. The icons available on its interface are undeniably great, where you can personalize your maps to show how you really think, besides helping you turn the complex idea into the simplest one.
What's more? The MindOnMap also allows the users to embed pictures and links to give more intuitive ideas. Also, working in a team won't be a problem, because you will get to share your map with the members everywhere they are and work collaboratively with them. Moreso, are you ready to learn how to use free mind mapping software? Or the steps in making an excellent mind map? Let us see, therefore, the instructions provided below.
Visit the MindOnMap official website using your desktop or your mobile device. Start the process by clicking the Create Your Mind Map tab.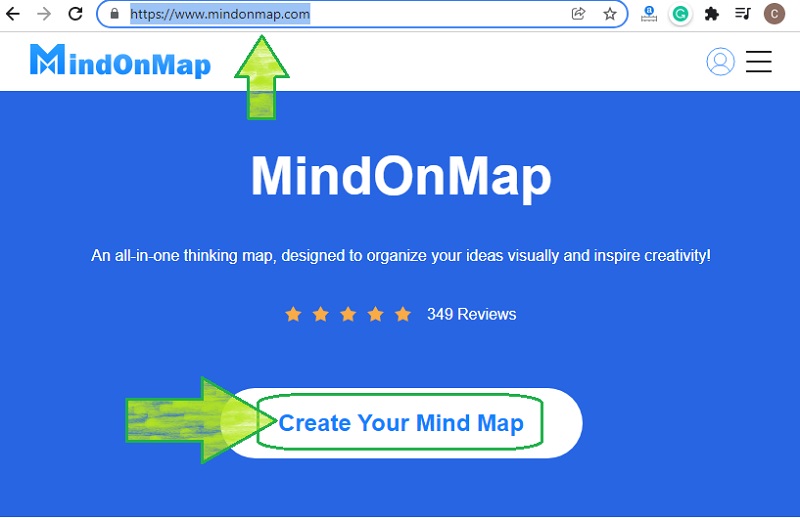 2
Choose Prefered Chart/Theme
Upon reaching the next page, toggle the New button and choose among the charts or themes available. You need to select according to your subject, or just to your preference.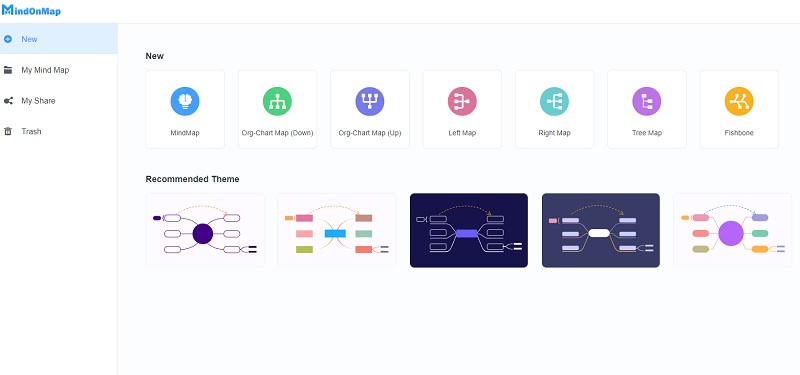 On the main interface of this best free mind mapping software, you may start working on your diagram. In this sample, we will be making an organizational chart. Start on entering your main subject, then add the sub-topics by adding nodes when you click on the Add Node portion and choose whether to add a Node or a Sub-Node.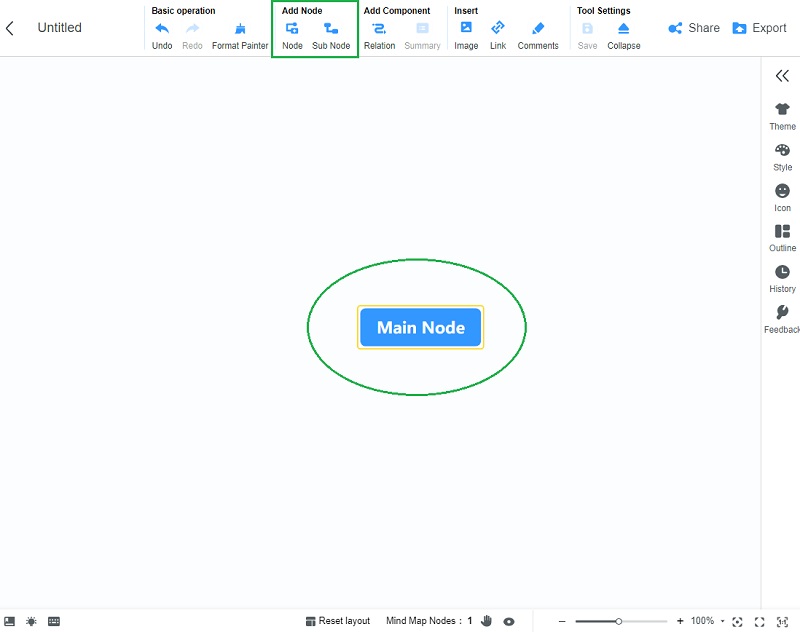 4
Adding Colors and Images
4.1. Click on the Arrows on the right side to swipe and expand the features. To change the color of the Main Node, go to the Style and, under the Branch, choose the Fill Color among the rest of the sub-features. This is also applicable for the Nodes. Otherwise, to change the Sub-Nodes' shades, go to the Shape.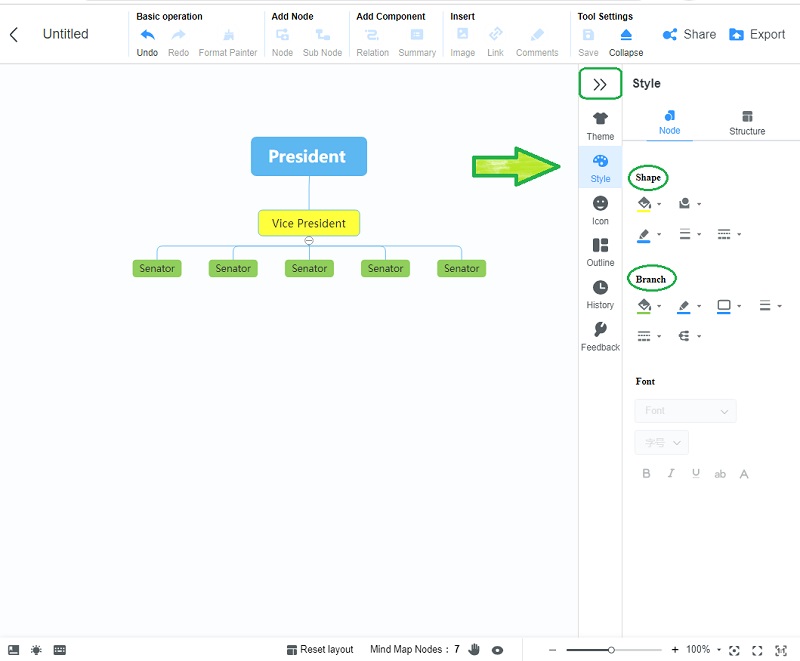 4.2. This mind mapping software can add interesting images for free on your nodes. To do so, you can click on the Insert located at the upper part of the interface and choose Image. You see, you can also add links and comments if you want to.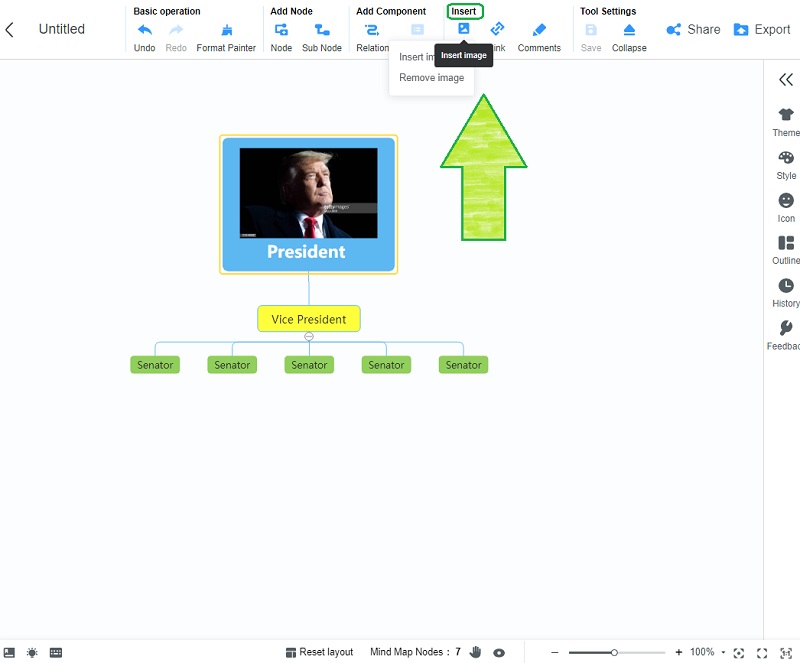 To save the changes you made on your map, go to the Tool and click Save. You can also share the map with your colleague by hitting the Share, and from the popped-up window, hit the Copy Link and Password button to send the details to your team for viewing.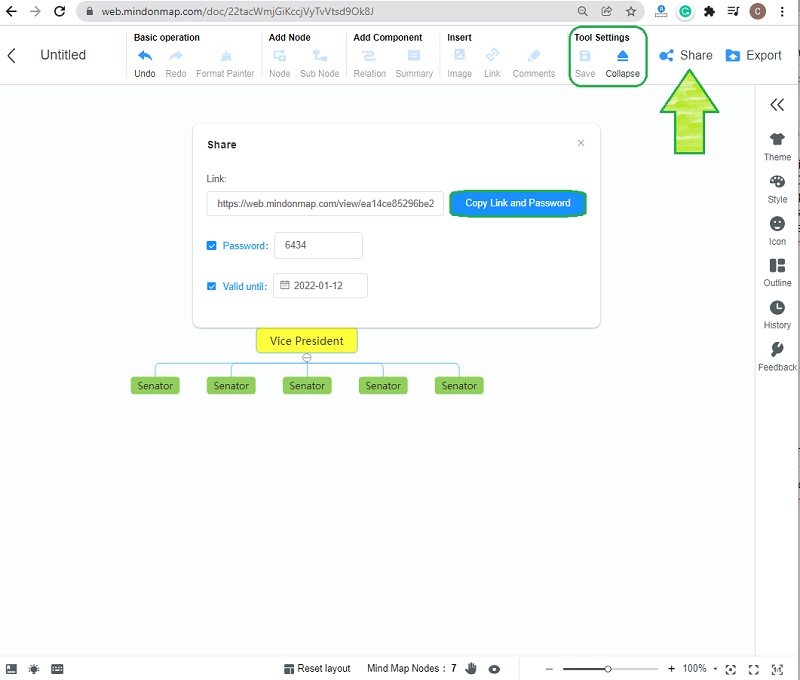 Finally, you can export your map from this mind map software and turn it into a file. To do so, toggle the Export tab next to the Share, and choose your preferred format from PDF, Word, SVG, PNG, or JPG. Upon clicking your desired format, the file will automatically be downloaded to save on your device.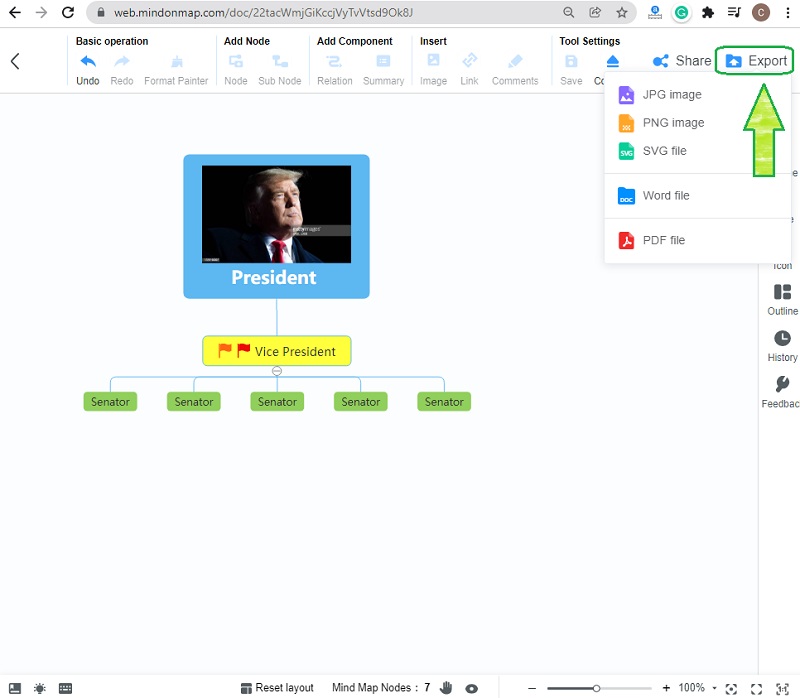 PROS
It has an intuitive interface.
With multiple features available.
Many themes and charts are available.
It has a sharing feature.
CONS
There is no iOS and Android version.
You need to have the internet to access it.
Part 4. FAQs About Mind Mapping
What is the best 3D mind mapping software for free?
There are a lot of 3D mind mapping tools available, but the best tool depends on your preference. Hence, you may want to try the InfoRapid KnowledgeBase Builder tool.
Are mind maps suitable for studying?
Of course, the mind mapping was also created for a creative brainstorming task for the students.
Which is better? Mind mapping on paper or mind mapping on the phone?
Using a paper on mind mapping is also a friendly method. However, mind mapping would be more exciting and creative by using the software.
Conclusion
To sum up, choosing the right mind mapping tool will allow you to turn your ideas into beautiful maps. Some of the four different free mind map software is also free to use on iPad besides desktops, Mac, and mobile devices. Therefore, feel free to try them most, especially the MindOnMap, which is so far the best among them.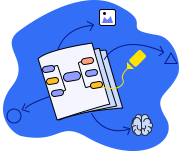 Create Your Mind Map as You Like