Top Flowchart Makers with Easy-to-Use Features
It's sometimes easier to visualize something graphically than to describe it verbally. Flowcharts use symbols and text to explain a process clearly. Furthermore, flowcharts provide a quick overview of the process flow.
In addition, flow charts are a valuable tool for improving efficiency. It is simple illustrations that show how a process will work so that others can understand it. They can also use it to define and analyze a process and create a step-by-step picture of it, which you can then normalize or improve. In particular, It is a simple graphical portrayal of how steps in a process connect. As a result, they're relevant in explaining how methods work and documenting how a specific work is completed.

Part 1. What is a Flowchart
A flowchart portrays the personal steps of a process in a logical sequence. It is a basic tool that can be adapted for a variety of purposes and used to describe a wide range of processes, including manufacturing, administrative, and service processes, as well as project plans. Moreover, A flowchart is a graphical presentation that indicates an algorithm. Programmers frequently use it as a problem-solving tool.
In these situations, Flow charts are helpful because they make a process easy to understand at a brief look. They determine what happens at each stage and how it affects other decisions and actions with just a few words and simple symbols.
Part 2. Steps of Making a Flowchart
How often have you considered simplifying a process in your company but been unsure where to begin? Maybe you've struggled to understand a process when it has been made clear to you.
In these situations, flow charts are helpful because they make a process easy to understand at a brief look. They learn what happens at each stage and how it affects other decisions and actions with just a few words and simple symbols.
Here are the steps for creating a flowchart.
1
Define your goal and scope of work
What do you want to achieve? Are you studying the right things with the right start and endpoints to achieve your goal? Be diligent in your research while keeping your charting simple enough to communicate with your target audience.
2
Organize the tasks into a timeline
Talking to participants, observing a process, and reviewing existing documentation could all be part of this. You could note down the staircase in a notepad or start a rough chart.
3
Organize them based on their type and shape
Process, decision, data, inputs, and outputs are examples.
Either manual process or with the assistance of a program.
5
Make sure your Flowchart is appropriate
You are taking people who are involved in the process through the steps. Examine the procedure to ensure you haven't overlooked anything crucial to your goal.
Part 3. Top Flowchart Makers
1. How to Make a Flowchart in Microsoft Word
Microsoft Word, a famous flowchart creator, can create and organize various types of flowcharts. By combining multiple sections, you can create your personalized chart. You can also use its SmartArt tool to create your Flowchart with its shape and other symbols/. You can read the instructions below on creating a flowchart in Word to comprehend the process of creating one entirely.
1
Create a New Blank Document in Microsoft Word
To begin, open Word and create a new document.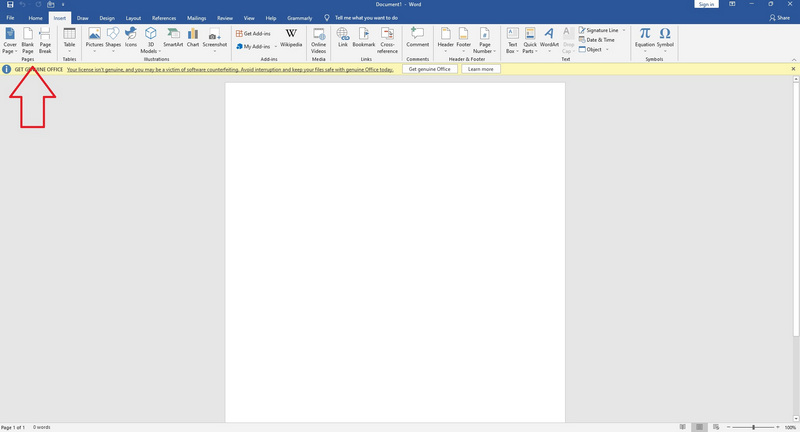 2
Choose and Add your Favorite Shapes
You have two options for starting to add shapes to your Flowchart in Word. Begin by selecting SmartArt or Shapes from the Insert tab of the Ribbon. Within a gallery. SmartArt graphics are pre-made collections of shapes. The Shapes tool gives you an essential selection of shaped objects to insert and edit into your document.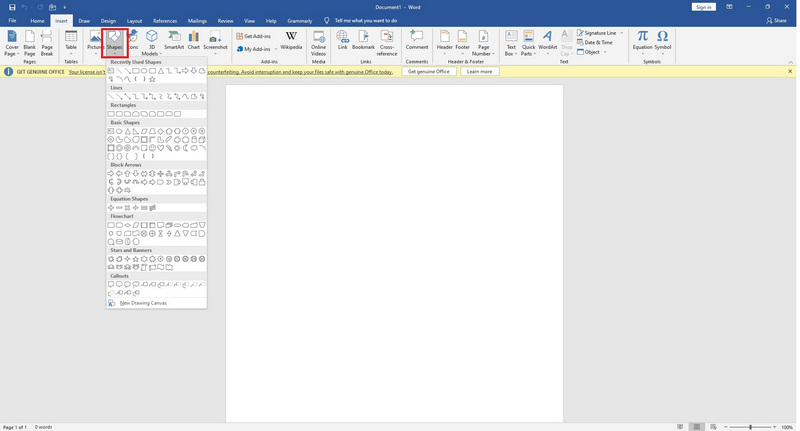 3
Text/Information Addition
However, you must consider including instructions on making a flowchart in Word. Start entering text using a SmartArt design by clicking the filler text. Depending on how much text you put inside the shape, the shape and font will automatically adjust to fit. Moreover, to add text to a Shape, double-click the form and begin typing. You can also change the readers you've entered using the toolbox that appears when the desired shape is selected.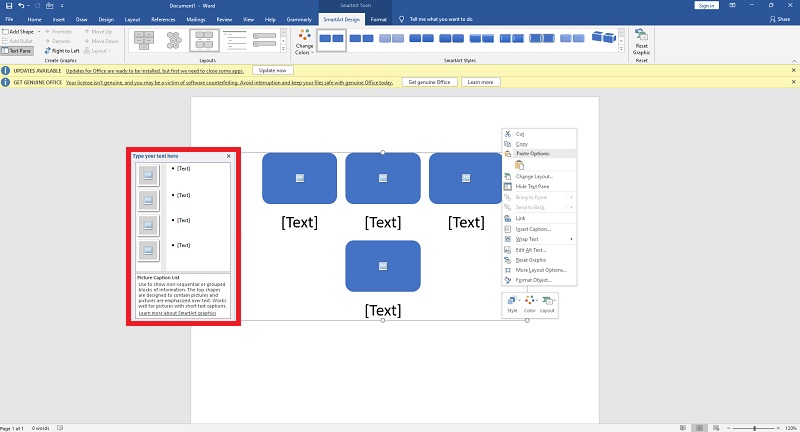 The next step in creating a Word flowchart is adding the lines. This shape indicates the Flowchart's direction. To achieve great flowcharts, they should be included in a logical sequence. Go to Insert > Shapes, select your line style, and click on the page to add lines to your project.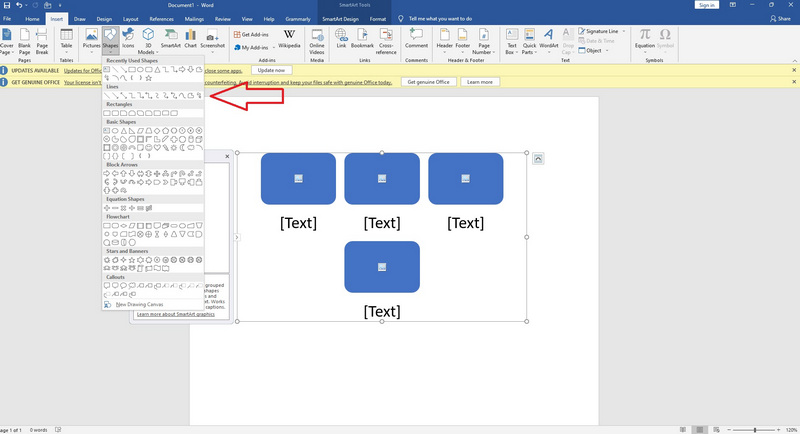 The final arrangement can then be manually verified and organized, and You can also use its SmartArt to have more options and make your task more accessible if you prefer.
2. How to Make a Flowchart in Microsoft PowerPoint
Microsoft PowerPoint is the go-to software program for many students, teachers, and professionals, and for a good reason. On the other hand, PowerPoint is severely limited when creating flowcharts; it wasn't designed for the task. Flowcharts can be made using only PowerPoint in two ways: SmartArt or shapes library. This tutorial will go over both methods and some of the advantages and disadvantages of each.
Here's a basic tutorial on using PowerPoint to make a flowchart for a better understanding.
1
In the SmartArt Drop-down Menu, Choose a Flowchart
Browse to the slide where you want to add a flowchart in MS PowerPoint. To open a drop-down list with various diagram types, go to Insert > SmartArt. To see the different flowchart options, hover your mouse over "Process". Click one of these diagrams to insert it.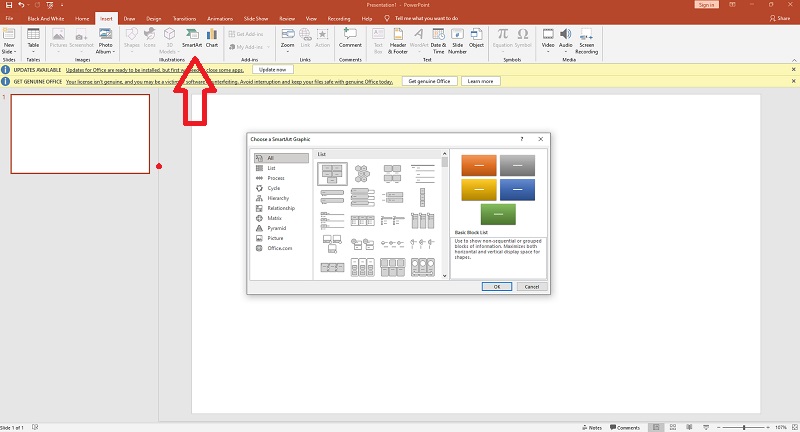 2
Make a Flowchart with Text and Shapes
By clicking the center of the shape in your SmartArt graphic, you can add text to it.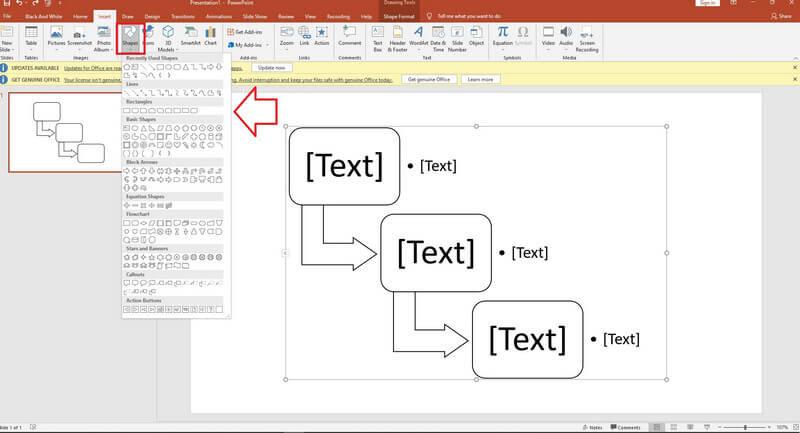 3
Make your Flowchart Unique
Once you select a SmartArt graphic, two tabs appear on the toolbar: SmartArt Design and Format Click the former to change the diagram type. Choose from a set of basic color schemes and shapes. The format tab, on the other hand, enables more detailed customizations such as changing the color of individual shapes, text, color, and font.
3. How to Make a Flowchart in Microsoft Excel
Excel spreadsheets contain a large amount of data that is valuable but complicated. Flowcharts can help you visualize the relationships between various data points in your spreadsheets and make them easier to understand.
This tutorial will clearly show how to make a flowchart in Excel.
Putting a grid to Excel will make creating flowcharts and diagrams a little easier, but it isn't necessary, especially if you're already familiar with the program. When you format a grid, you change the column width to match the default row heights, making added shapes more uniform and proportioned.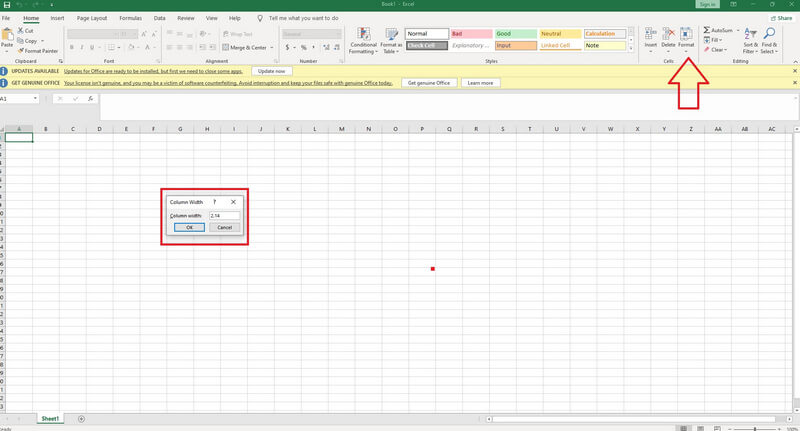 In Excel, you can use either SmartArt or Shapes in the Insert tab to add shapes to a flowchart. SmartArt graphics are pre-made groups of shapes that include styling and logic. Exclusive to that can be added to a spreadsheet and edited as needed are known as shapes. Consult our flowchart symbols and notations guide to becoming more familiar with the most commonly used shapes.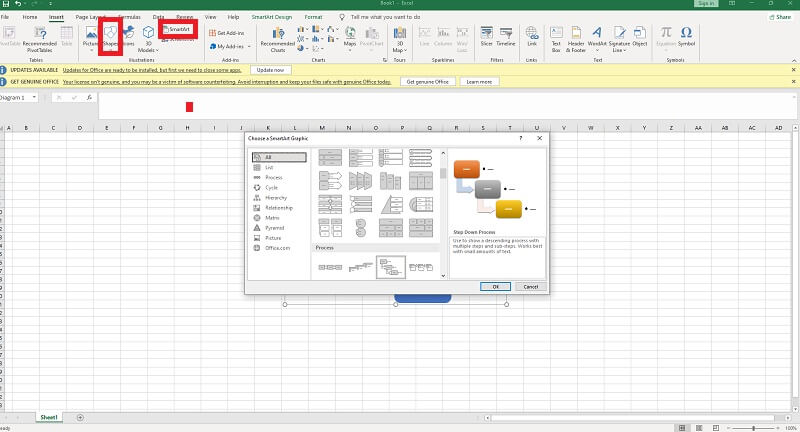 To add text to your Flowchart, click the flowchart symbol you want to use and start typing. SmartArt's text boxes and font sizes will automatically resize depending on how much text you add. Select font options from the Ribbon home menu or the dialog box next to the shapes to edit your text.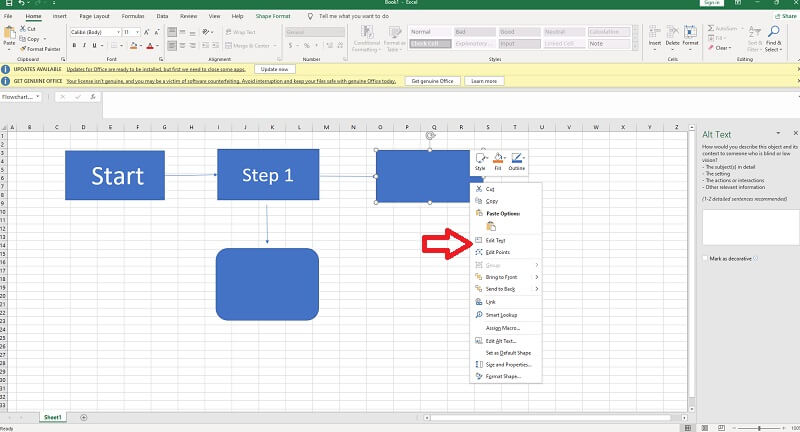 4
The Flowchart Should be Formatted
After you've added your flowchart shapes, text, and lines to your Excel sheet, the Ribbon at the top gives you more color, style, and format options. Using the Insert tab, you can change the line thickness, font styles, colors, and transparency of your lines and shapes.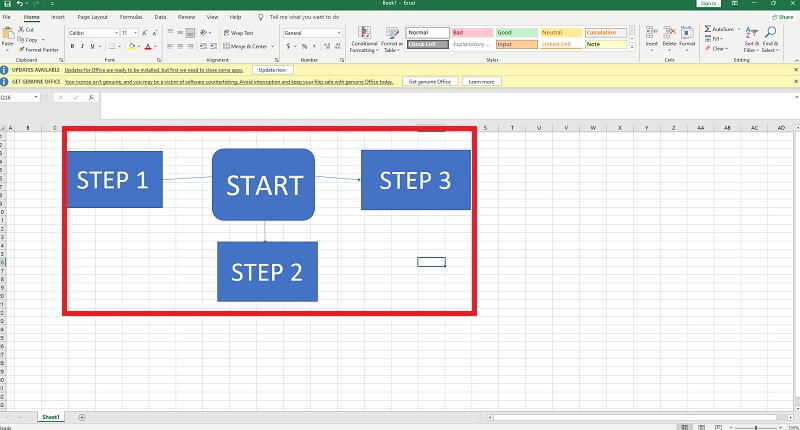 4. How to Make a Flowchart In Google Docs
Students use Google Docs and local professionals worldwide to share content and collaborate in real-time. On the other hand, the text does not always convey ideas or information. Moreover, Flowcharts and other visuals add interest to text-heavy documents and assist readers in quickly comprehending your message, so it's understandable why you'd want to include one in those documents.
Here are the major steps for making a flowchart in Google Docs.
Open your Google Docs and choose where you want the flowchart to appear in the document.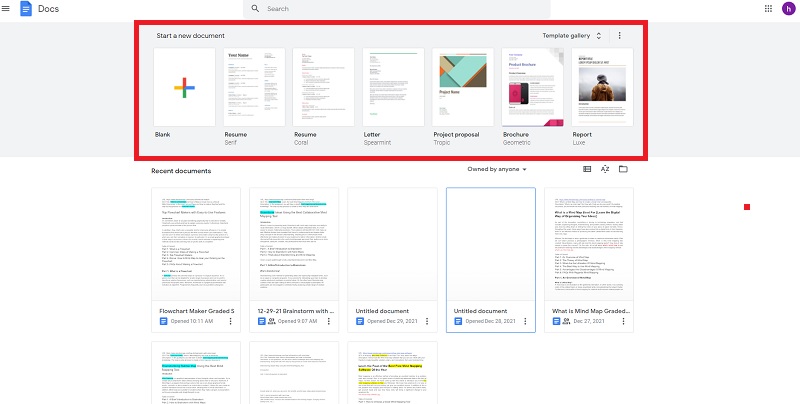 The Chart menu option may be visible here. The Chart menu is for creating other charts like pie charts and bar graphs, as much as it would make sense to go there to create a flowchart.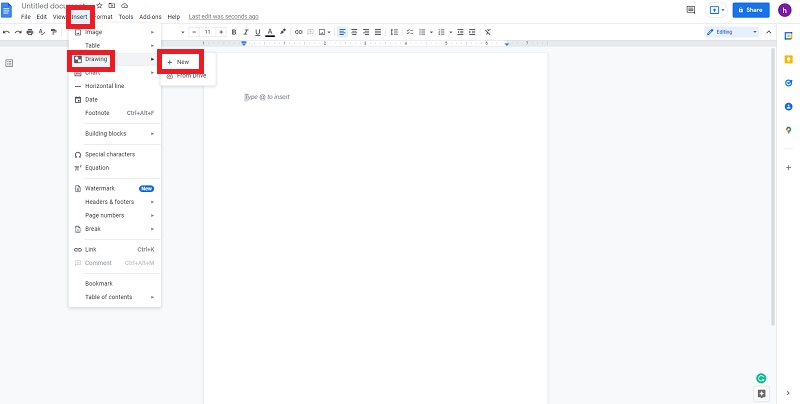 Add lines, shapes, and text. Use the menu and other elements to make the flowchart. Go to the Google Drawings page if you'd instead work there (more tools there, including flowchart templates).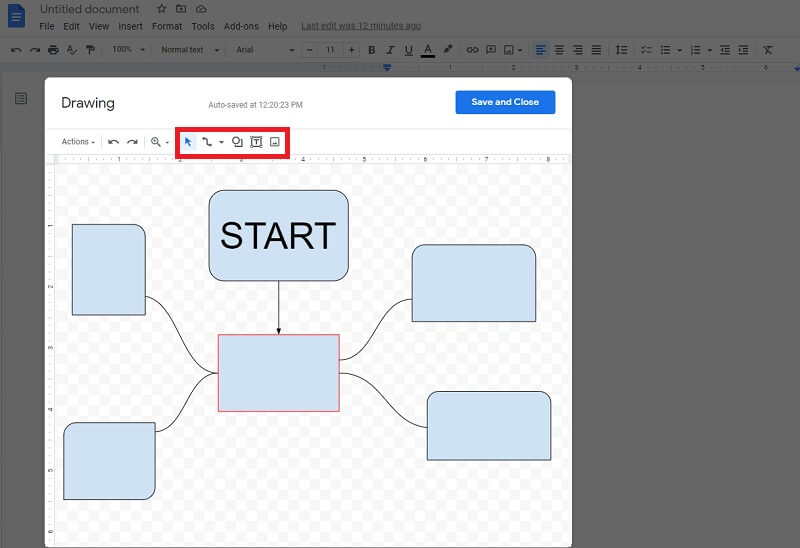 To import it into your document, select Save and Close. If you need Drawings to create the flowchart, look for it in the Insert > Drawing > From Drive menu.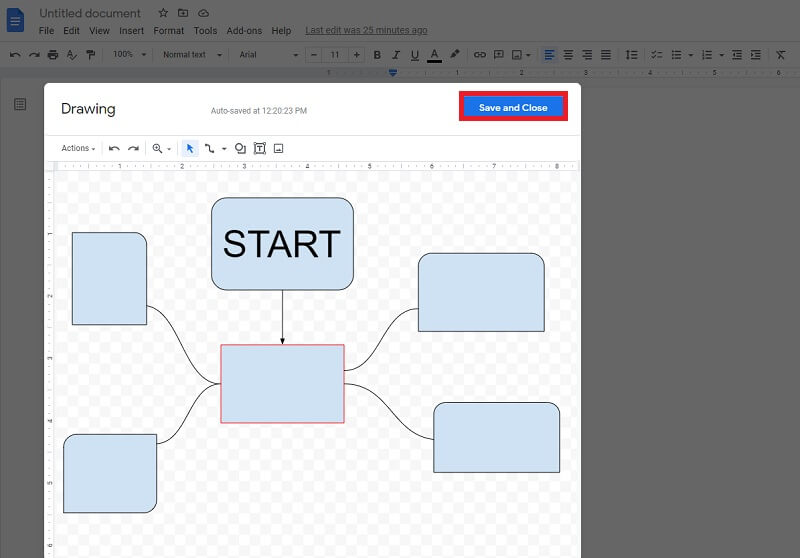 Bonus: How to Mind Map to Clear Your Thinking on Flowchart
Generally, making a flowchart online is not difficult or complicated to do. Using the right program is far easier for you to get this job done. Having said that, here is a detailed instructional guide to assist you in creating a flowchart using one of the best mind mapping tools, MindOnMap.
You can get the program by visiting MindOnMap's official website.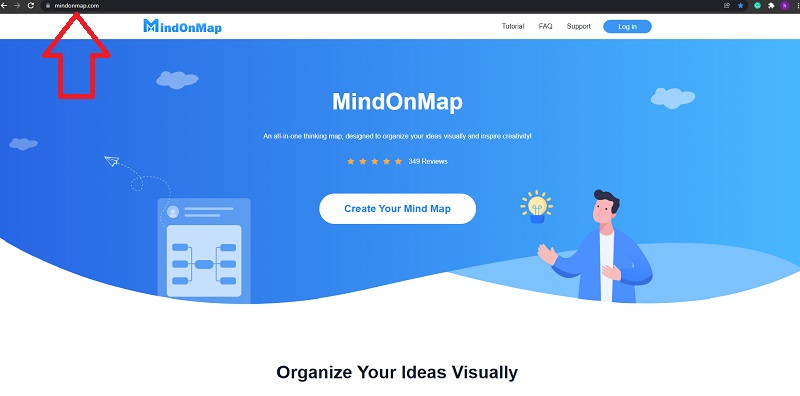 To get started, create your Mind Map and sign in with your Gmail account.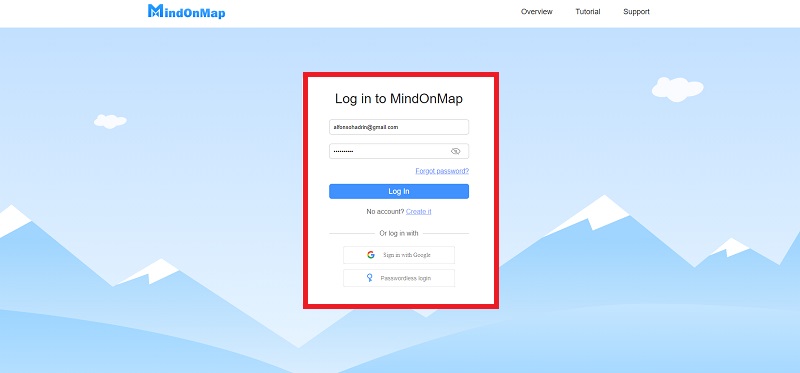 After logging in, you can start working on your Mind Map and select which maps to use. (Org-ChartMap, Left Map, Right Map, TreeMap, Fish Bone, MindMap).

Click to add nodes and free nodes as needed to make the mind map more precise and flexible once you've made your mind up. You can also add images and links to your mindmap and choose from a variety of recommended themes, styles, and icons.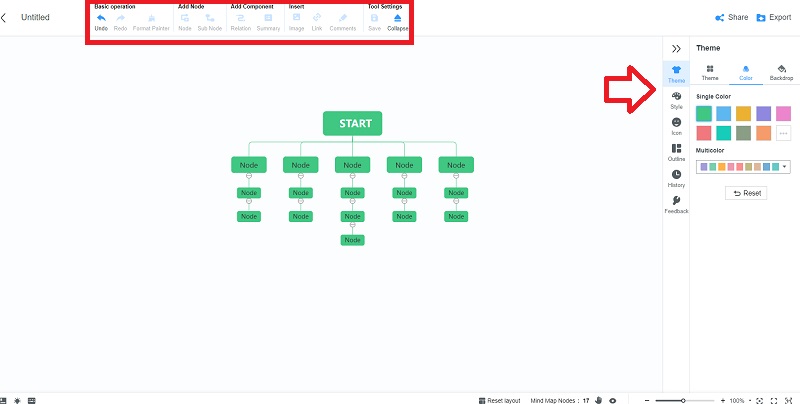 5
Share and Export your Flowchart
You can share the mind map and export it to images, Word documents, PDF files, and other formats.

Part 4. FAQs about Making a Flowchart
How does Flowchart help in problem-solving?
It is a diagram of the solution to a given problem, but it also provides a breakdown of the necessary steps to solve the problem. Flowcharts can help you identify the crucial stages while also providing a more comprehensive picture when designing and planning it.
What are the advantages of using a flowchart?
When a program has logical complexities, it indicates what is done. This key is required for proper programming. It is an essential tool for designing and planning a new system. It specifies the role that is played at each level.
Is it still possible to use flowcharts?
Traditional flowcharts are rarely drawn these days. What younger generations don't realize about flowcharts is that they were used to solving a problem that no longer applies because it was replaced by technology.
Conclusion
Flow charts are helpful when analyzing deadline-oriented studies and techniques because the chart shows you areas where jobs require greater efficiency and regions where one task's completion depends on the completion of another. Moreover, flow charts that analyze timing are handy when several teams are needed on a project, and communication is critical to the project's completion. Understanding how long each process takes enables team members to use their workday better. This post also recommend the best flowchart maker online: MindOnMap.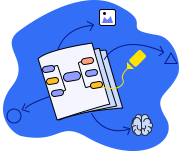 Create Your Mind Map as You Like
Get Started