A Beginner's Guide to What is Genogram with Comprehensive Explanation
Generally speaking, you can call a genogram a family tree because it visually represents a person's ancestry and lineage. But this diagram is more than the usual information you see in a regular family tree. A genogram can track and show a person's medical history and hereditary lineage.
Aside from the mentioned fields, genograms may also include information assessing child psychology, socio-cultural, and actual emotional relationships. In other words, it is a particular type of family tree. It uses a structure using genogram symbols to help the reader understand the diagram well. Meanwhile, many find it confusing to understand and make. That will not be the case as we will discuss an in-depth overview of genograms and introduce a genogram maker to create one yourself.

Part 1. What is a Genogram
What is exactly a genogram? A genogram is a particular type of family tree that shows information about a person's genetic history. It is drawn using basic symbols or shapes that depict a quality of a relationship, emotional ties, and significant others. Other primary and essential information about genes and a family's medical history can be provided using this diagram. It can be used for different fields associated with genetic analysis. Read the following section to learn when and where to use a genogram family tree.
Part 2. Where and When to Use a Genogram
Gathering information about a person's history is one of the purposes of a genogram. The gathered information can be used for assessment and intervention. You may call it a family tree but a detailed one. It is very useful, especially in identifying a person's values that may impact an individual's attitude or current behavior. Overall, this diagram is often helpful in clinical work.
Also, it can help you draw your family structure, displaying the relationships, sexual orientation, age, marriages, intimate relationships, and offspring. On top of that, you can identify the quality of the relationship between family members using a genogram. Now, where do we use it? Here are some of the fields where genograms are helpful or popular.
1. Medical
A genogram is a handy tool, especially for people with special conditions. Medical practitioners such as doctors for patients with diseases in the family may use it to track hereditary diseases. It will help them see generational patterns affecting their patients. Using a genogram, they could identify diseases like heart diseases, autism, or down syndrome. Most of the time, doctors use it to treat issues like these at their earliest stages.
2. Psychotherapy
Suppose you are an advocate of mental health or concerned about mental well-being, genograms are pretty helpful in psychotherapy. In fact, this diagram is famous in this field because you become aware of the procession of mental illness in your family. Also, one of the highlights of this diagram is that it could help you understand the emotional ties or relationships between family members. Therefore, if you seek personal therapy or want to do it in a group, you can do so.
Part 3. Several Kinds of Genogram
To define a genogram further, we will cover several kinds of genograms frequently used. On the other hand, you may see variations and versions of a genogram. In other words, a genogram comes in various forms depending on the maker's purpose. Nonetheless, let us look at a few of the most frequently used ones:
1. Family Genogram
A family or community genogram is one the most common types of a genogram. It displays your family history quite close to you up to three generations of the family. With a family genogram, you can check your family members, especially those with diverse family or complex structures. Along with this, you can track the ethnicity or ancestry of a person.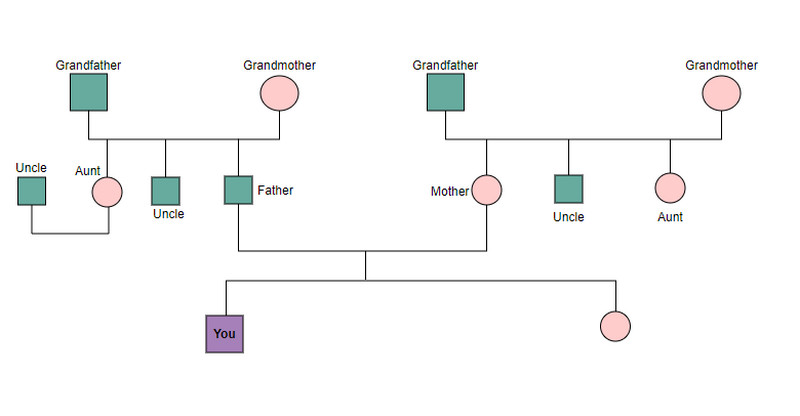 2. Relationship Genogram
With a relationship genogram, you can identify how one individual is related to another. It may contain information like marriages, committed relationships, temporary relationships, and casual relationships. This type of diagram is primarily when a couple seeks help through therapy.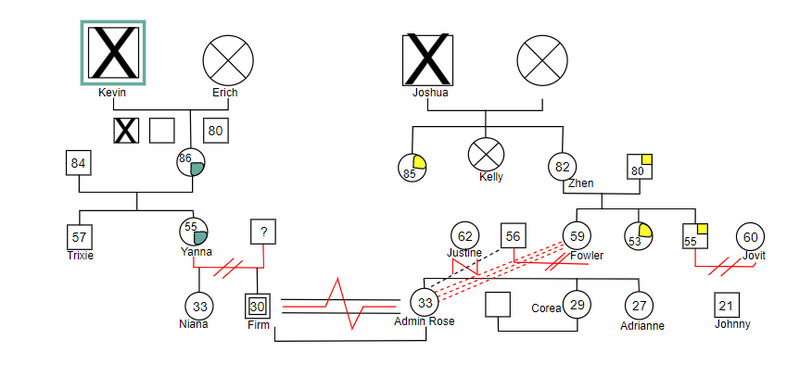 3. Medical Genogram
If the family has problems with diseases, a medical genogram should come in handy. Its primary use is to determine what diseases the family may carry. All the information related to multiple types of diseases or life spans is covered in this type of diagram.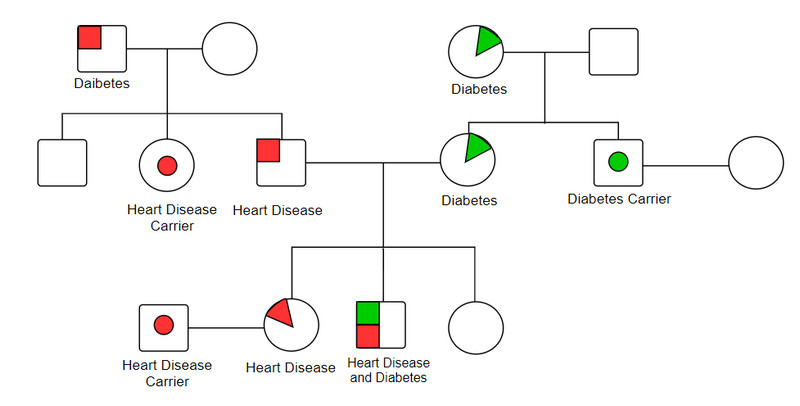 4. Emotional Genogram
A genogram is also helpful in identifying emotional relationships, hence the emotional diagram. Therapists can use a genogram to understand the emotions flowing in the family members. It covers emotional relationships ranging from friendship to very close, distant, conflicted, or distant.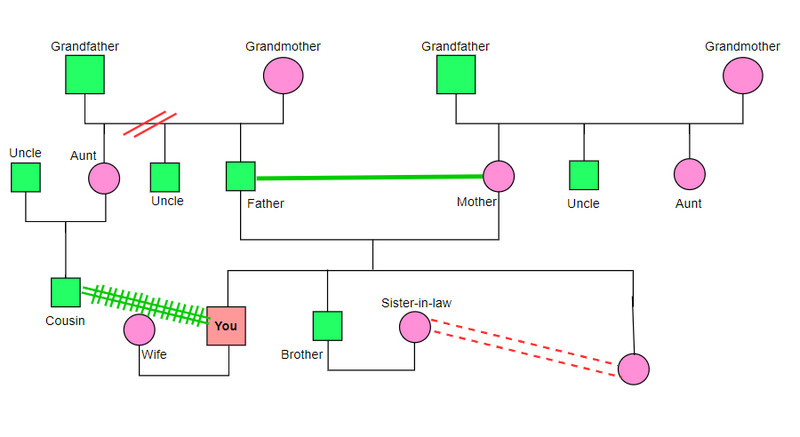 Part 4. How to Make a Genogram
Now, what tool do you need to have to create a genogram? A simple and free tool to help you make diagrams and maps is MindOnMap. It is a free diagram creator accessible via a browser and an internet connection. This online genogram maker has adequate shapes and editing options that fit an online program. Moreover, it enables you to export files to document or image files depending on your preferences. Besides, you can share your genograms online and with your colleagues and friends.
On the other hand, here is a step-by-step procedure to make a genogram family tree:
1
Launch the program
Open a browser that you prefer and access the program. Hit the Create Online, and you will be redirected to the template section. You also can directly click the Free Download button below.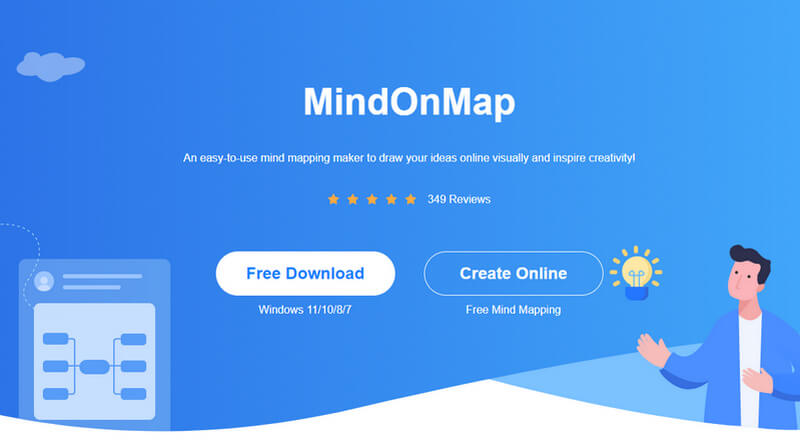 2
Select a template
You may choose a template or theme for your genogram from the template section. After that, you will reach the editing panel of the genogram maker.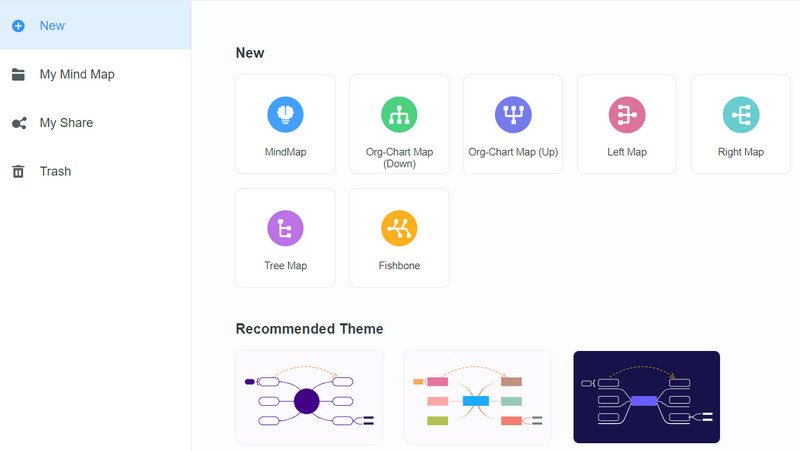 3
Create a genogram
By then, you can start working on your genogram. To do so, add nodes by clicking the Node button at the top menu. You can add nodes depending on your preference. You can use different style options from the right-hand side of the interface. You can change the font, background, shapes, and connecting lines.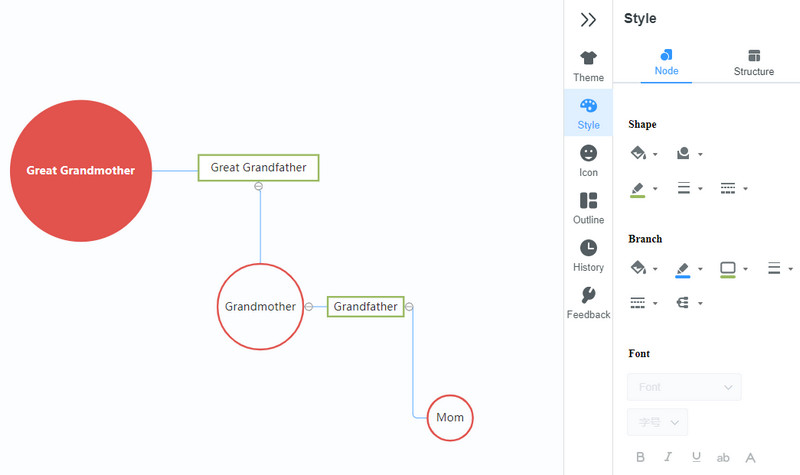 4
Save the genogram
To save your work, click the Export button at the top right corner to save your genogram on your PC. You can choose whether to export the file as a document or an image file.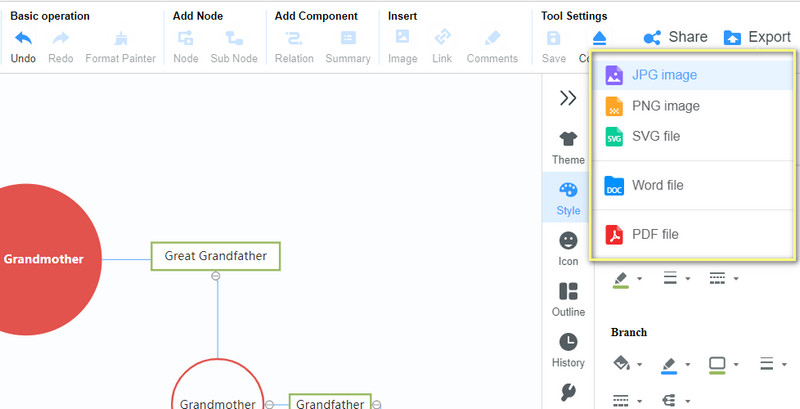 Part 5. FAQs on Genogram
What is a 3 generation genogram?
The third-generation genogram comprises the grandparents and their sisters and brothers. The bottom level is always considered as the first generation.
Can I include names on genograms?
Yes. It contains basic information, including name, gender, date of birth, and date of death. Moreover, it can contain a wealth of information about your family.
How can I show miscarriage on a genogram?
You can represent a miscarriage, abortion, and pregnancy using a triangle. You can differentiate them by putting a diagonal cross on the top of the triangle, which denotes death.
Conclusion
With the comprehensive genogram definition, you can gather information about a person's history and emotional bonds and relationships. Therefore, if you personally deal with past or family history, you may employ this diagram. And we recommend an easy-to-use tool - MindOnMap.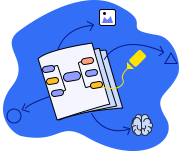 Create Your Mind Map as You Like