How to Make a Concept Map Using the Top 5 Concept Map Makers
When it comes to organizing your ideas and exploring the relationships within a topic, a concept map can help. It can aid in developing deep relationships between the main basic idea and other information. They're easy to make and can be used in any content. Furthermore, concept maps are excellent for visualizing contents and situations. It is critical to observe and comprehend the relationships between various aspects. If you want to create a convenient concept map, reading this article will be highly helpful.

Part 1. What is a Concept Map
A concept map is a diagram of your content knowledge. Concept maps can help you organize your thoughts and explore relationships within a topic. Create an idea map to organize and represent your knowledge of a subject. Concept map examples are charts, graphic organizers, tables, flowcharts, Venn Diagrams, timelines, and T-charts. In addition, Concept maps are an effective study strategy because they help you see the big picture. By beginning with mapping concepts, they allow you to chunk information based on connections. In other words, understanding the larger image makes details more essential and easier to remember.
Moreover, concept maps are especially useful in classes or visual elements or when it is crucial to see and understand different things. They can also be used to compare and contrast information.
Part 2. Top 5 Concept Map Creators
Concept maps are a unique way to stay organized while sharing detailed information. Whether you need to demonstrate a complex problem or present your research, concept maps are an excellent way to be creative while also connecting your findings. Choose from professionally designed templates and begin entering your data. You can use graphics and images to circle or highlight themes in the concept maps.
Here are the Top 5 Easy-to-Use Free Concept Map Makers.
1. MindOnMap
MindOnMap is useful for schoolwork, data organization, and idea generation. It can assist you in determining how effective instruction is throughout, whether you're developing a creative idea. Furthermore, MindOnMap is a versatile and expansive structure that can aid your thinking. It can help you create a structured design. Choose a template design that appeals to you, and then incorporate your thoughts, research, and ideas into your composition. Examine MindOnMap's resources and get started on your ideas right away.
Here are the fundamentals of creating a concept map with the best mind mapping tool.
Before you begin, you must first browse the program from MindOnMap's official website.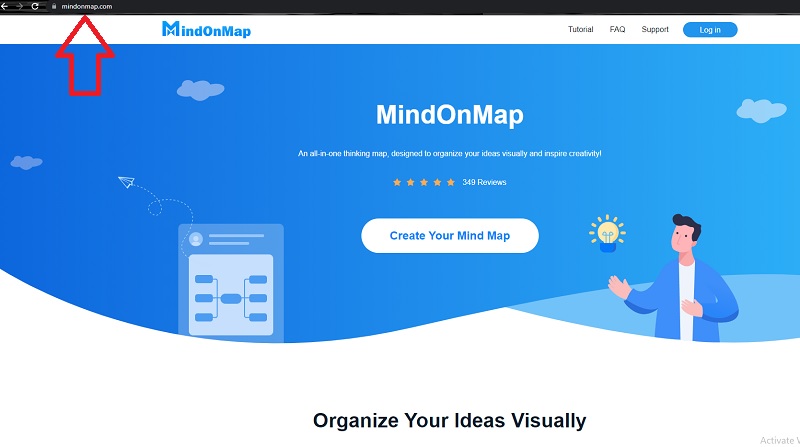 To proceed, click "Create your Mind Map" and enter your email address to acquire your Verification Code.
3
Choose one Recommended Them
After you've created an account, you can select the desired for your concept map. It's either MindMap or Org-Chart Map because they're both excellent for creating concept maps. However, making a concept map in the recommended theme is also easier.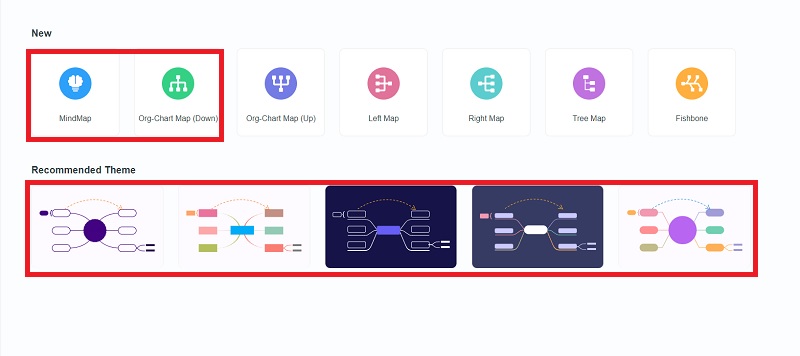 4
Start Creating a Concept Map
Start making your concept map. Click to add nodes and free nodes as needed to make your templates more precise and flexible. Additionally, select the recommended themes, styles, and icons you want to use.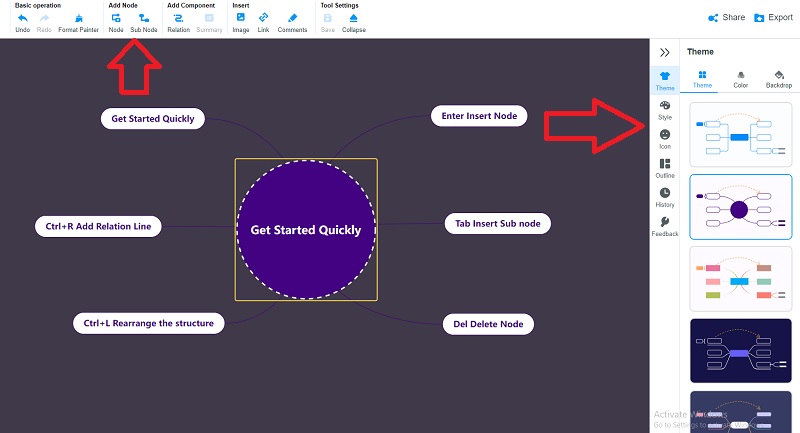 Finally, you can share your templates by exporting them to images, office documents, PDF, and other formats.

PROS
It has an easy-to-use interface.
There are multiple themes and charts to choose from.
It has a sharing function.
With a variety of features available.
CONS
To use it, you must have access to the internet.
More flexibility in adjusting templates.
2. Adobe Creative Cloud Express (Formerly Adobe Spark)
When creating a concept map, use the power of Creative Cloud Express to help you develop your creativity. This concept map maker has a plethora of features that will be beneficial to you. Hence, It's free and straightforward to create, save, and share your templates in minutes. With this convenient software, you can publish your custom-made mind map.
Here are the basic steps of making a concept map using the Adobe Creative Cloud Express (Formerly Adobe Spark).
Before you begin, you should look over the program on Adobe Spark's official website. If you prefer a faster process, please see the link below.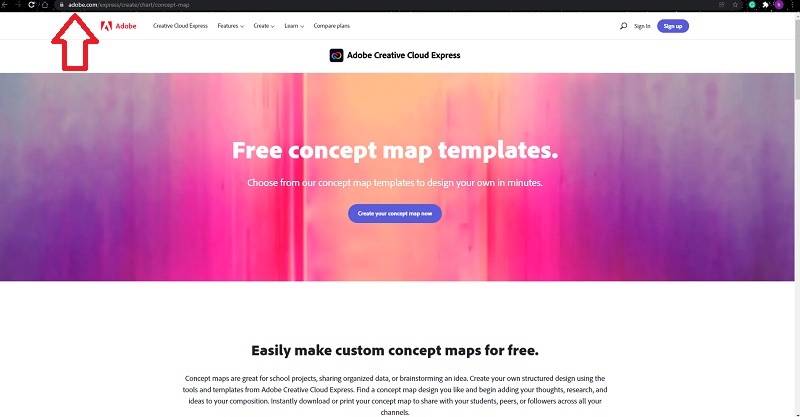 You can sign in or sign up with your account, and you can choose which account you want to sign in with.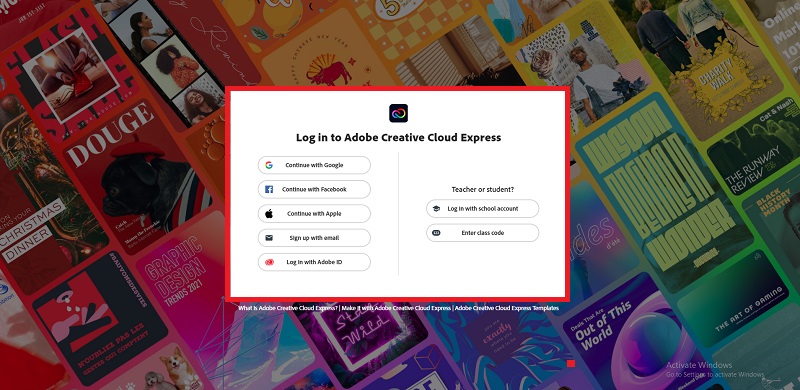 3
Start Creating your Concept Map
We provide you with access to thousands of professionally designed templates, so you're never starting from scratch. To find new ideas, search by platform, task, aesthetic, mood, or color; once you've found a graphic to work with, tap or click to open the document in the editor.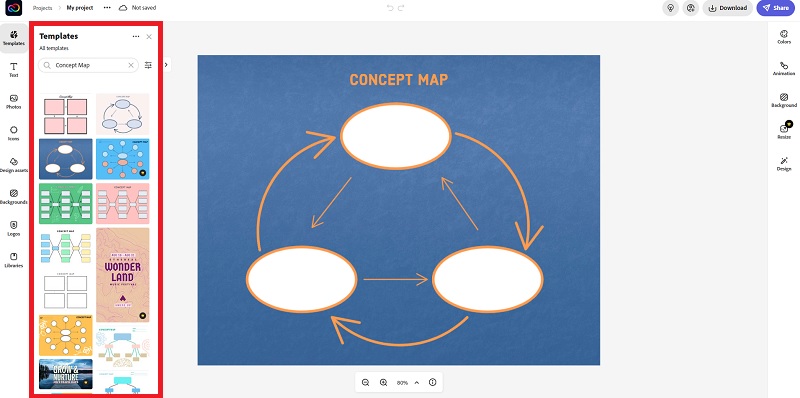 4
Resize your Content to Make it Fit Better
Once you've discovered a design you like, you can easily modify it for any printed need or social network by utilizing Creative Cloud Express's handy, auto-magical resize feature. Duplicate the project, then resize it and choose the platform you want to adapt.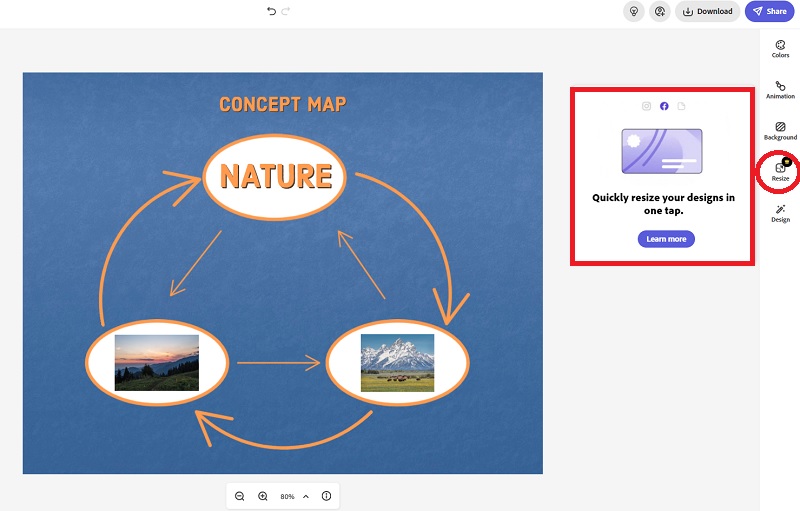 5
Save and Share your Templates
When you're completed with your design, click the publish button to share it with the world. Because Creative Cloud Express saves your work, you can always return to it if you need to update it in the future.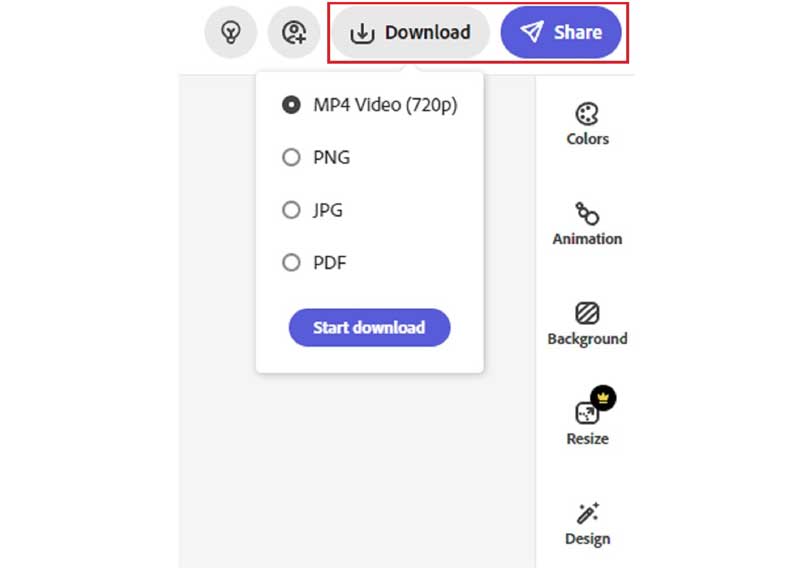 PROS
Simple to use and available for free.
It engages creative features and techniques.
Amazing branding tools.
CONS
At times, the tool plates cover the workspace unnecessarily.
More effect capabilities for a broader range of design functions.
3. PicMonkey
PicMonkey's concept map maker allows you to create visually stunning designs. You'll be surprised at what you can create if you don't have any artistic skills. It has thousands of excellent graphics in various styles, shapes, and sizes that you can use to create eye-catching designs.
Moreover, to customize your design, you can choose from loads of free stock photos and videos directly available from the PicMonkey editor. You're able to find a lovely, genuine image that's ideal for your requirements.
Here are the steps for creating a simple concept map with PicMonkey.
Before you start, Use your desktop or mobile device to access the official PicMonkey website.

2
Log in or Click the Free Trial Button

3
Start Doing your Concept Map
Begin by creating a concept map in PicMonkey templates. Alternatively, start with a blank concept map.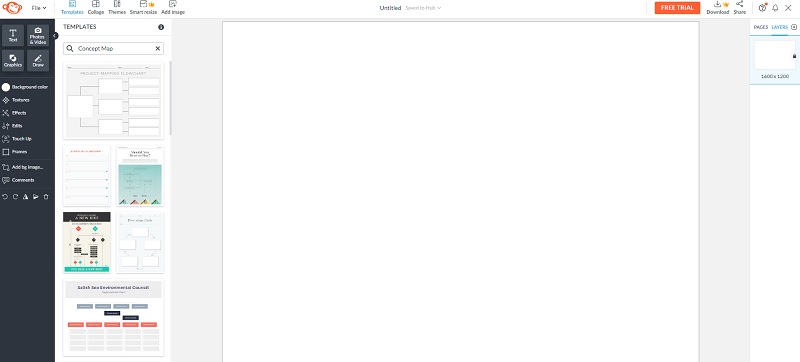 4
Select your Desired Template
You may now begin working on your diagram. Using the templates button, you can find the templates you're looking for. In this example, we'll create a concept map headline.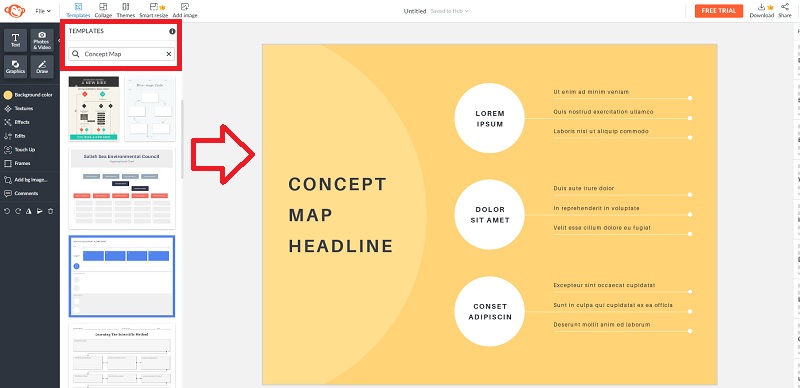 5
Export, Print, or Share
After completing your concept map, you can download and share your template.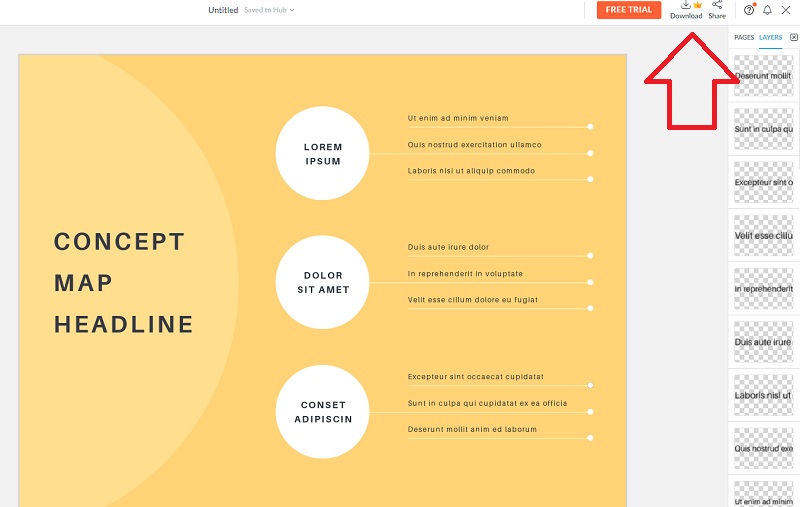 PROS
In just a few clicks, you can create attractive designs.
Everything has a template.
verything has a template Their collaboration as a team will be highly beneficial to you.
CONS
Users can use it for free, so you must subscribe if you want to install the final templates.
There is no free desktop edition.
4. Lucidchart
Lucidchart is widely used by educators and students alike as the ultimate teaching and learning tool. Our concept map generator allows you to visually connect ideas, events, or notes to better plan the curriculum, create study guides, or outline writing projects.
Here are the steps of creating a concept map using Lucidchart.
To proceed, go to the Lucidchart official website and create an account.

At the center of your concept map, there should be a single issue that you want the concept map to solve. Drag a shape onto the canvas to serve as the hierarchical structure's guide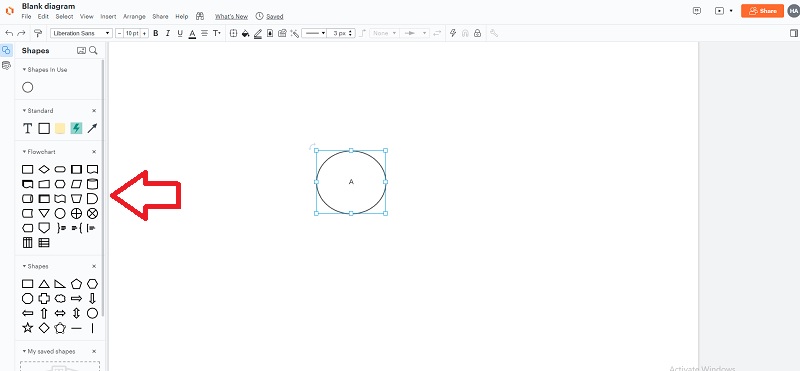 Show relationships by drawing lines and adding text to help define each connection as you go.
Add colors and images to your diagram to personalize it and clearly show related concepts and ideas. As you learn new information, keep revising your concept map.
directly within Lucidchart, printed, or downloaded as a PNG, JPEG, or PDF.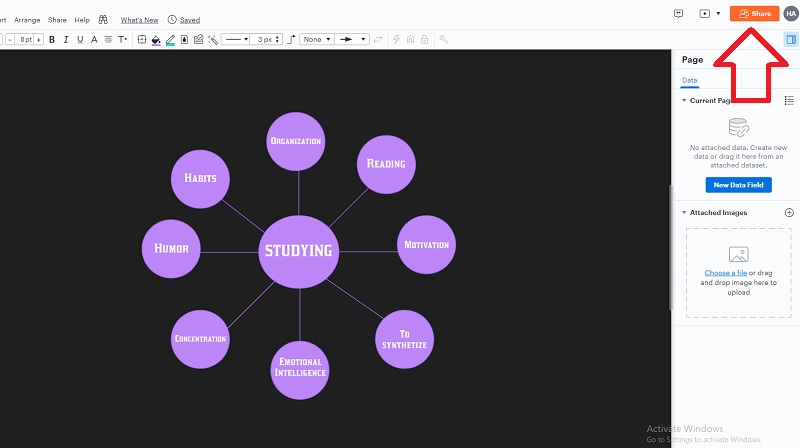 PROS
Integrated with Google g-suite applications without a hitch. The interface is straightforward and simple to use.
Because it is an online tool, there is no need to install anything, saving you time and disk space. You can also use it on any computer. Furthermore, it has an excellent editor and time-saving shortcuts.
User-friendliness, a short learning curve, and flexibility are all advantages.
CONS
It is missing some diagram templates, such as threat modeling.
Some toolbars have restrictions on how you can manipulate text.
5. Moqups
It is simple to make your concept map. You can begin with the template above – and quickly customize it to meet your specific requirements. You can also create new ones by using our concept map creator.
Moreover, Moqups enables you and your team members to collaborate in real-time and work together as you visualize your ideas.
Here are a brief guide to creating concept maps in 5 simple steps:
Before you begin, you must obtain the program by visiting Moqups's official website.

Create a moqups account and sign up with your email address to get started.

Begin by deciding on the main idea, thing, or theme you want to investigate. Drag a shape onto the canvas to serve as the guide for the hierarchical structure.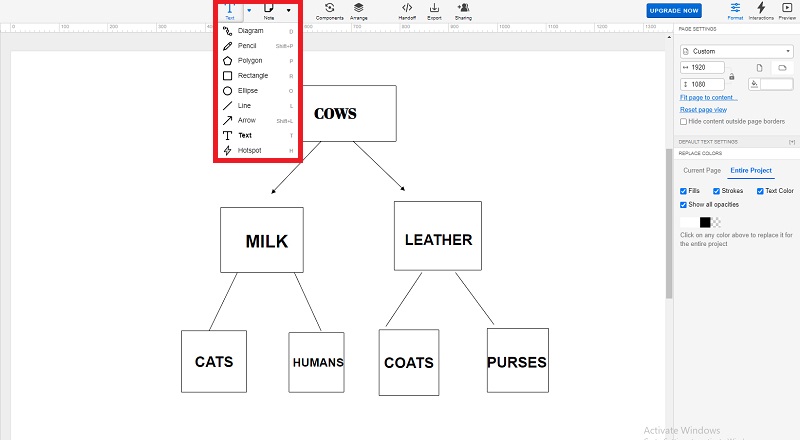 Lines and text should be added to connect everything.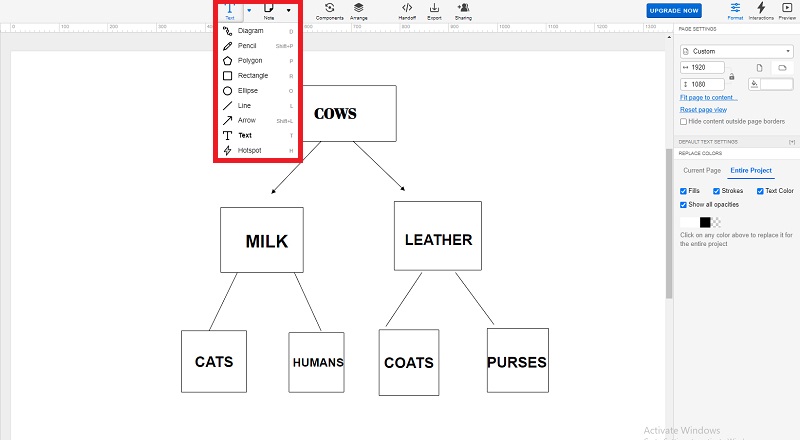 Finally, you can now share your templates with others and export them to images, office documents, PDF, and other formats.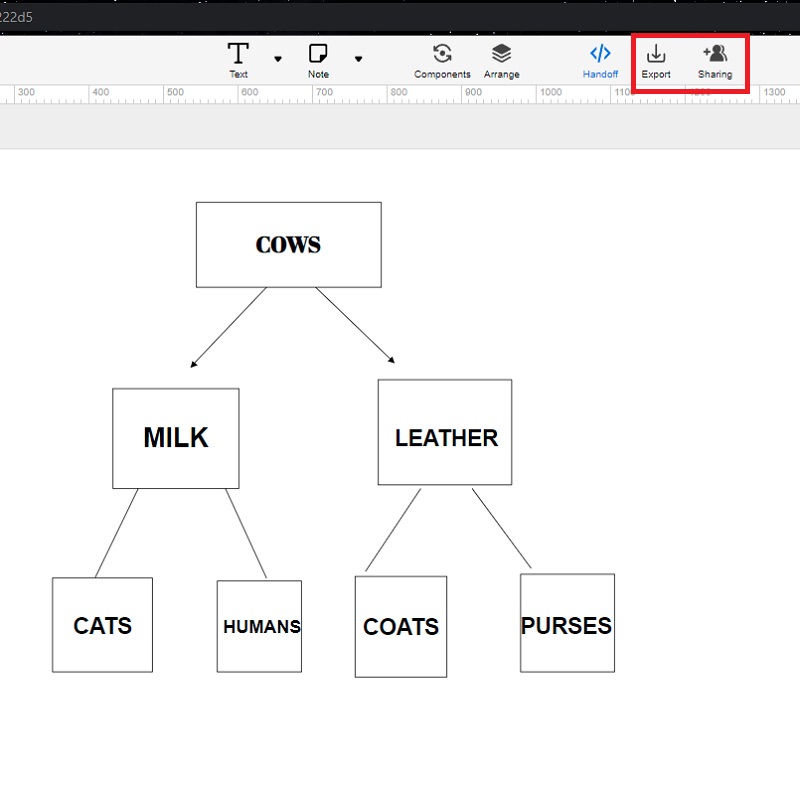 PROS
Simple, beautiful user interface that anyone, even those with basic design skills can use intuitively.
ser-friendly and effective web editor.
CONS
Other tools allow you to create interactions (for example, click a button and go to another screen), which can be helpful.
There used to be a free version that was extremely basic but extremely useful. We were able to begin with something we had no idea how to use and progress to a paid version as a result of their assistance.
Part 3. FAQs about Concept Map
What is a concept map generator?
The concept map generator allows you to visually connect ideas, events, or notes to better plan the curriculum, create study guides, or outline writing projects.
What is the purpose of a concept map?
The purpose of concept mapping is to help students who learn better visually, but they can help any learner. Furthermore, concept maps are an effective study strategy because they assist you in seeing the big picture. They allow you to chunk information based on meaningful connections by starting with higher-level concepts.
How does a concept map guide learners?
A concept map helps connect the learner's concepts and ideas. It assists the trainee in comprehending the information and developing innovative connections between their vision and concept. It is a type of smartboard that helps learners gain the necessary knowledge by connecting concepts and ideas.
Conclusion
To conclude, selecting the right concept map makers will enable you to transform your ideas into spectacular maps. Aside from desktops, Macs, and mobile devices, the five different concept map software are also free to use on the iPad. As a result, feel free to give them a shot, especially MindOnMap, which is currently the best of the bunch.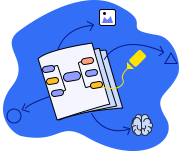 Create Your Mind Map as You Like
Get Started