Stakeholder Mapping: What Is It and How to Use It Effectively?
Are you curious how a stakeholder mapping example looks like? First and foremost, you need to have a deeper understanding of a stakeholder map. Hence, do you know the perfect time to use it? How will it help you? All of those questions are going to be solved by reading this article more.
A stakeholder means an individual or a group member who indulges in a project, business operation, or organization directly or indirectly. In other words, a stakeholder impacts the organization by contributing to its strategies and its objectives. However, it differs from being a stockholder, for a stockholder possesses a part of the company through stock shared by funding. On the other hand, a stakeholder is more on the company's overall performance, making an employee a good example. What is stakeholder mapping, then? Let us find out below.

Part 1. What is Stakeholder Mapping?
Stakeholder mapping is the process of categorizing the members in terms of their interest and influence in the project via visual representation. In addition, it is the stepping stone to making stakeholder management. The members will have a piece of divided information based on their purpose or assignment in the project. Creating a stakeholder mapping and analysis beforehand will help you achieve a successful forecast. It will help you gain support and see unpredictable circumstances from the different stakeholders once presented.
Techniques in Stakeholder Mapping
Since stakeholder mapping is basically about the strategic designation of the task according to the level of the members, it will always be clever to strategize techniques in creating an equitable one. Therefore, in making a stakeholder map, you must consider the three essential yet crucial factors must-have: Identifying, analyzing, and determining.
1. Identifying
First and foremost, you must always identify the stakeholders of your project or organization. It would be best to acknowledge who and how many they are for you to make a stakeholder map. On the other hand, you must also know how the organization will impact the project itself by identifying the objectives and the success criteria that will imply the project.
2. Analyzing
Next comes the analysis. This step will make you understand how the stakeholders are capable of the project. In addition, through analyzing, you will come up with seeing what kind of a member they will be and what means they can contribute to the project's success.
3. Determining
Lastly comes the determining factor. Once you have analyzed the capabilities and abilities, the stakeholder mapping matrix starts. This time, you need to determine the stakeholders' point of view about the project. Through this step, you will see how much priority they will give and if they are having positive thoughts about the project.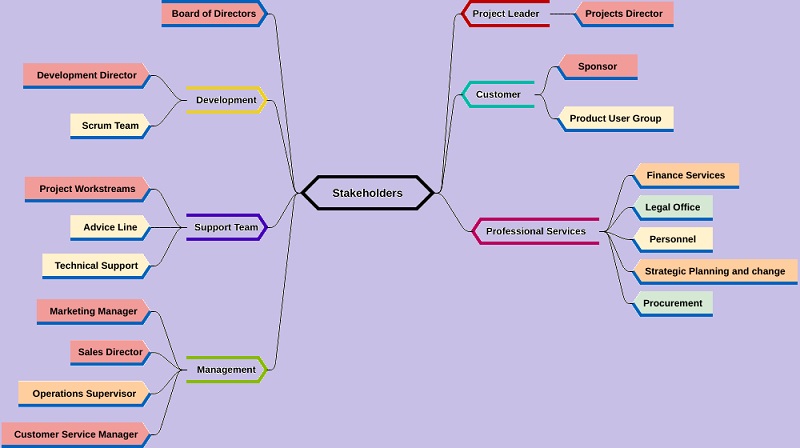 Part 2. What are the Advantages of Stakeholder Mapping?
Stakeholder mapping can help you in so many ways. Moreover, this strategy is crucial in achieving the project's success. The details below will explain the advantages of stakeholder mapping.
◆ It is an excellent basis in identifying complications or issues that the project is experiencing and could also be the reason for the solution, especially with the stakeholder value map.
◆ It enables the project manager to see the interest of the stakeholders towards the project.
◆ It is a great way to process the transactions concerning stakeholders' assignment tasks.
◆ It helps you determine who and which department is accountable for.
◆ It controls the downcast of the stakeholders and the approvals and purchasing businesses of the project.
Part 3. Top 3 Stakeholder Mapping Tools
We won't let you slide reading this article without knowing the best mind mapping tools to create a comprehensive stakeholder map. And so, without any further adieu, let us see how they can help.
1. The Best Online Stakeholder Map Maker - MindOnMap
How to create a stakeholder map effectively and comprehensively? It won't be as creative as you think if you won't use the MindOnMap! This fantastic tool makes the users excited to create great mind maps through its simple yet powerful interface and presets. Furthermore, this mind mapping tool shows its dominance over others, for it can be steered by users of any kind and level. In other words, you don't need to be a professional for you to be able to create professional-like maps because this MindOnMap will let you create one with only a few ticks of your mouse.
What's more? Sharing your stakeholder mind map would have never been easy until you used the MindOnMap! You can easily share the link with your colleagues to collaborate on thoughts. Also, it allows you to save the output with various image formats, including PDF and Word forms, and print it out as soon as you finish it! So what are you waiting for? Create your own stakeholder map now by following the detailed guidelines below.
First and foremost, you must know where you are visiting. Go to its official website, hit the Create Your Mind Map tab, and log in with your email account. Don't worry because one of the advantages of this stakeholder mapping tool is that it will make your account 100 percent secure.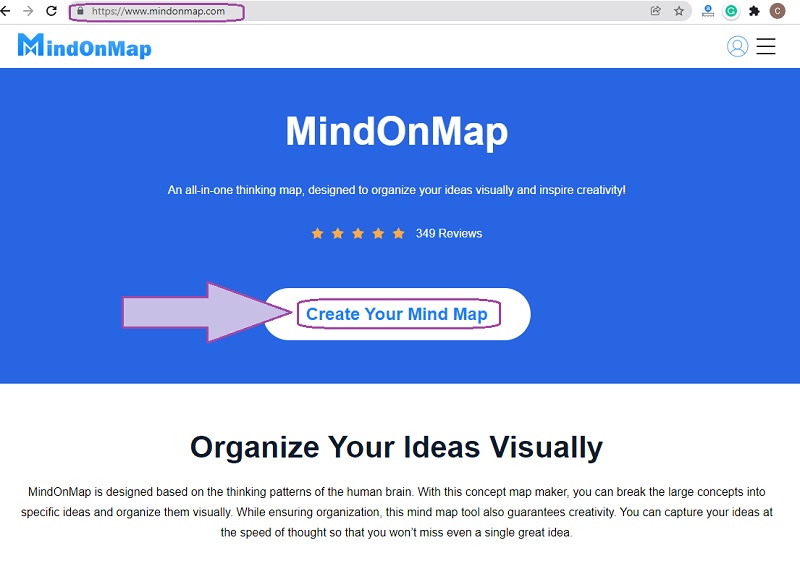 On the main page, hit to create New. You are free to choose whether to work with the tool's provided themes and layouts. Otherwise, you can create your own by selecting the MindMap option.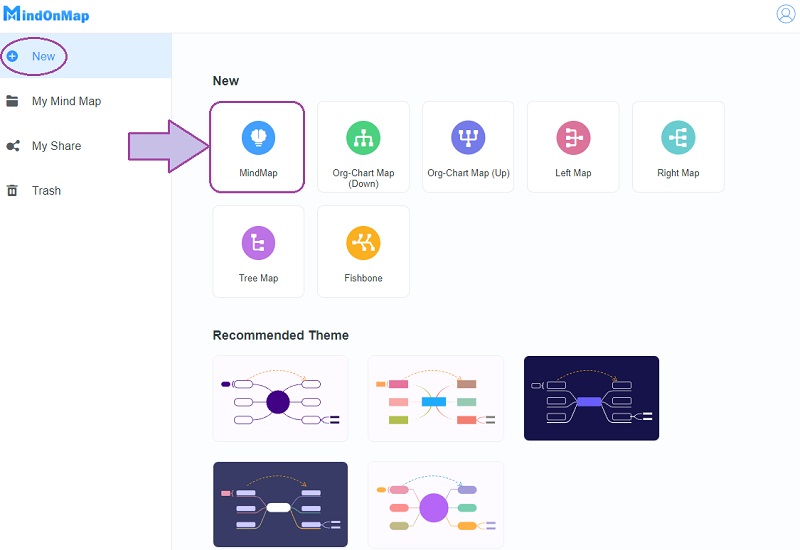 Start customizing the map based on your preference. You can click the node you would like to link the new node with, then hit the TAB button on your keyboard to add a node. Don't forget to rename the nodes after. Also, to optimize the colors, font and to add images to your stakeholder mind map, you can rely on the photo below.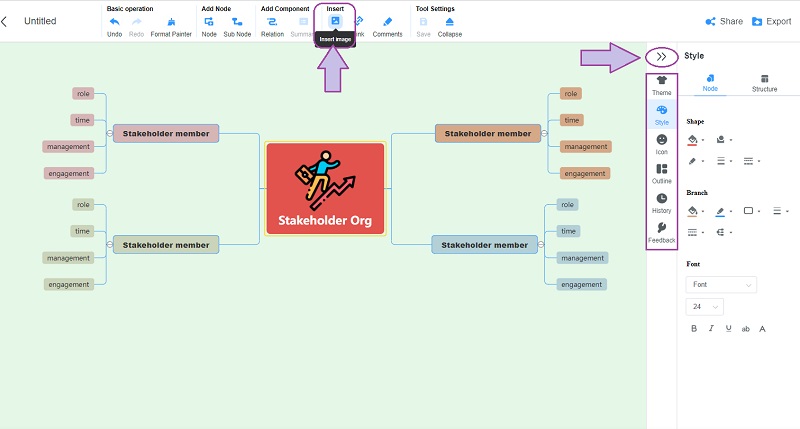 For you to share the map with your colleagues, hit the Share button. Then, feel free to customize a password validity for security purposes. Subsequently, hit the Copy Link to have the copy of the map to be sent to your friends.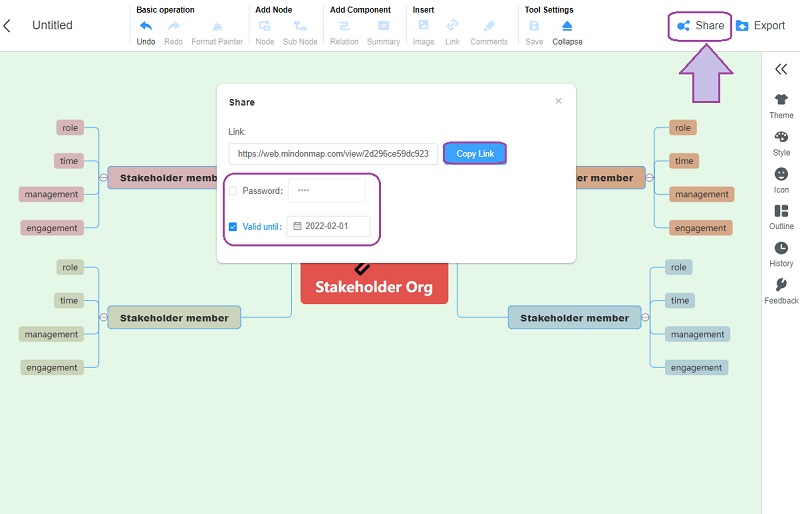 Finally, you can save the map and turn it into your preferred file format. Simply hit the Export button next to Share, then choose a format you would like to have. Note that aside from producing a copy for your device, this stakeholder mapping tool is also keeping your maps as your gallery in your log-in account.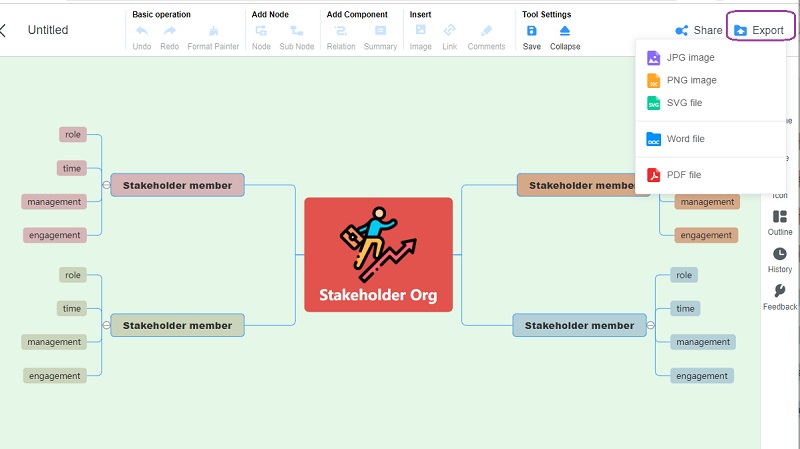 2. The Professional Stakeholder Map Maker - Smartsheet
The Smartsheet is a well-known dynamic work and collaboration software as it claims. This is how it is known, for it allows the teams to work collaboratively via sharing of the files such as images, PDFs, notes, and presentations in real-time. With this being said, members can easily work on the project with their own version control, hence within a customized approval from the manager.
However, unlike the previous tool, the Smartsheet is workable more on spreadsheets and databases. For this reason, not all users will appreciate it not unless you are one of those who would like to know and try how to do a stakeholder mapping exercise on databases and spreadsheets. Nevertheless, this too makes a good impression on the users.
3. Try The Charm Of Miro
Miro is another ideal mapping tool that is also workable with flowchart, diagramming, and at the same time with the presentation with collaboration. In fact, this tool allows excellent collaboration by using its screen sharing feature, which will make you and your colleagues customize the project simultaneously. Furthermore, this tool also exhibits tons of features and integrations that you can use in creating great maps. Hence, just like how you create a stakeholder map, you can enjoy using it for free but with limitations. Thus, its paid accounts will allow you to work unlimitedly.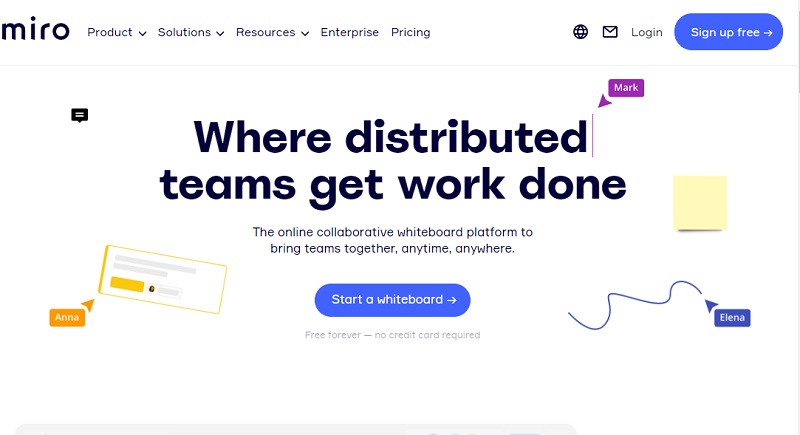 Part 4. Questions About Stakeholder Mapping
Is there a disadvantage in making a stakeholder map?
As we barely see a disadvantage in making a stakeholder map, still others won't slide it. And so, the only drawback that we see is the long time that you will consume in making a map
Are there stakeholders in social media networks? If so, who are they?
Yes. Social media networks have stakeholders too. For instance, in making a Facebook stakeholder map, you must include the users, suppliers, and competitors to be part of it.
Are the customers of the business considered stakeholders?
Yes. Customers are also stakeholders, for they too affect or can be affected by the performance or operations of the business.
Conclusion
There you have it, the clarity of stakeholder mapping. Now that you know when and how to make it, it's time for you to use the mapping tools. Make your maps creative, use the MindOnMap, and enjoy its extreme purpose: to be your best companion in mind mapping.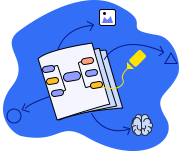 Create Your Mind Map as You Like
Get Started