Bubble Map: Meaning, Examples, and Detailed Guidelines In creating One
Double bubble map, bubble map for writing, brainstorming bubble map, all of them you will learn in this article. See, these kinds of maps have their usage. You cannot just make a mind map and turn it into a bubble one, nor name the map as a bubble where it is in fact a spider diagram. These are just a few from the tons of reports and questions raised on the web today, as others do not know the real meaning of these kinds of maps. Therefore, by the end of this article, you will correctly identify the real purpose of a bubble map.

Part 1. The Meaning of Bubble Map
A bubble map is a visual image of organized thoughts of a concept or the idea being tackled. Unlike the other types, this map shows three dimensions of data which are correlating relationships such as the medical, economic, and social in which each has a set of values. Obviously, the data gathered are presented in bubble forms which is why they call them that. Then what about the double bubble map? Well, this too has, of course, the same meaning as the bubble map. It's just that if you happen to need to tackle two main ideas, where their elements and contrast need to be determined, then you will need to create a double bubble map.
Part 2. Different Types of Bubble Maps
There are different types of bubble maps. This part will tackle three classes: the bubble map for writing, the brainstorming bubble map, and the double bubble map. As we move on, you will see how the three differ from each other and what each looks like.
1. What is a Bubble Map For Writing
You can use a bubble map on different types of writing, such as essay writing. Furthermore, through bubble mapping, you will be able to see the concept, connections, points, and expanded ideas when writing, whether a short or a long piece of an essay. How can you create a bubble map for writing an essay? First, you just need to start supporting ideas and subpoints from the main argument from the most important up to the least one while brainstorming. Then, once done with the outline, it is time to put the thoughts in paragraph form.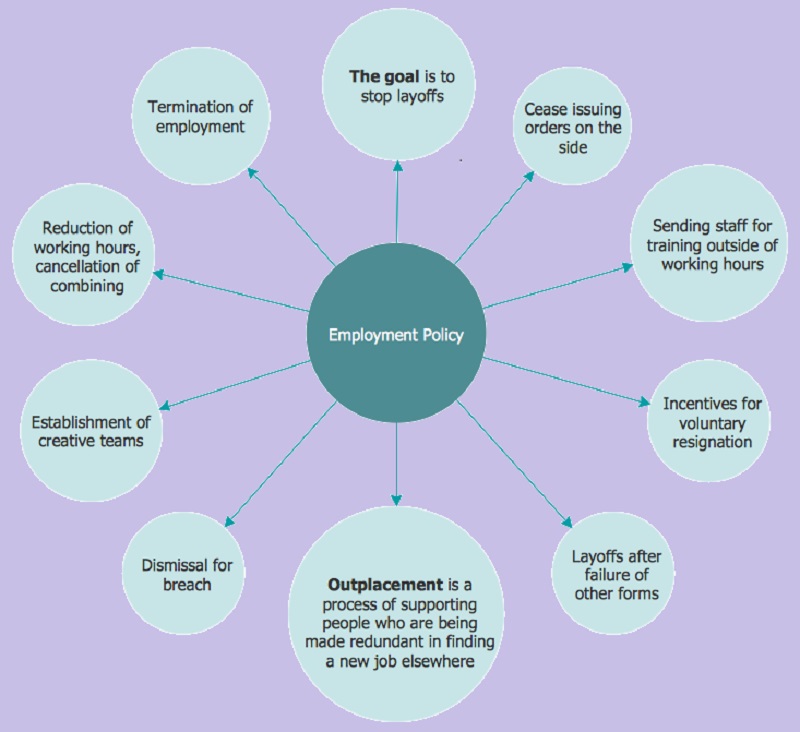 2. Brainstorming Bubble Map
The brainstorming bubble map is the simplest, easiest, and probably the messy bubble map you could ever do. But thanks to the technology, you can clear out the mess anytime, unlike when doing it on a piece of paper. Furthermore, this method is being done alone, but better with the team's collaboration, for you to be able to come up with a complete knowledge map. Hence, when making a brainstorming bubble map, you must start with the main idea and add a bubble for each supporting statement that comes out of your mind.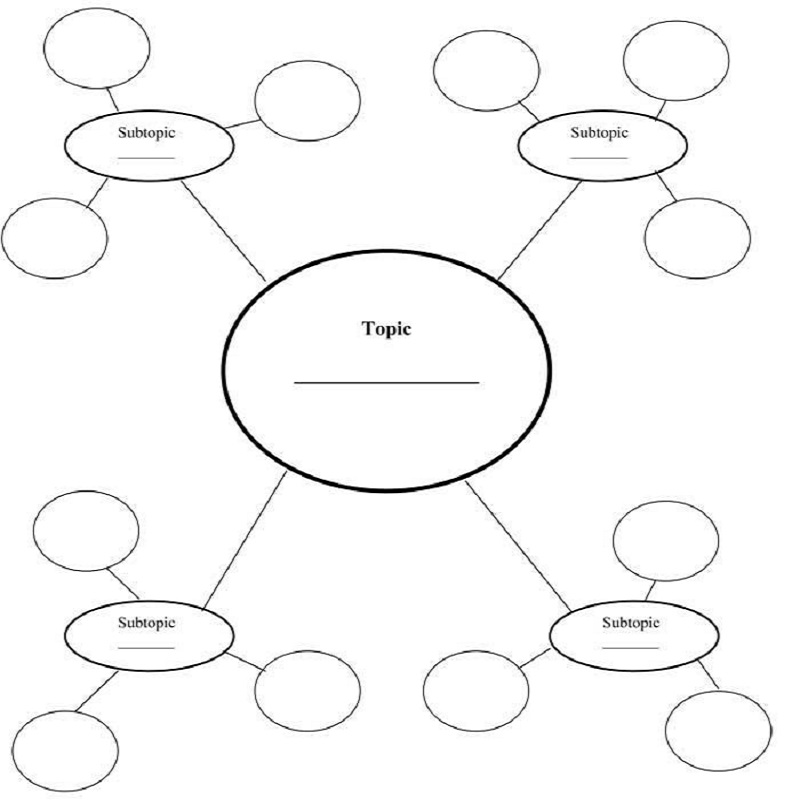 3. Double Bubble Map
As mentioned previously, the double bubble map example is used in determining the similarities, contrast, and elements of the two topics. In other words, by using the double bubble mind, you will be able to compare two subjects in one visual representation. Moving forward, in creating this kind of map, you should have the topics that need to be distinguished, written in two parallel circles. Then, expand each of them according to their elements to see their contrast and similarities. Sometimes, a similar idea can be written in a conjoined bubble, just like the sample below.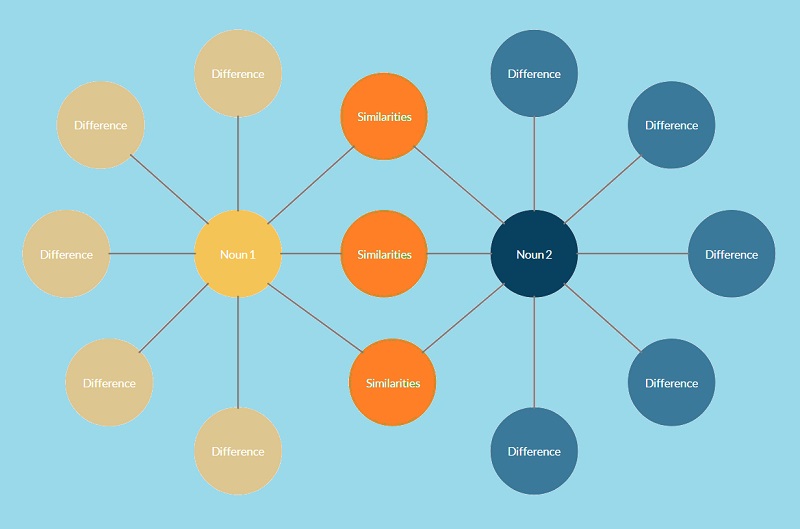 Part 3. How to Make Bubble Maps in 4 Magnificent Ways
1. Create With Excellence on MindOnMap
The MindOnMap is an ideal tool for creating magnificent mind maps, diagrams, concept maps, bubble maps, and more. Furthermore, this fantastic multi-platform web tool will change your perspective in making maps. Why? Because it is a tool that will enable you to create projects instantly, with its intuitive and easy-to-use interface. In addition, it offers many incredible presets and features that help you obtain an artistic yet elegant project—no wonder why many users are switching to MindOnMap already. Imagine receiving an excellent output without a cumbersome feeling!
What's more? This incredible software produces a printable bubble map with the smoothest exportation process ever! Well, these are really something that everyone's looking for in the mapping industry. And so, without further adieu, let's see the detailed steps on how to bubble map impressively using this magnificent MindOnMap.
Firstly, you must log in using your email account once you get to the official website, right after clicking the Create Your Mind Map tab.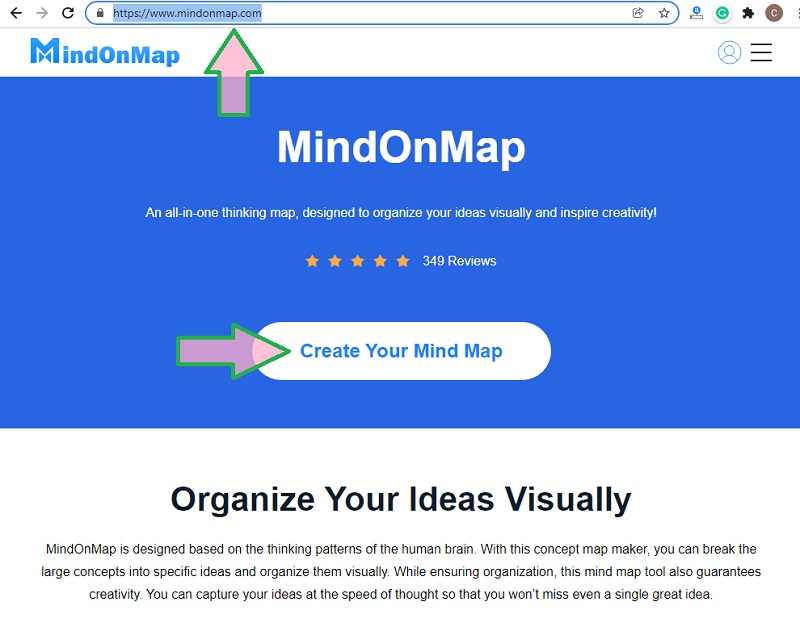 2
Select a Template to Use
On the interface, hit the New tab. Then, select a template or a theme that will fit in your bubble map. Don't worry if the nodes seem not to be bubble-like, for we can change their shapes at any time.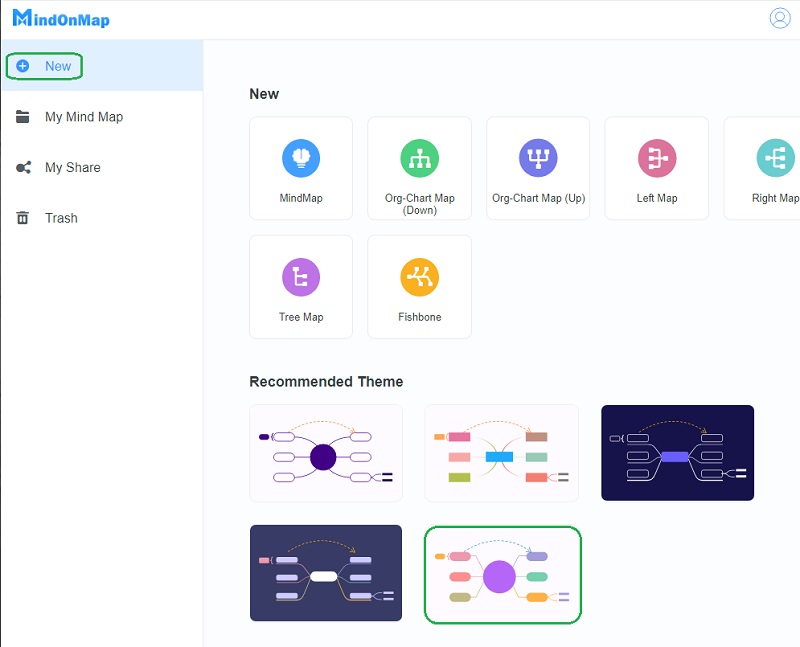 On the main canvas, let's change the shape of your nodes for them to look like a bubble. To do so, click on the specific node, then just go to the Menu bar and click Style. Then, under the Shape, choose the circle among the various shapes on the Shape Style icon.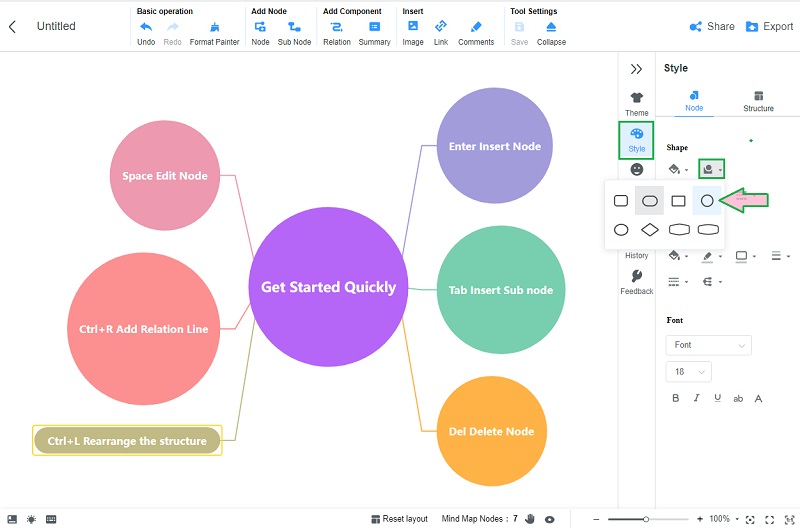 4
Label and Expand the Nodes
Now it's time for you to name all the nodes. Go to the central node and click ENTER on your board to expand the nodes. This will give you what a bubble map looks like. Also, to broaden the sub-nodes, click on each, then press TAB. Subsequently, make a title for your project on the top left corner of the canvas.
Finally, you can save the map and turn it into your preferred file format. Simply hit the Export button next to Share, then choose a format you would like to have. Note that aside from producing a copy for your device, this stakeholder mapping tool is also keeping your maps as your gallery in your log-in account.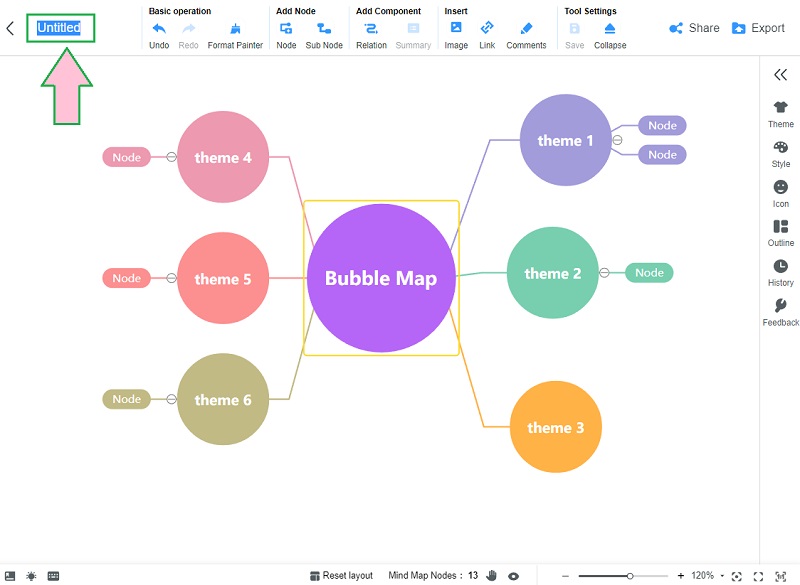 One of the best features of this mapping tool is how it exports the project. By clicking the Export tab at the left top corner, you will be able to produce a JPG, PNG, SVG, PDF, and a WORD file. Then, to print the project directly, right-click your mouse, and choose Print among the choices.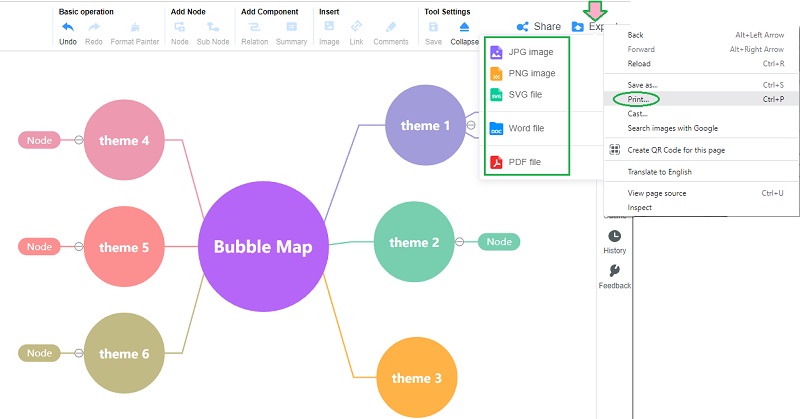 PROS
Nothing to download.
It is free to use.
It offers tons of fantastic features.
It produces printable bubble maps.
Save your maps into images.
Can be shared with peers for collaboration.
2. Look at the Persuasive Work of Bubbl.us
Bubbl.us is a basic online mapping that can be enjoyed on mobile devices without the need for a download. Furthermore, if you are looking for a simple yet powerful map to produce persuasive maps, this mapping tool is for you. Bubbl.us has made peer-collaboration as easy as one, two, three! Hence, if you prefer multi-featured software, this Bubbl.us may not meet your standards, for it only offers enough features and tools to enable you to make simple maps. On the other hand, let us see how this bubble map creator creates a persuasive map by following the steps below.
1
On the official website, log in by using your email account. Then, wait till you reach its main interface and start making maps by clicking the New Mind Maps tab.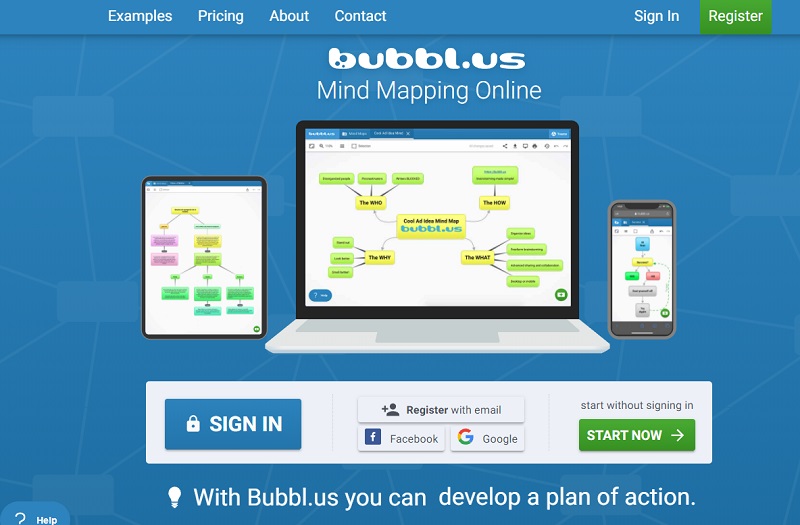 2
On the main canvas, click the central node to see the presets that you can use in expanding and editing the map. Then, go to Layout and choose to have a Circle layout. Also, to develop the maps, add nodes by clicking the Plus sign below the central node, and start making a bubble map. Otherwise, click on the primary node and hit CTRL+ENTER on your board.
3
Label the nodes by just double-tapping each. Finally, you have the choices to save, share, print, or put the project on presentation mode by clicking one from the ribbons presented at the top right part of the canvas.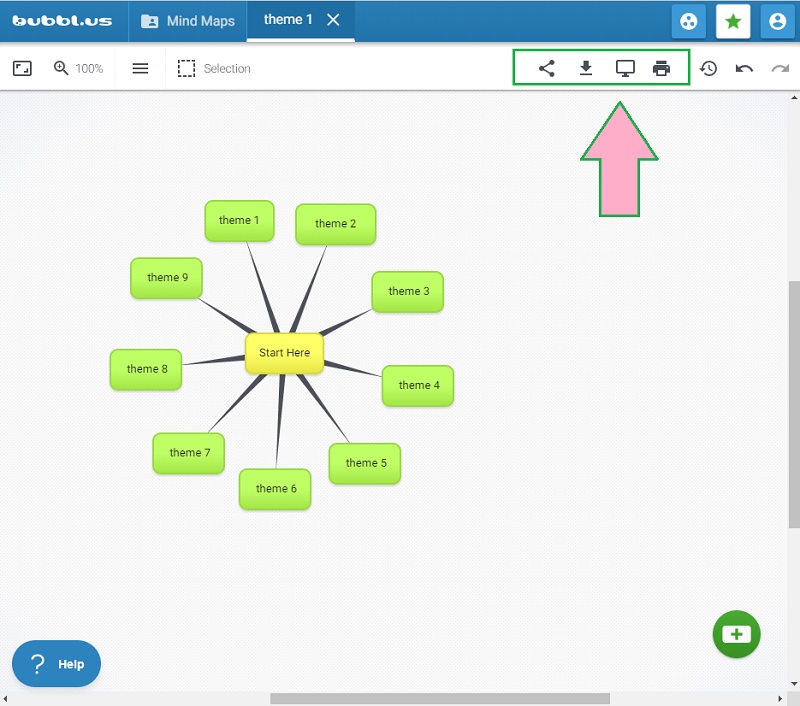 PROS
Facile and straightforward interface.
Can share the project on social media sites.
Save the maps in images.
CONS
No powerful features and tools.
The free trial version can only make three maps.
Internet-dependent.
3. Try the Magnificent Lucidchart
Last on the list is this magnificent bubble map maker, the Lucidchart. Why was it labeled as magnificent? Well, this online tool offers beautiful features and tools that you can try on its free trial version. In addition, you can access this version of this online tool on your mobile devices, just like the first two tools. Hence, since it's the free version, you are only allowed to make a total of three editable maps. For this reason, many are lacking on this version, so they choose to avail themselves of its premium version. And so, go to its official website now, and try making your own bubble maps by following the simplified steps below.
1
On its official website, log in to your email and choose among the plans it offers. You may want to select its free trial version in the meantime. Then, go and hit the New tab.
2
On its main interface, you will see tons of shapes that you can use. Choose the Circle, then drag it onto the canvas to achieve our target. The same procedure goes for the connector you want to connect the nodes to.
3
Adjust the colors, images, and other beautification by navigating this word/excel look-alike bubble map maker. Then, to save the map, go to File and choose to Export it using the various formats. Additionally, you can also print it and the other options you can do.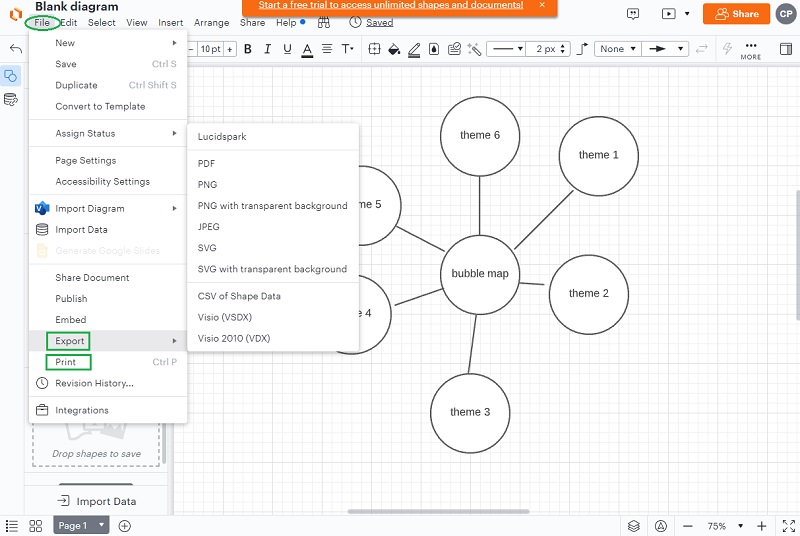 PROS
Easy-to-understand interface.
It offers multiple presets and features.
Export the project in various formats.
CONS
Works with the internet.
Offer only three maps for the free trial.
Limited layout and templates for the free trial.
Part 4. FAQs Regarding Bubble Map
Can I use the bubble map as an organizer?
Yes. Bubble maps are graphic organizers that use adjectives in describing the details.
How to draw a double bubble map in Word?
Microsoft Word can be used in making creative maps. However, when creating a bubble map, you will either draw it manually or interlay two hexagon radial templates on the page
Can I use Powerpoint in making a bubble map?
Yes. Powerpoint, just like Word and Excel, can also make different kinds of maps and diagrams.
Conclusion
Now you know the profound meaning of creating a map in a bubble version. By following and using the tools like MindOnMap, with their guidelines written on this post, you will create a persuasive, creative, and extraordinary bubble map.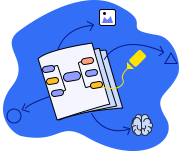 Create Your Mind Map as You Like
Get Started