PESTEL Analysis: Explore Everything and Way to Do A PESTEL Analysis
Many successful enterprises in the modern world surround us. Every organization is concerned with moving forward and improving. It is from small startups to larger companies. The market's competition has become so intense. With that, every single decision can change the whole dynamics. Factors outside of itself determine a company's future. Many outside influences have an equal impact. Technological advancements, environmental conditions, and a nation's political climate. Also, crucial elements include economics, societal concerns, and the legality of acts. Organizations use PESTEL analysis, an economic technique since they know this fact. In this guidepost, we will give you full details about PESTEL analysis. Moreover, you will learn about its factors, examples, and template. After that, you will discover the best way to create a PESTEL analysis using an excellent online tool. So, if you desire to know all of these, read the post right now.

Part 1. What is PESTEL Analysis
PEST analysis is another name for PESTEL analysis. It is a notion found in marketing theories. Political, Economic, Social, Technological, Environmental, and lastly, Legal is another acronym for PESTEL. It provides an aerial picture of the entire surroundings from various perspectives. In this manner, checking and maintaining track while thinking about a specific idea or plan is simple. The PESTLE analysis greatly expands upon the SWOT analysis. A SWOT analysis is then used to compare this type of study to the internal strengths and weaknesses of the firm. This helps to determine the range of potential future action. Additionally, it involves creating strategic management measures.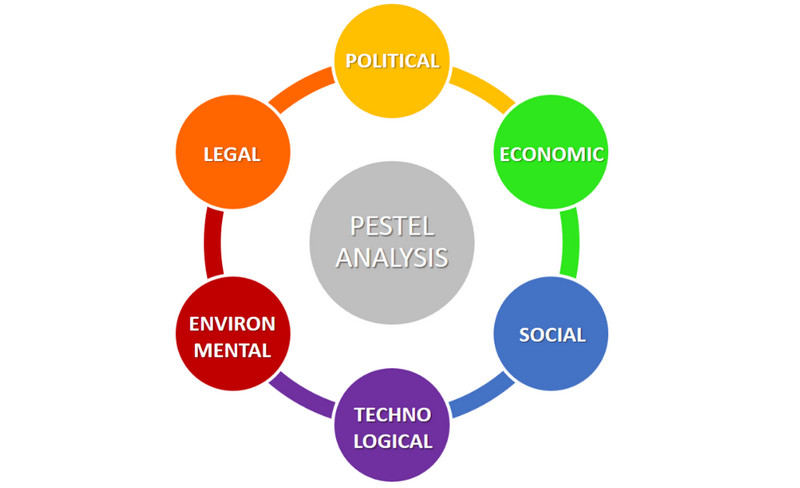 Part 2. Key Factors of PESTEL Analysis
In this part, you will discover various factors for PESTLE Analysis. In addition, you will see some guide questions you need to consider each factor. So, read the information below to know more about the key factors.
Political Factors
The means and degree to which a government intervenes in economies or businesses are political factors. An economy can be affected by a government. It is accomplished through laws and regulations. Political stability and its connections with other countries are also included. Here are a few instances of political influences.
◆ Trade Barriers: Governments impose regulations known as trade barriers. It serves to shield indigenous enterprises from foreign rivalry. Governments may levy tariffs or offer subsidies on imports. It will aid in increasing patronage and sales for homegrown companies.
◆ Tax Policies: Many tax laws must be followed by businesses. It includes getting an Employer Identification Number. Governments may also adopt measures that alter the amount of taxes that businesses are required to pay.
◆ Political Stability: A government's political stability may impact the nation's companies. For instance, firms might experience a brief decline in customer support. It is especially if there are rallies and strikes opposing government measures.
Guide Questions:
1. What changes have taken place in the political environment?
2. How might those changes affect our company? Do they have a head or a tailwind?
3. Do they involve long- or short-term plays?
4. What political threats need to be monitored?
Economic Factors
These elements determine the effectiveness of an economy. It affects a corporation and has lasting repercussions. For instance, a rise in any economy's inflation rate would have an impact. It's about how much businesses charge for their goods and services. Consumer purchasing power would be affected. Also, the economy's demand/supply models would shift. Interest, foreign currency, and inflation rates are examples of economic factors.
Guide Questions:
1. What is the status of the economy right now? How might that affect the company?
2. Our supply chain faces any headwinds or tailwinds, right?
3. What aspects of the local economy could be harmful to our company?
Sociological Factors
The larger social environment's changes are taken into account by sociological factors. It entails social movements for justice or other social movements, such as shifting public perceptions of your brand. Populations and demography may be changing. It is not immediately surrounding your company. But also in the bigger context in which your consumers operate. Demographics, opinions, and attitudes are social influences. Social aspects include, for example:
◆ Educational levels
◆ Income levels
◆ Population growth rates
◆ Age distribution
◆ Cultural trends
◆ Lifestyles
◆ Career attitudes
Guide Questions:
1. Are there any changes in the population or demographics in the market?
2. How can we help them the most? What effects will increased social factors have on our organization?
3. What changes in consumer emotion, behavior, or opinion have been noticed?
Technological Factors
Technological factors represent the way that businesses and industries use technology. It involves either running businesses or producing and selling goods and services. Businesses that follow technology developments might use them to create and enhance their plans. For instance, it is good if customers prefer or find it simpler to buy goods online. The company may shift its attention away from a physical location and back toward an online store.
Guide Questions:
1. How has the available technology changed? Is that a chance or a danger?
2. Are you making the most of the technology that is now available?
3. How much does new technology affect your company?
Environmental Factors
These factors cover all those affected by or determined by the environment. For several industries, such as tourism, agriculture, and farming, in particular, this PESTEL component is essential. Also, weather, topography, climate change, and health problems impact environmental factors. Besides contributing to the COVID pandemic's impact on public health, wildfires have spread worldwide.
Guide Questions:
1. What environmental factors are affecting us right now?
2. What environmental factors might affect us in the future?
3. What environmental factors do we need to track?
Legal Factors
Like political factors, legal factors examine how the political aspects are incorporated into laws and regulations. Your consumers or business might be affected. These are the laws and rules that apply to your company. The laws of the nation where a firm is located are legal factors. Other elements, especially political ones, may overlap with these laws. It may affect how those nations' industries run. As a result, companies need to be informed about legislative changes. To guarantee respect for state and local legislation. Here are some legal considerations:
◆ Health and Safety: Businesses must abide by rules and regulations relating to health and safety. It protects the customer's and personnel's health and safety.
◆ Equal Opportunity: Equal opportunity laws can prevent discrimination in the workplace.
◆ Advertising Standards: Laws governing advertising establish guidelines. It is for how companies may promote their goods and services. Ads must be factual or have supporting data.
◆ Labor Laws: Labor laws may include requirements for employees' minimum ages and wages. It covers the longest shift length an employee is permitted to work. To ensure their employees are treated fairly, businesses must abide by labor rules.
◆ Environmental Laws: Governments demand that corporations follow regulations. It serves to safeguard the environment from pollution and poisons. The automobile, agricultural, and chemical industries are most affected. For instance, a clean air environmental law may compel a business to reduce its emissions.
◆ Product Labeling: Product labeling laws need businesses to label medicinal products and food. Also, they must notify consumers of their content.
Guide Questions:
1. What international, national, and local legislation changes impact the organization?
2. How are these legal changes going to affect the organization?
3. What potential legal pressures might emerge?
Part 3. Example of PESTEL Analysis
In this section, you will see various PESTEL analysis of a certain company. This way, you will be given an idea about the affected factors.
PESTEL Analysis of ABC Co.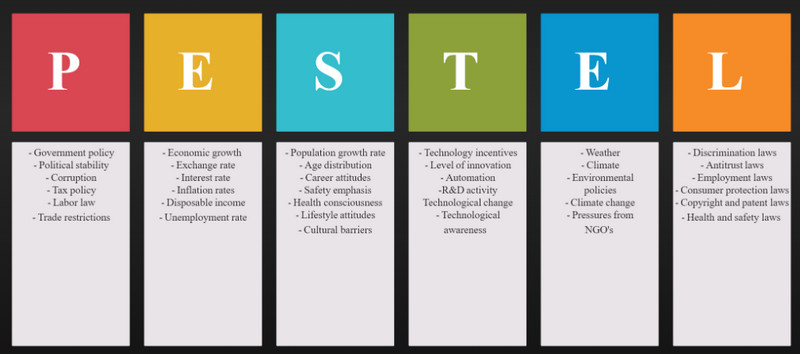 PESTEL Analysis of Starbucks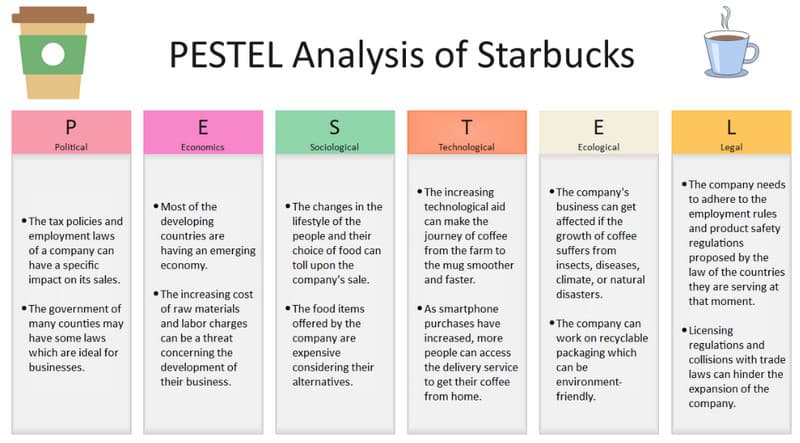 PESTEL Analysis of Coca-cola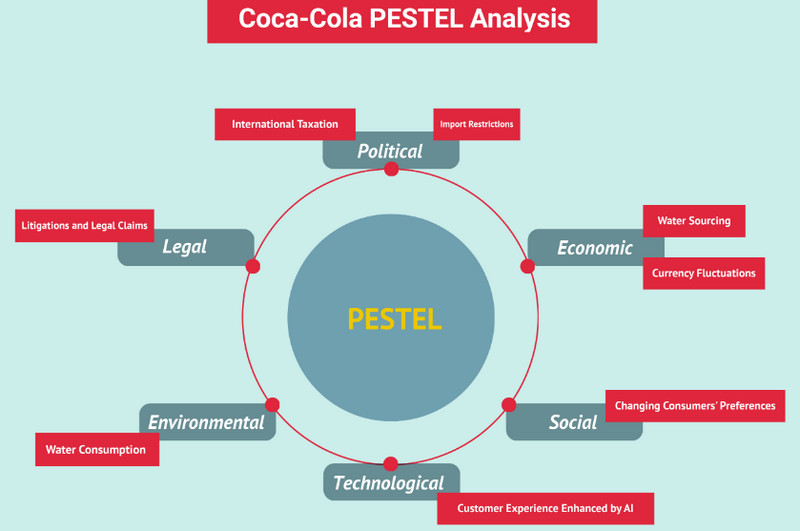 Part 4. PESTEL Analysis Template
PESTEL AnalysisTemplate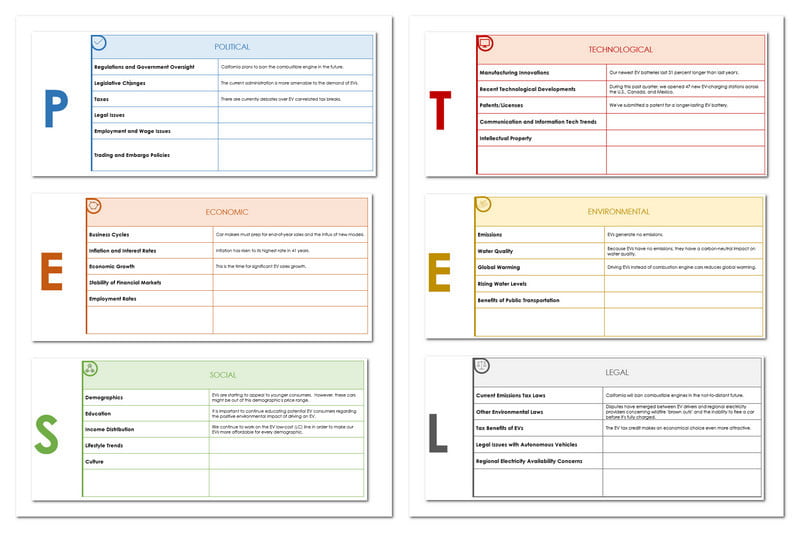 With each representative letter's section, write how each currently affects the organization. It includes the potential future impact for political, economic, social, and technological aspects. It also includes environmental and legal aspects. Use this template to update your team about the company's macro factors.
PEST Diagram Presentation Template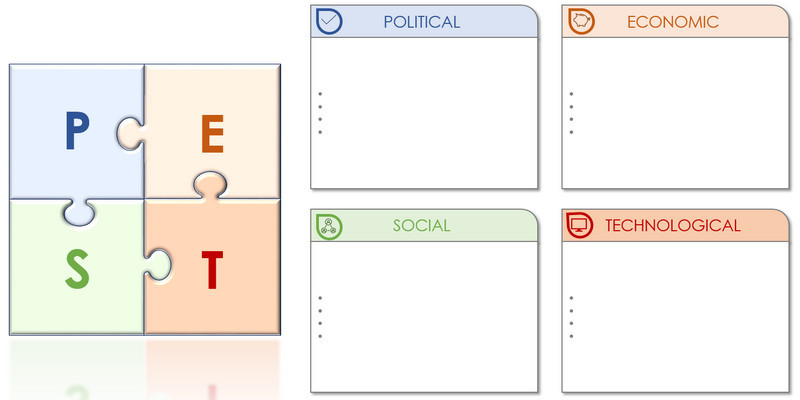 Use this presentation-ready PEST diagram template. It will put stakeholders up to speed on the outcome of the PEST analysis and its impact on the company. Use this template to list each aspect that influences your company. This way, you can address them and identify their future impact on the business.
PEST Matrix Template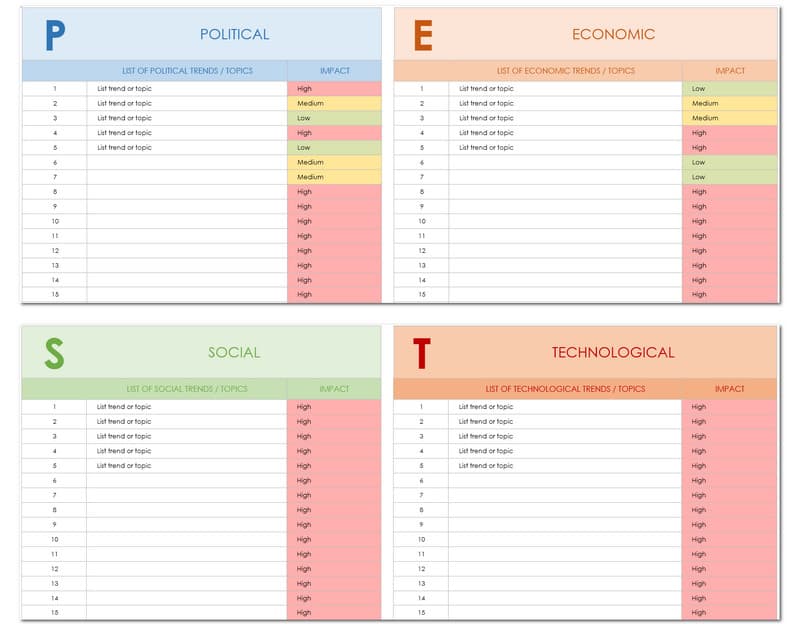 Check the political, economic, social, and technological factors that face your business. Then, better prepare for any necessary shift in each. This basic template includes generous space for each PEST factor. This way, your team can see them side by side. So you determine how considering them might need strategic action in light of the business.
Part 5. Perfect Tool to Do PESTEL Analysis
To do a PESTEL analysis, you must consider the tool you need to use. This way, you can create an excellent output for the organization or business. In that case, use MindOnMap. It is an online tool you can rely upon when creating a PESTEL analysis because it has everything you need. With the help of its Flowchart feature, you can use all the elements you need for creating a PESTEL analysis. You can use various shapes, text, tables, colors, and lines. In addition, you can also make your diagram more creative using the Theme function. This function allows you to change the diagram's color and make it more satisfying and understandable. Also, you can edit text if you need. The tool will let you use the text function from the General section. This way, you can add or insert text for creating the analysis. Moreover, MindOnMap is accessible to all website platforms. It is available on Google, Explorer, Edge, Firefox, and more.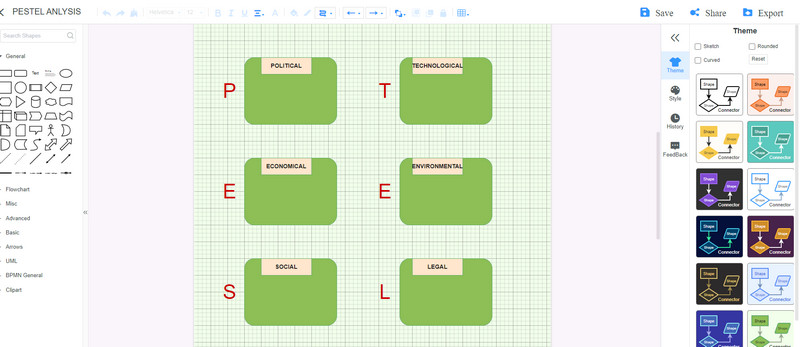 Part 6. FAQs about What is PESTEL Analysis
What's the difference between PEST and SWOT analysis?
The PEST analysis identifies the external factors that may impact the business. Then, SWOT analysis is used to determine the strength and weaknesses of the business.
What are the advantages of utilizing the PESTEL analysis?
It is a straightforward framework that is easy to implement for a strategic plan. Also, the analysis lets you understand a wider business environment. It also helps how current events can affect the business.
What is PESTEL analysis in Strategic Management?
The adoption of strategic management benefits all businesses. The strategy focuses on organizing and tracking how businesses achieve their goals. An analysis is important. Strategic management needs PESTLE analysis. But before management can use the information, the analysis must be finished.
Conclusion
There you have it! Now you know the PESTEL analysis definition. You also learned the various factors to consider. This way, if you desire to know more about the business, it is better to create a PESTEL analysis. In that case, you can use MindOnMap. With the help of this online tool, you can create a PESTEL analysis easily and instantly.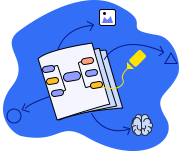 Create Your Mind Map as You Like