8 Different Types of Genogram Examples For Any Occasions
A genogram is the profundity of a family tree. It means the genogram has profound and deeper information about the family or ancestors. Furthermore, suppose students often create the family tree to pertain to their family members. In that case, the genogram is created to know the history and connections of the family lineage as a whole. That is why these days, it's not only the students who create genograms but also professionals in the medical field. For this reason, we give you different genogram examples that you can look into and eventually use in the future. So, without further adieu, let's start the learning by carrying on with the information below.

Part 1. 8 Genogram Examples
1. Genogram of Family Connection
This is the most empirical style of a genogram. As you can see in the illustration, and as its name suggest, this sample depicts the connection or relationship of the family members. It started with the grandparents up to their fourth generation of the family.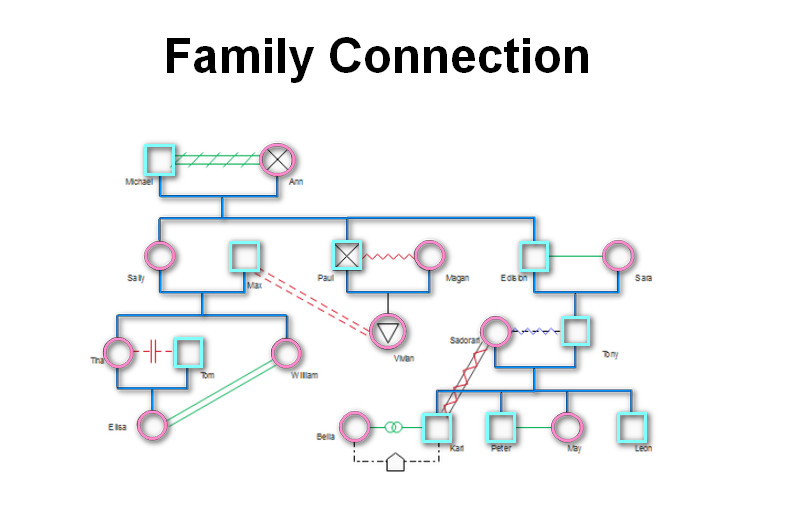 2. Genogram to Present Medical
As mentioned previously, people from the medical field also use genograms. This simple genogram example shows the history of a patient regarding his disease and the diseases of his other family members. By this illustration, the family doctor will quickly identify who among the members inherited the same condition and who among them seeks an immediate medication.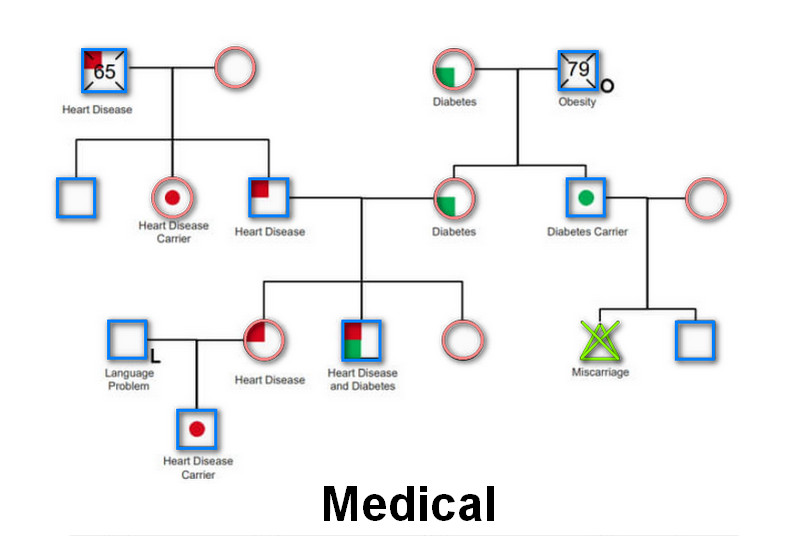 3. Genogram of Start Wars Representation
Yes, you can make a genogram of your favorite movie. This example is a nice replica to represent the characters of the film. Despite it being challenging to understand, especially for those who haven't seen the movie yet, but still, this style of genogram will be a great help in letting the audience know who the characters are. Therefore, you can use this style to make your own family genogram example because, just like the typical family tree we know, photos will have a big impact on recognizing your loved ones.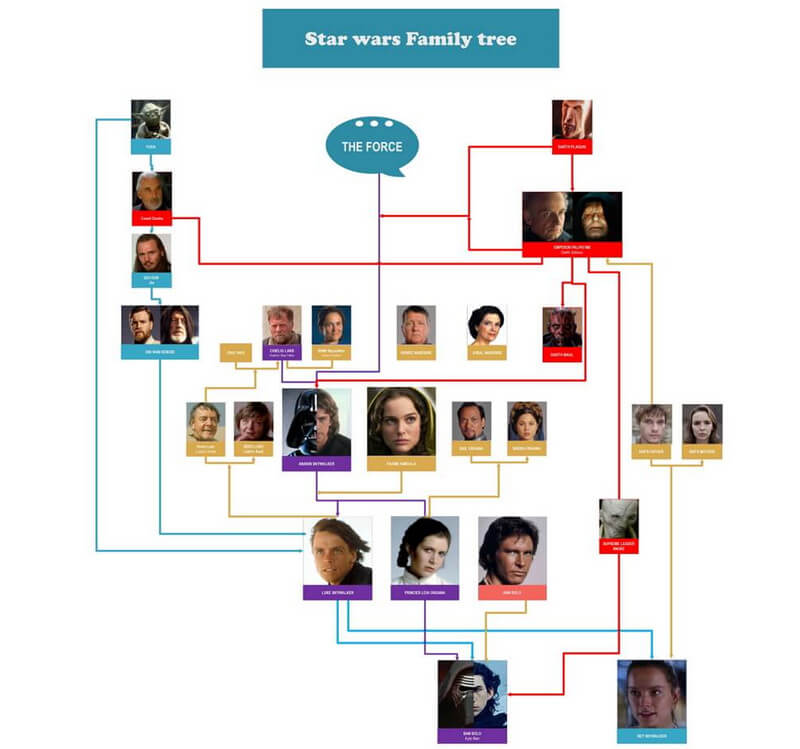 4. Genogram of Race
Just like we mentioned before, you can use the genogram to show the history of a person. Furthermore, the sample below indicates Angelica's family race and how she got her multi-blood race. The piece is not complete, but you can add a legend there for your viewers to quickly understand the colors' meaning. In addition, for those who have an interest in historical, national, and cultural, this genogram example is an excellent style to follow.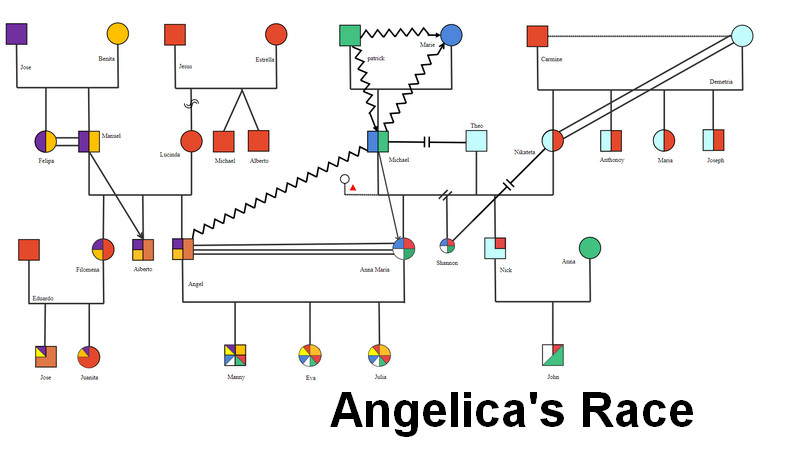 5. Genogram for Lumps Awareness
Everyone knows the high risk of having lumps. Others who already have lumps may agree that having this kind of disease is not just because it's hereditary. In addition, this condition is precarious, for it can develop into cancer if left untreated. On the other hand, if you are studying this kind of condition and want to prove if it is genetic, you can use the example below.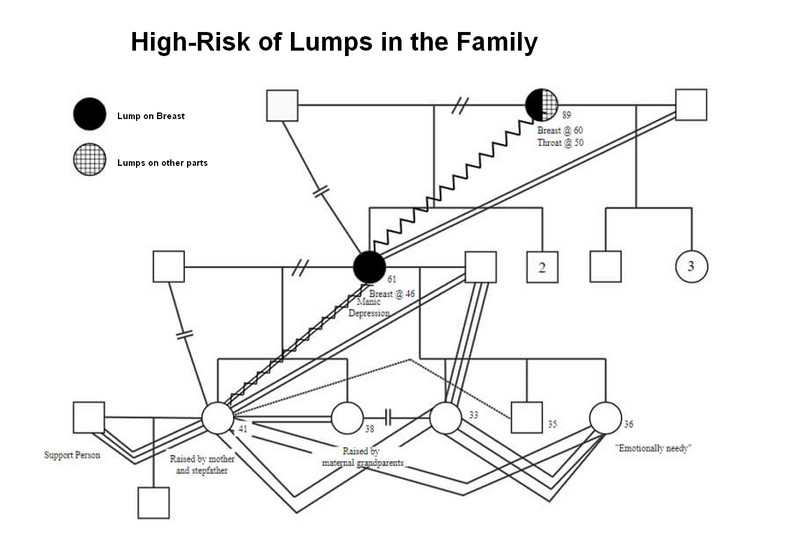 6. Genogram of Three Generation
Going back to the basic concern of genograms, trying to make a three generations genogram example is indeed exciting and beneficial. Through this sample, you can detect in advance there is a possibility of acquiring medical conditions that your grandparents have. Also, consider using the symbols and elements to make the genograms effective. Besides that, showing the key legends will also make your diagram easy to understand and convincing.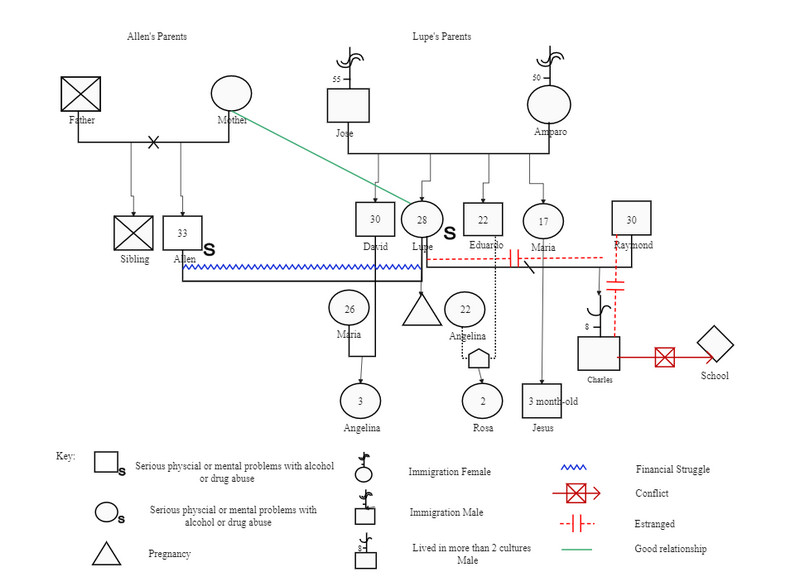 7. Genogram for Nursing
The simple sample genogram below can be very useful to those nursing students that only need a brief description of the report. As you can see in the illustration below, it consists of concise information about the family members of their underlying conditions. In addition, this example of genogram also works in social and medical missions, where the social workers can easily apply.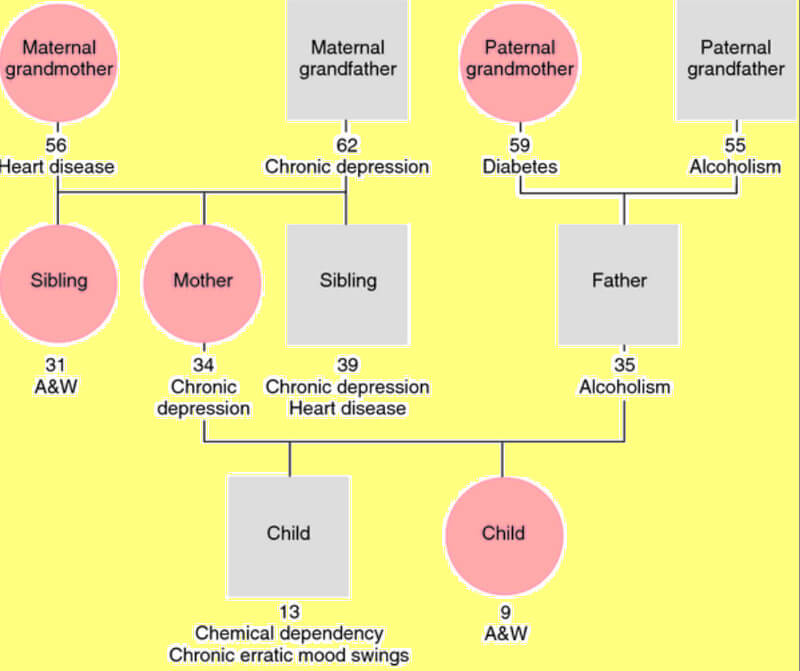 8. Genogram of Child Movement
Our last example is this genogram of the movement of a child. Please note that we are not talking about the literal movement of a child here. In fact, we present the progress of an adopted child, from moving from the orphanage to his foster parents to moving to his own house. In other words, it depicts the multiple moves of the child.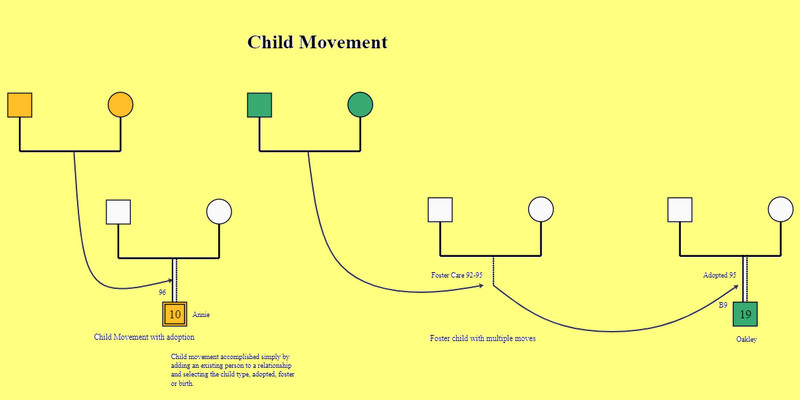 Part 2. Best Free Genogram Maker to Use Online
If looking at the examples above made you decide to create your own, MindOnMap would be your first choice of tool. Why? Because it is a reliable, straightforward, free, and safest way to start your family genogram example. In spite of being a free tool, it offers users tremendous icons, styles, shapes, colors, and parameters that can turn genograms spectacularly great. What else, unlike the other genogram makers, MindOnMap brings out the diagrams in different formats such as JPG, SVG, PNG, Word, and PDF. Imagine how can a free genogram maker give all of those!
Despite being an online tool, it still ensures users have 100% security on their files and information. Also, we guarantee that while you are using it, you won't ever see any advertisements that will bug you. And oh, in any way that you need to share your genogram with your friends? Huh, this fantastic tool can give you the most straightforward yet most secure collaboration on your genogram example. So, without further adieu, let's take a look at the steps below on how to utilize this phenomenal tool in making genograms.
1
Initiate on the Website
Initially, go to the genogram maker's official website, which is www.mindonmap.com. Begin the task by hitting the Create Your Mind Map tab. Then, sign in with your email account, don't worry, because this is a secure procedure.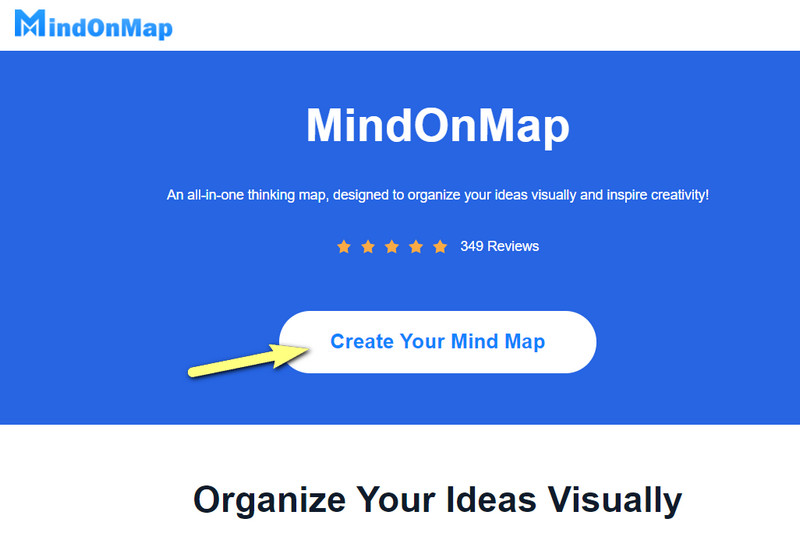 2
Start a New
To make a creative genogram, hit the New tab and select among the styles and recommended templates to start.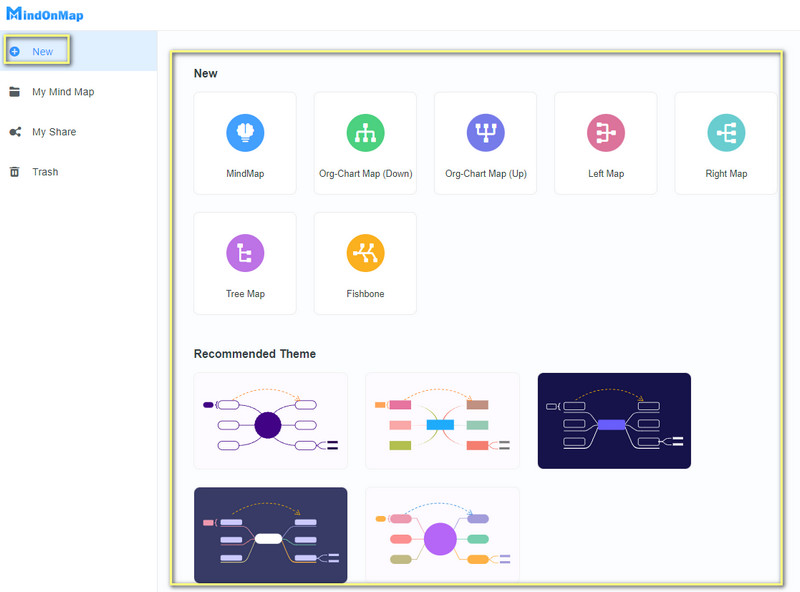 3
Customize the Nodes
Now, start customizing the node to create your genogram. As you notice, the interface contains tons of parameters, and it also comes with great Styles, Themes, Icons, and Outlines that you will find in the Menu Bar. Take full control of the Menu Bar to create a meaningful genogram template for free.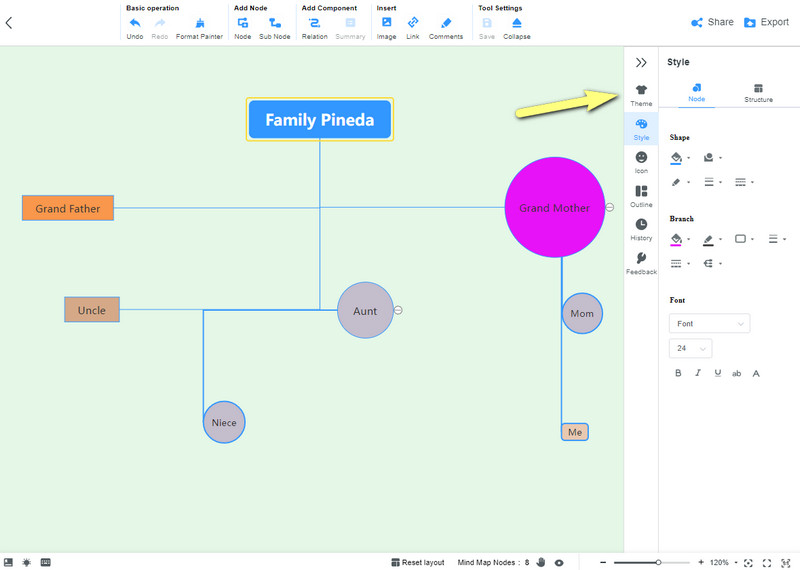 4
Add Image on the Genogram
Make your genogram more creative by adding images to it. To do so, click the node you would like to supply with a photo. Then, go to the Insert section located at the center top of the canvas, and hit Insert, then Insert Image. Please note that you can only add one picture per node. Afterward, when the photo is already posted, feel free to resize it until you reach your preferred size.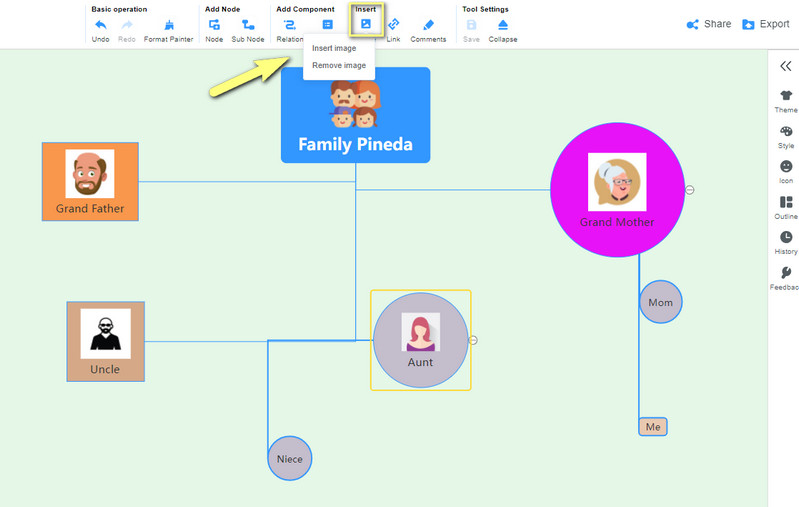 5
Save your Genogram
Once you are finished, you can acquire the genogram on your device. To do so, hit the Export button, and pick to tap your preferred format. Then, immediately, you will see that your genogram template is being downloaded.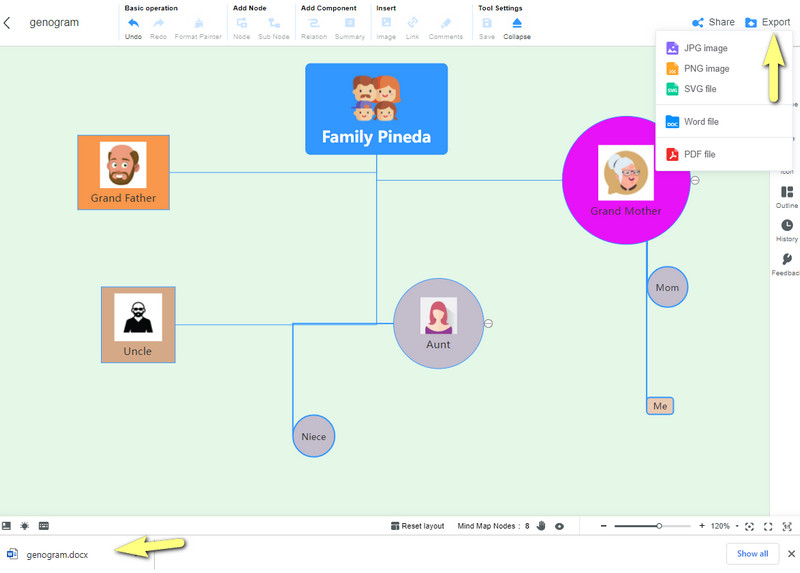 Bonus: Rules to Follow in Creating Genograms
1. You should use the proper symbols and shapes elements to identify a personality. To show the males, use a square and circle for the females.
2. Use the proper positioning. The male parent should always be on the left side, while the female parent should be on the right, with a horizontal line as their connector. For the children, you should always place them underneath the parents, in their proper order from left to right.
3. If one of the family members had many partners, you should place their first partner closer to them.
Part 3. FAQs About Genogram
Is there a genogram template on PowerPoint?
Yes. Powerpoint offers tons of templates that can be used in making a genogram. Although, you won't find any named after this diagram. But, the best templates that you can use in making a genogram are from the hierarchy and relationships selection in the Powerpoint's SmartArt feature.
How can I make a spiritual genogram?
Yes. A spiritual genogram depicts the assessment of the religious family. In addition, the genogram should highlight the religious strengths and weaknesses of each.
Can I make a genogram using my Android?
Yes. Because there are many good genogram maker apps for Android. However, if you don't want to install a new app, you would better access and use the MindOnMap on the browser of your Android.
Conclusion
There you have it, the eight different types of genogram examples to comprehend. Now you can fearlessly make an in-depth family information and history. In the meantime, genograms may look challenging and timely to create. But, genograms are indeed worth creating, most especially if you use an easy, reliable, and trusted maker like the MindOnMap.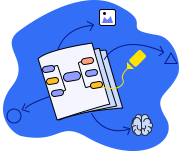 Create Your Mind Map as You Like
Get Started