How to Make a Family Tree to Get Familiarized With Your Ancestors
A family tree visually represents your lineage. With this, you can familiarize yourself with your ancestors and see your relatives see how you relate with each other. Moreover, it guides you for future generations to come and serves as windows to your family's roots. Especially when you have extended families, a family tree should be an essential tool.
Bear in mind that you cannot use it to track your family history to trace physical and mental health. As confusing as understanding it, a family tree may not also be simple to make. That said, this post provides a tutorial on how to create a family tree. In addition, you will discover various programs to help you get this done. Check this out and familiarize yourself with the following tools.

Part 1. How to Make a Family Tree Online
The good thing is, you are not required to create illustrations, such as a family tree, using the conventional way- using pen and paper. Numerous tools and methods are available for you to use. You can do it either using an offline or offline tool. Here, you will learn about online tools. Check them out below.
1. How to Make a Family Tree Using MindOnMap
If you are looking for an easy-to-use family tree maker online, look no further than MindOnMap. Navigation in this app is seamless and straightforward, allowing you to create any chart and diagrams without any trouble. With MindOnMap, customizing the text, branch color, theme, layout, and more is possible. Furthermore, it enables you to change the shapes you prefer.
Aside from that, you can also add attachments like images and links. In this way, you will know the person by inputting their actual profile picture. There is a lot more to discover in this robust program. On the other hand, here are the actions you should take to learn how to make a family history online.
1
Visit the official webpage of MindOnMap
Pick any browser available on your computer and open it. Once it is launched, head over to the address bar, type the program's name, and press Enter to land the page of the tool. From this page, click on the Create Your Mind Map button to move forward to the next page.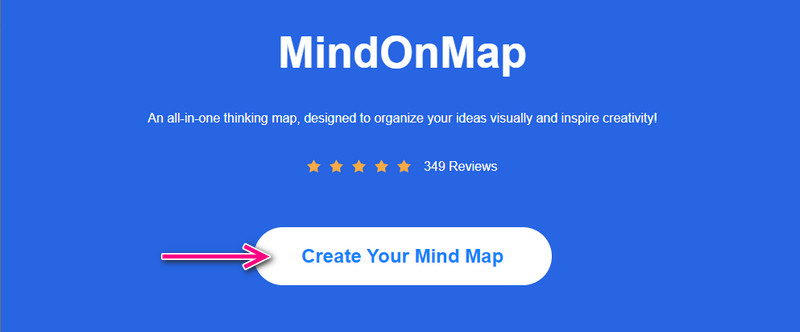 2
Select a layout
From the theme page, you will see some pre-designed themes that you can use for building a family tree. Alternatively, you may create from scratch by selecting a layout that will likely portray your family tree. Then, you would be redirected to the editing interface of the tool to proceed in building your family tree chart.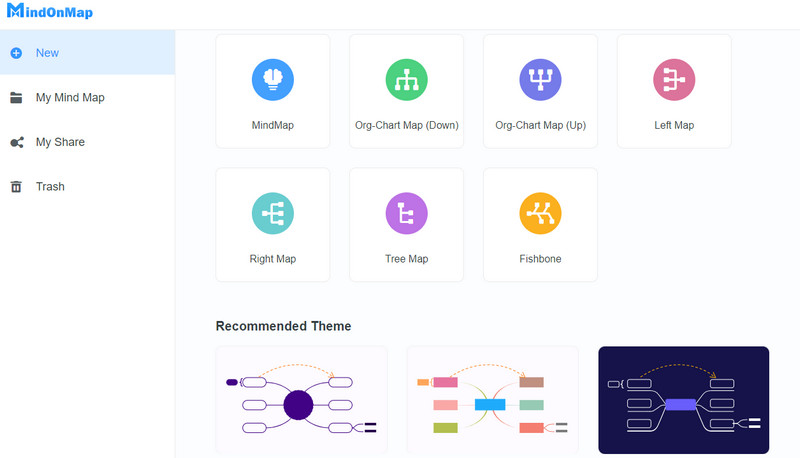 3
Add nodes and edit the family tree
Now, click on the central node and add nodes by clicking the Node button on the top menu. Or, you can press the Tab button from your computer keyboard. Follow the same procedure for adding subnodes. To customize your family tree, open the style panel on the right-side panel and tweak the properties like font style, color, and the nodes' shapes. Add pictures to the selected node. Click on the chosen node and click the Image button. Then, hit Insert image to upload the picture.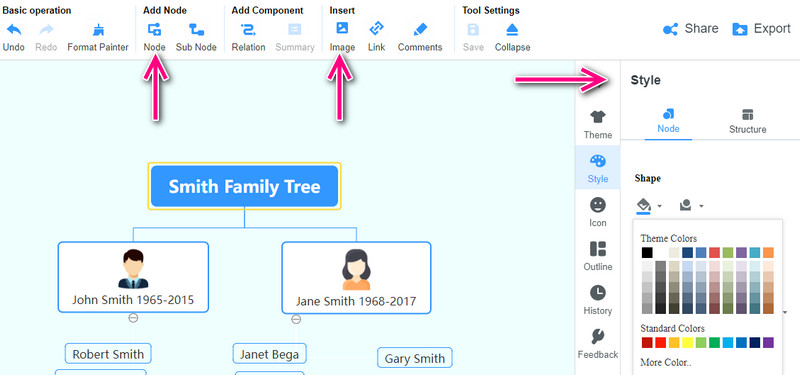 While editing, you can let others view your treemap by sharing the link to the project. Simply click the Share button on the top-right menu. Copy and send the link. By then, you can revise the map accordingly.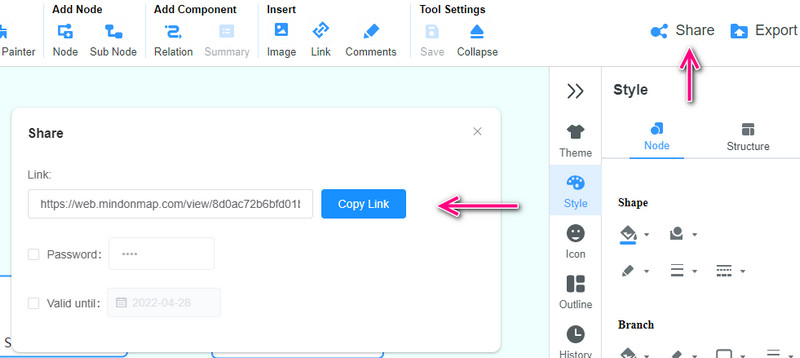 4
Save the family tree
After customizing the family tree, click on the Export button and select a format of your choice. Then, it will produce a copy of your project that you can access from the Download folder of your computer.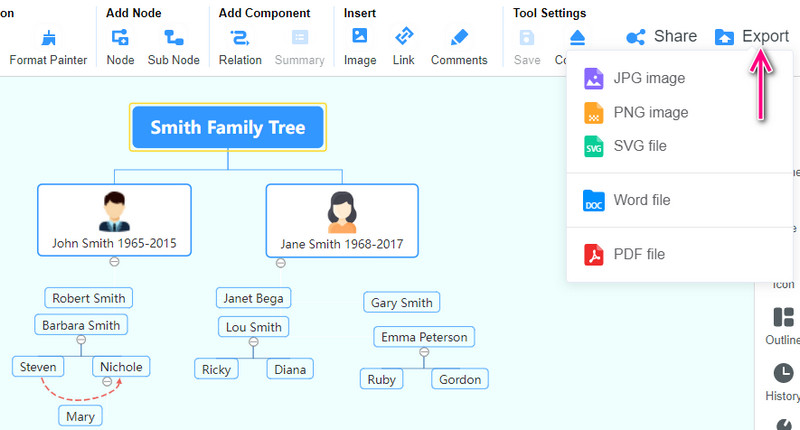 2. How to Make a Family Tree on Google Docs
If you wish to create a family tree with another program, then try Google Docs. Similarly, Google Docs is easy to navigate and free to use. You can use it anytime, anywhere. You will also be able to change the shapes and elaborate descriptions and have a glimpse of where you came from. On the other hand, here are the step-by-step instructions you can refer to learn how to make a family tree on Google Docs.
1
On your preferred browser, go to the Google Docs and open a blank
2
Now, click on the Insert button on the top menu, select the Drawing option, and hit New. Then, the Drawing window will appear where you can make and edit a family tree.
3
Navigate the Shape option and add the shape that you need for your family tree chart.
4
Connect the branches using the connectors from the Line option. Then, double-click on the shape to label the input text and label them.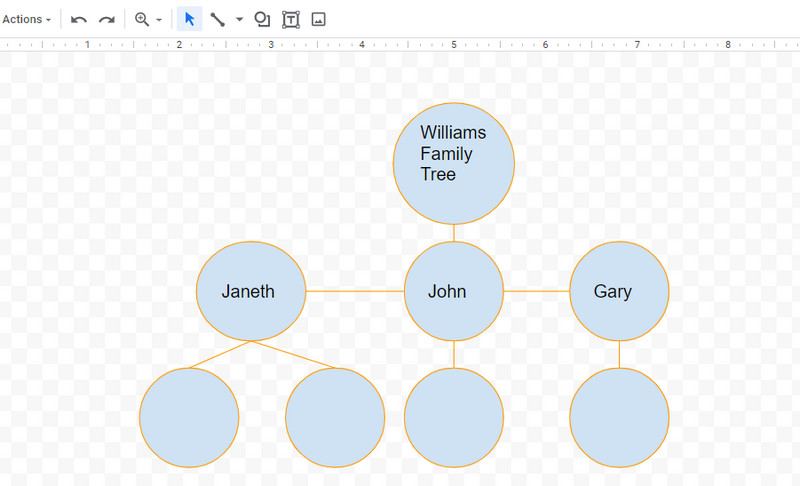 Part 2. Other Ways to Create a Family Tree
Aside from the mentioned programs, perhaps you want to create a family tree offline. On that note, the following tools will help you to achieve this. We may not recognize them as diagram creators, but they are as good as the diagram creators. So without ado, here are the tools you can use to make a family tree offline.
1. How to Build a Family Tree on Word
Microsoft Word is a good option for making diagrams, like a family tree chart. In fact, it comes with a SmartArt feature that offers various templates and layouts to build diagrams for different purposes. Without a doubt, Microsoft Word is a flexible and capable program. From simple instructions, follow the steps below.
1
Open a blank document in Microsoft Word.
2
After that, go to the Insert option and click on the SmartArt option from the drop-down list.
3
From the dialogue that appears, select a template from the Hierarchy section. Once the layout is selected, it will be inserted into the blank document or page, allowing you to edit the diagram.
4
Now, double-click on the branches to input labels or describe a person. You can also add photos. Lastly, save the chart like you usually do when saving a document.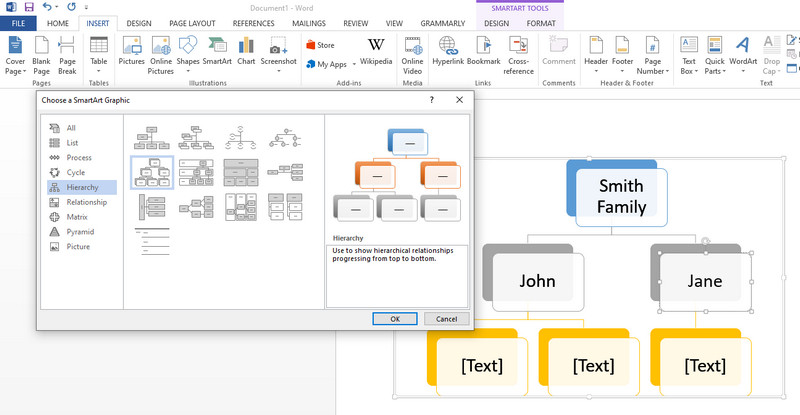 2. How to Sketch a Family Tree in Excel
Another program to create a portrayal of your heritage is Microsoft Excel. From the name itself, it is common knowledge that it is another Microsoft Office application. Aside from being able to store and organize data, creating a tree chart is possible in this app. In addition, it enables you to customize the color, text, and shapes as you prefer. Now, here is how to make a family tree in Excel.
1
Launch the Excel app on your computer and open a new spreadsheet.
2
Go to the Insert tab and select SmartArt to see and pick a template. Optionally, you can start from scratch by going to Shapes. Then, insert the shapes you need.
3
Modify the shapes, text, and color according to your preferences.
4
Finally, save the file to have a copy of your finished project.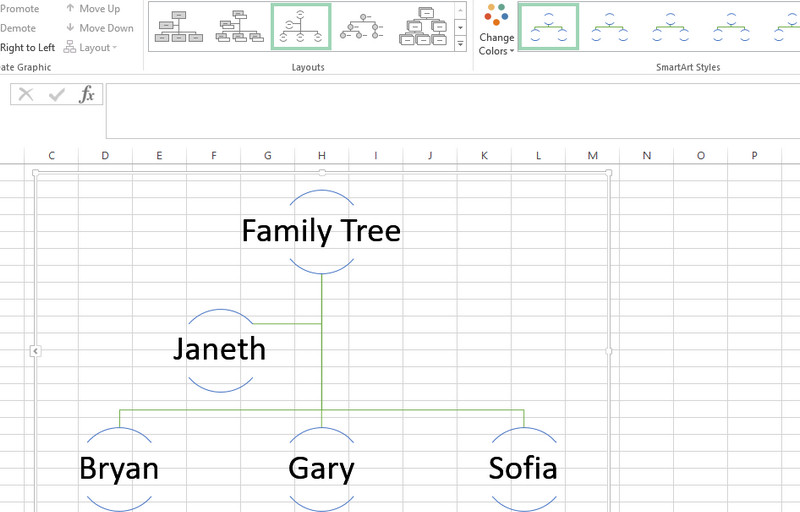 3. How to Make a Family Tree in PowerPoint
Last but not least is PowerPoint. Yes, another use of this app is to make charts and diagrams aside from creating visual aids and delivering presentations. With its shapes and SmartArt, you can create diagrams ranging from basic and advanced charts for school or your business presentations. In other words, you can use PowerPoint as a drawing tool. Just follow the simple steps to learn how to make a family tree in PowerPoint.
1
Launch the MS PowerPoint app and open a blank presentation.
2
Delete the elements present from the slide by pressing the key combinations of Ctrl + A and hitting Delete.
3
Create a family tree using the SmartArt feature. Simply go to the Insert tab and select SmartArt. Select your desired chart from the pop-up window. Yet, the Hierarchy section is where the closest templates can portray a family tree.
4
You can edit shapes, colors, or themes. Then, enter text and label each node. Finalize the illustration and save it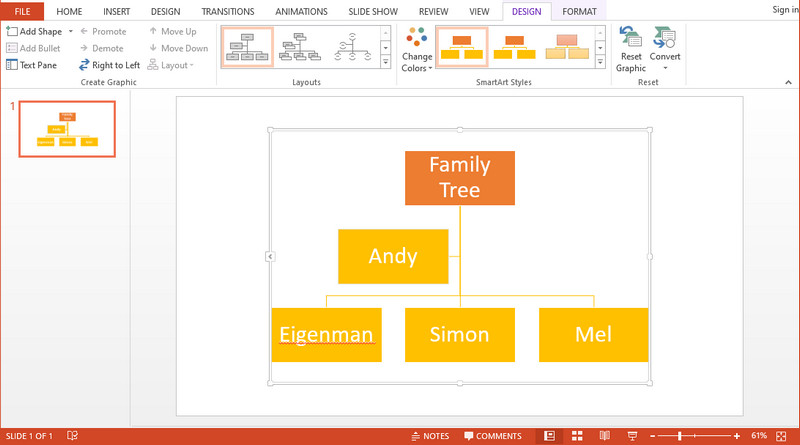 Part 3. FAQs About Family Tree
What is the proper order of a family tree?
In a family tree, the commonly used order of a family tree is father, mother, paternal grandfather, paternal grandmother, maternal grandfather, and maternal grandmother. Meanwhile, female relatives go on the right side whereas male relatives go on the left side.
What is the natural order of names in a family tree?
Using full names would make the tracing easier. The proper names order of names goes with the traditional- first, middle, surname.
What do the three generations in a family tree mean?
The three generations is a family referring to the grandparent and their siblings, the parent and their siblings, and at last, the grandchild and siblings.
Conclusion
That is how to make a family tree. You can use online tools like MindOnMap and Google Docs or use Microsoft Products for offline creation. However, Microsoft Products are expensive when you wish to buy them. For free tools, go with the online programs. From these two, it is evident that MindOnMap stands out since it provides all the necessary editing functions. Moreover, you can export the tree chart to different formats not present in the other programs mentioned in this post.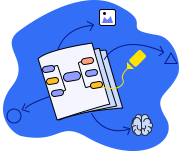 Create Your Mind Map as You Like