Comprehensive Guidelines on How to Make a Concept Map on Google Doc
The concept map is broader, for it is the graphical illustration of different kinds of learning that deal with complex issues. Furthermore, it has been a great help for the students, educators, people in business, or any professionals that need help to organize, conceive and conceptualize a solution to an issue or matter they are dealing with. Moving forward, creating a concept map won't be as compelling and persuasive if not done with good software. Therefore, as we help you with the steps on how to create a concept map in Google Docs, we will also introduce you to a much more excellent and more trustworthy way to make concept maps. These will follow as you continue reading below.

Part 1. Effective Guidelines in Creating a Concept Map in Google Docs
As part of the Google suite, Google Docs has proven its betterment compared to Word. It offers users almost all that Word provides, including the tools, formatting, stencils, and features for documenting and making graphics. Despite that, Google Docs allows this attribution to be enjoyed by users for free. However, the procedure on how to make a concept map on Google Docs won't assure your convenience, for it is pretty composite. On the other hand, we provide you with the most uncomplicated procedure with this program.
1
Reach the Google Docs
Open Google Docs on your Mac, Desktop, or any device that supports this program. To open the concept map creator, you need to bring your browser to the Google Drive of your Gmail account. Go to My Drive, then right-click your mouse to see the program.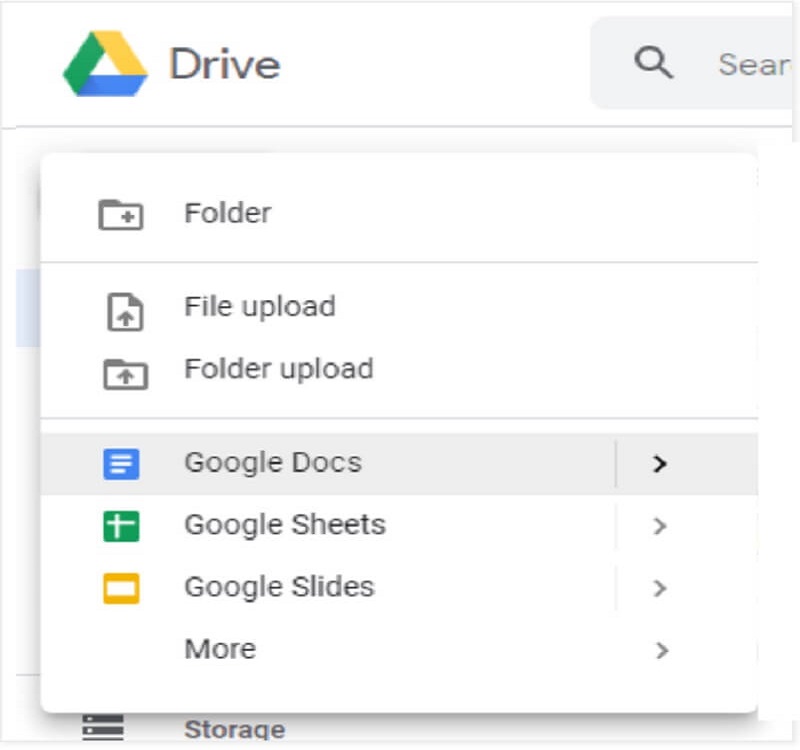 2
Open the Drawing Tool
To make the task easier, use the Drawing tool of this program. Click the Insert tab and choose to hit the Drawing, then the +New tab. A new window will appear, with a blank canvas, where stencils and presets are available.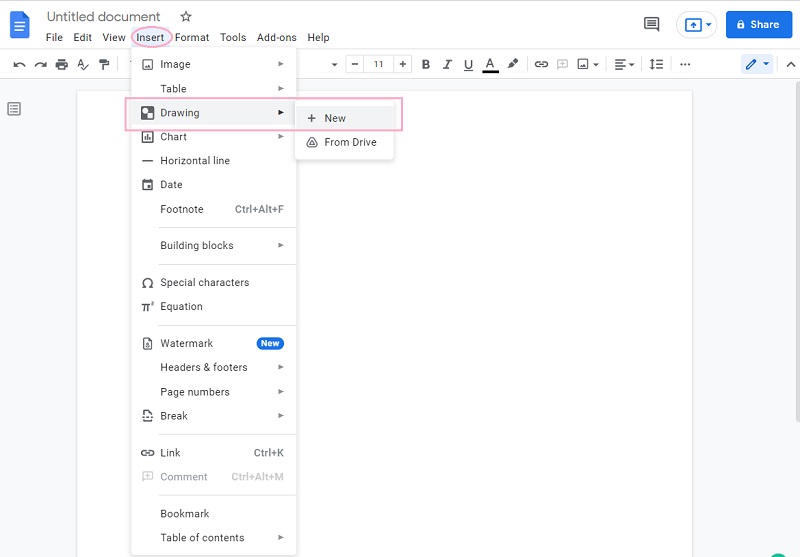 3
Start Making the Concept Map
This is how to create a concept map in Google Docs. You have to start configuring the tools given by the window. Start with adding shapes and arrows on the concept map to represent your ideas and their connections. Then, label the elements you have added.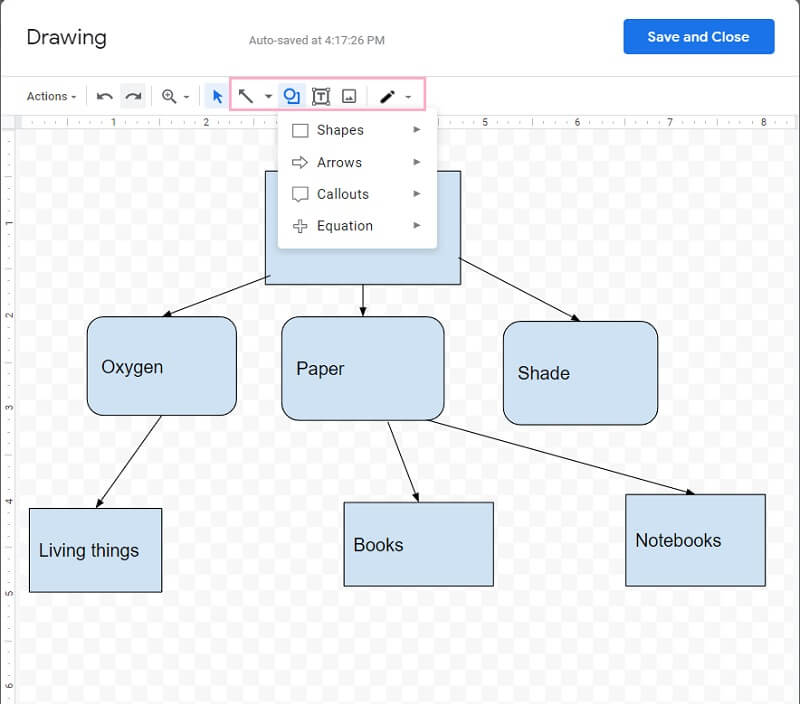 4
Change the Hues
Concept maps are often created without images. However, you can still fill the elements with various colors to make a uniform concept map. To change the color, click on each node, then a section of stencils will appear, and from there, choose a color that will match the idea on the node.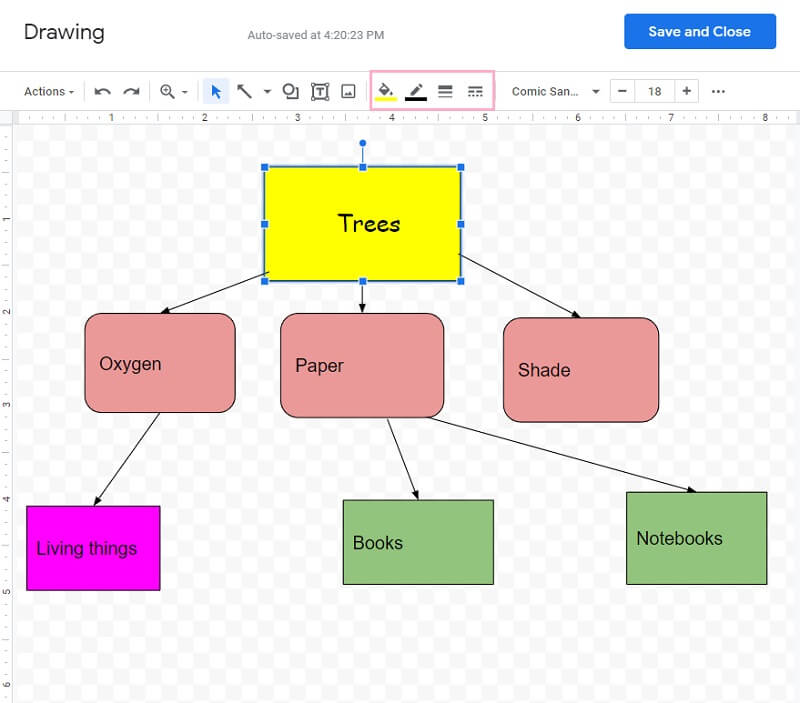 5
Get the Concept Map in Google Docs
Finally, click the Save and Close tab to save it, and that's how you will bring the concept map you created to Google Docs. Then, you will notice that it has already kept the map on your Google Drive.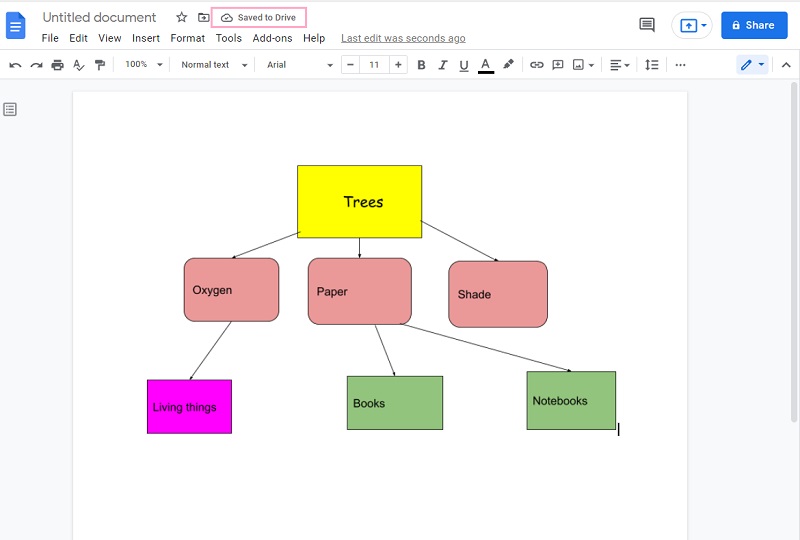 Part 2. An Incomparable Method in Making Concept Map
MindOnMap is the most trusted concept map maker on the web today. Unlike Google Docs, this amazing mind mapping tool creates maps, graphics, and diagrams with the most user-friendly interface. In addition, it enables users to freely share their concept map with their colleagues for collaboration purposes. Not just that, because this remarkable web tool, although it works online, has no Ads at all. For this reason, you will be able to enjoy a smooth concept mapping while enjoying the most straightforward illustration of its features and tools, which is very far from how you make a concept map on Google Docs.
What's more? MindOnMap is very flexible in producing outputs using various formats. Imagine, you can have your concept map in JPG, SVG, Word, PNG, and PDF format! You cannot fathom how great this mapping tool is. Therefore, let's see the detailed guidelines below in making a persuasive concept map in its smoothest way!
1
Go to the Official Website
Visit your browser and go to MindOnMap's official site. Initially, create an account by just logging in using an email account when you click the Create Your Mind Map button.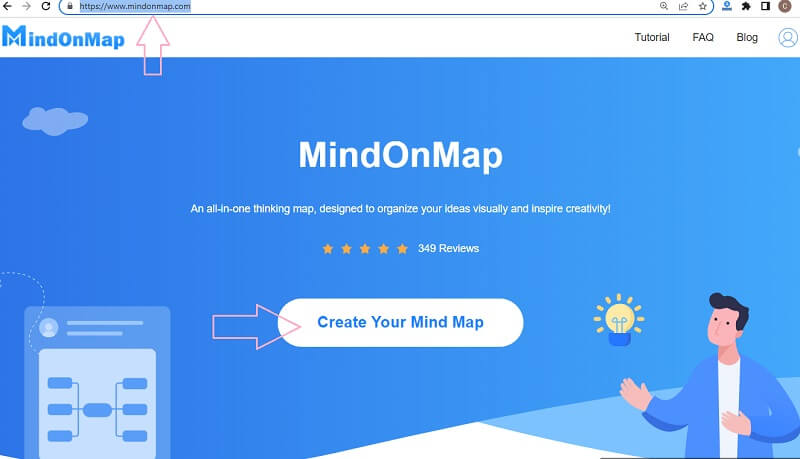 2
Choose a Template
Unlike how Google Docs make the concept map, this amazing tool allows you to choose from many options. Just like on the next page, the moment to hit the New tab, you will be able to choose from the different styles and themes that you like for the concept map. Hence, for today, let's have the one with a theme.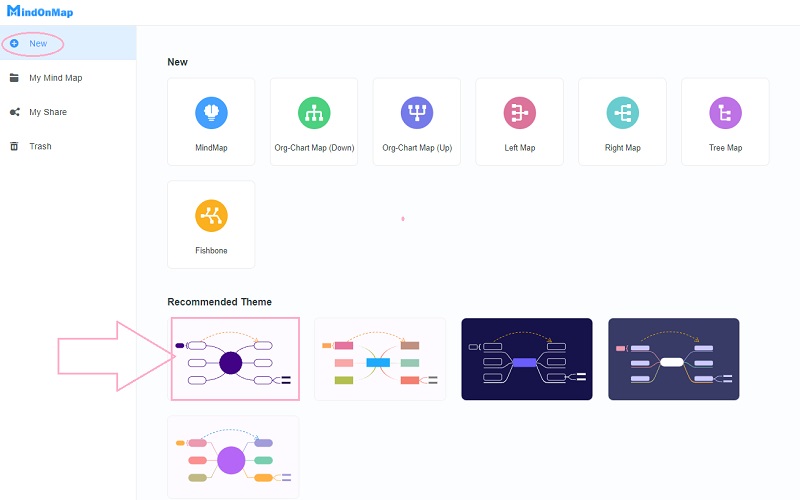 3
Start Making the Concept Map
On the main canvas, start adjusting nodes. If you want to add a node, click the TAB button on your keyboard. Since we chose a themed map, you will only be asked to align the existing nodes to get the formation you want for your concept map.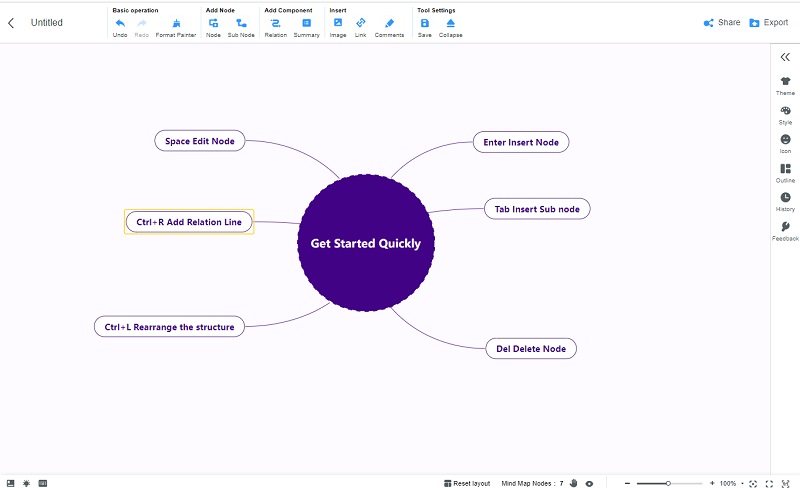 4
Customize the Concept Map
Like how Google Docs creates a concept map, this tool gives you time to show your creativity by customizing your map. Beautify it using the stencils such as colors, icons, shapes, and more. But before that, please name or label the nodes with the details you need on your concept map. Then, follow the additional tips below to beautify it.
4.1. To add icons, click each node and go to the Menu Bar located on the right side of the screen. From there, choose the Icon, and select from the options given.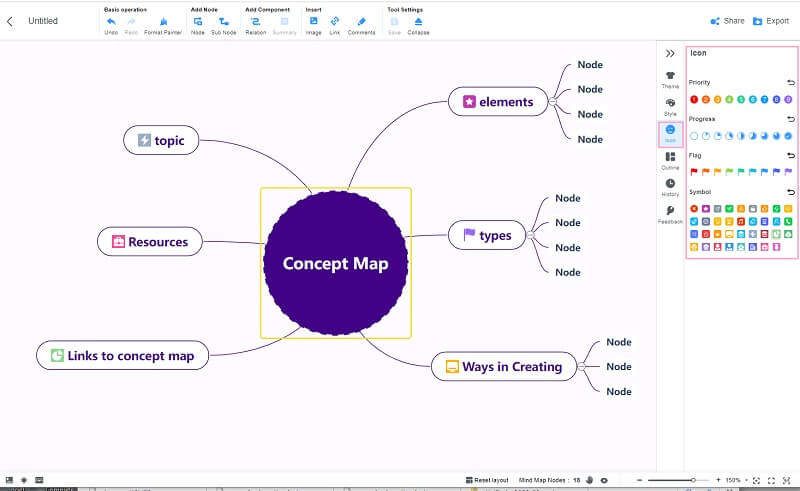 4.2. Try to put a background as well. On the Menu Bar, go to the Theme, then choose the Backdrop. From there, select the most applicable background for your concept map.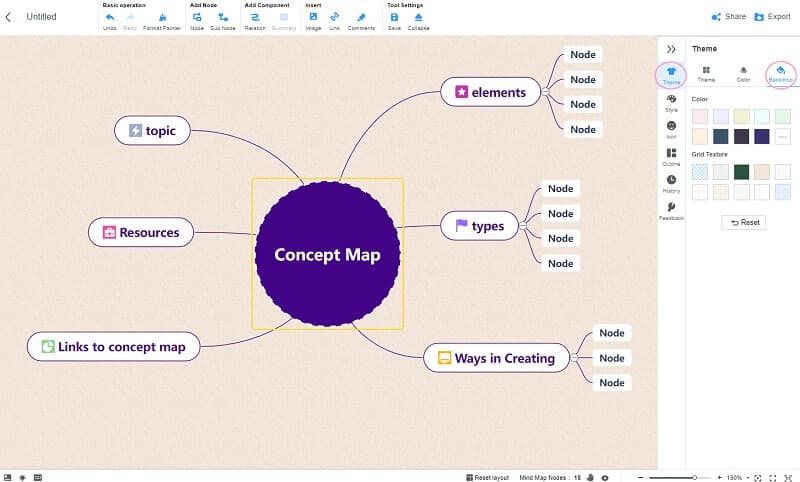 5
Save Your Concept Map
Finally, save the concept map by clicking CTRL + S. Otherwise, if you want to keep the map on your device, click the Export button, then choose from the formats you like. After that, it will immediately download your concept map. Besides, you can make a concept map in Word.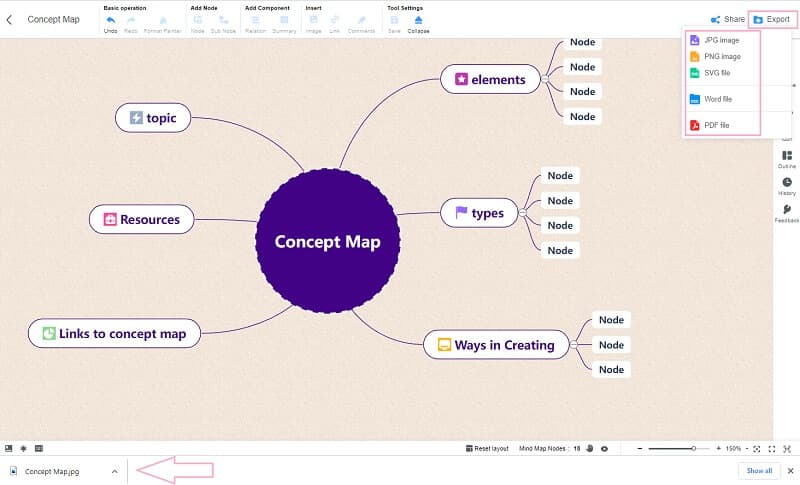 Part 3. FAQs About Concept Map and Google Docs
How to create a concept map in Google Docs without using the Drawing tool?
You should do a concept map, diagram, or even a timeline in Google Docs with the help of its Drawing tool. It is because this Drawing tool is the only way for the users to insert shapes, arrows, and other elements needed on the maps.
Are the flowchart, graphic organizers, table, and Venn diagrams considered concept maps?
Yes. A Concept map is an illustration of a context that can be showcased using a Venn diagram, table, flowcharts, and more.
How does the concept map help the people in business?
A concept map can help people in business understand and conceptualize how the business will succeed.
Conclusion
This article gave comprehensive steps on how to make a concept map on Google Docs. You have seen the advantages and disadvantages of using this program by the steps alone. Hence, we gave you the most reliable and efficient concept map maker, the MindOnMap. We hope that you will find it unique because it really does.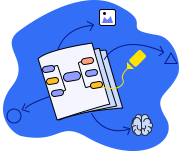 Create Your Mind Map as You Like
Get Started