Family Tree Makers: The Top 8 Free and Paid, Online and Offline Tools You Should Take Note Of
Why do you need a family tree maker? This question probably hits you as you read this article. Years ago, students only made their family tree on a piece of paper or sometimes on a white illustration board. But as time goes by, students are being required to be innovative, so they do not lose the technology trend. This means that since the technology is far much better today than before, the academic field has also been upgraded with standards and the technology being infused.
As a matter of fact, even the literal picture of a tree in presenting your family members has been modified by using cloud-based software, and most family tree creators these days would prefer using it. For this reason, by using an app to make a family tree, one could have a much better image and frame in illustrating his family's ancestral lineage to top the trend. This is why we introduce to you the top-notch software online and offline to make you choose which will give you great features for the task.

Part 1. 3 Best Family Tree Makers on the Web
Not all online tools are cloud-based. Fortunately, the top online family tree makers that we are about to present are so accessible and are deserving of giving credits due to having cloud storage that will let users access and edit their work anytime, anywhere without a hassle. Hence, we now introduce the top online software that you can use to make your family tree captivating.
1. MindOnMap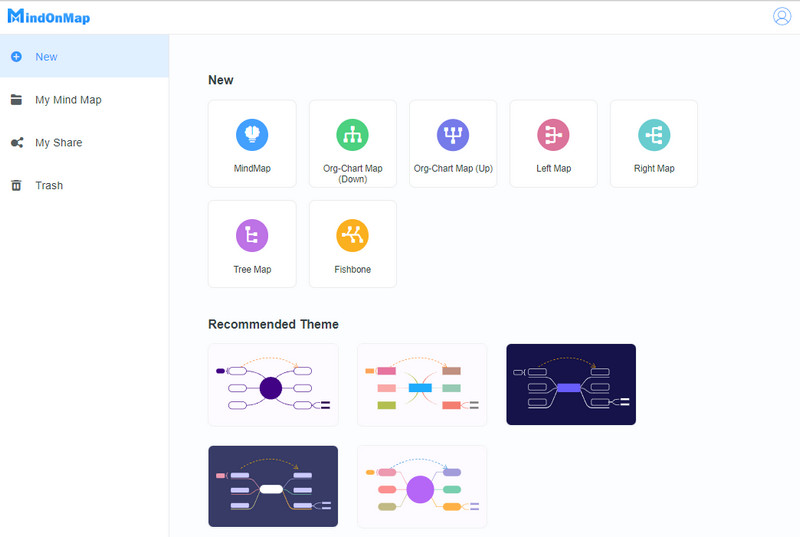 The first stop is this multifunction mind map maker, the MindOnMap. It is one of the most exemplary online programs that users utilize to create undeniably great maps, diagrams, and charts of all kinds. Furthermore, when it comes to storing, MindOnMap can keep a record of your work without compromising the security it gives you from the start, which is why it was also the best family tree maker in 2021. In addition, the stencils, toolbars, and remarkable features it has, won't deny the fact of its ultimacy over others, and yes, all of those things you can enjoy for free! Despite being free, it gives you no track of experiencing bothering ads that can cause a delay in finishing your work quickly!
Price: Free
PROS
It comes with cloud storage.
Offers online collaboration.
The interface is intuitive.
With so many features to enjoy.
Provides multiple formats to your outputs.
CONS
It's an online tool, so you will need the internet to access it.
Can't upload third-party templates.
2. MyHeritage: Family Tree Builder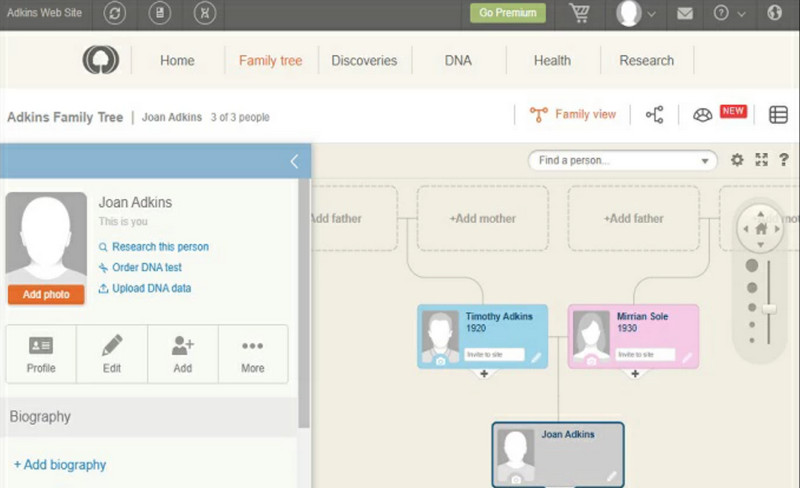 As you see in its name, MyHeritage is an online family tree software that you can use to present your genealogy. Furthermore, this platform has been tagged as one of the most intuitive tools online, for it has a very intuitive interface, just like the first tool we have presented. However, as you try it for the first time, you must register with your account billing information even if you use its trial version. On the other hand, utilizing it to present your heritage will be worth the price, for it gives advanced options such as the Ethnicity Estimate, DNA Matching, and many more.
Price: With a free trial and $15.75 per month.
PROS
With a live portrait feature.
It supports multi-languages.
Comes with advanced features.
It's an accessible and easy-to-use family tree maker.
CONS
Register at your own risk.
With a free download issue on the precious users.
It is dependent on the internet.
3. Ancestry.com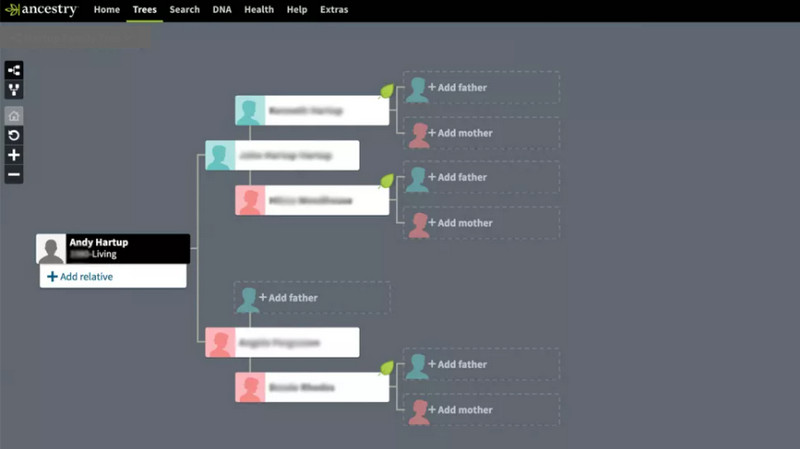 Finally, we have one of the best online tools specializing in family trees, Ancestry.com. Furthermore, just like the previous one, this online platform also generates ancestry matches in which you can record your family members depicted on the leaves. These leaves can be used to create your family tree by simply clicking on them while building your tree. Despite that, it also comes with great features while maintaining its simplicity and ease of navigation. However, you might notice how simple this online family tree maker is. The templates it gives for this specific task are also so simple and basic. But regardless, many still appreciate its simplicity and decency.
Price: With a free trial and $19.99/mos.
PROS
It is straightforward to navigate.
It gives users tips and hints when doing the project.
It loads advanced features such as a matching option.
CONS
The templates it offers are pretty basic.
Minor issues detected by other users.
The subscription is pricey.
Part 2. 5 Desktop Programs to Create Family Tree
If you opt to use an offline tool that you can acquire on your computer device, the following best family tree software will make this option worthy. In addition, in choosing a good tool for creating a family tree, you should consider the full functionality. Although the online apps above are accessible, we can't deny the fact that they are limited. So when it comes to full functionality, desktop software is more recommended.
1. Family Historian 7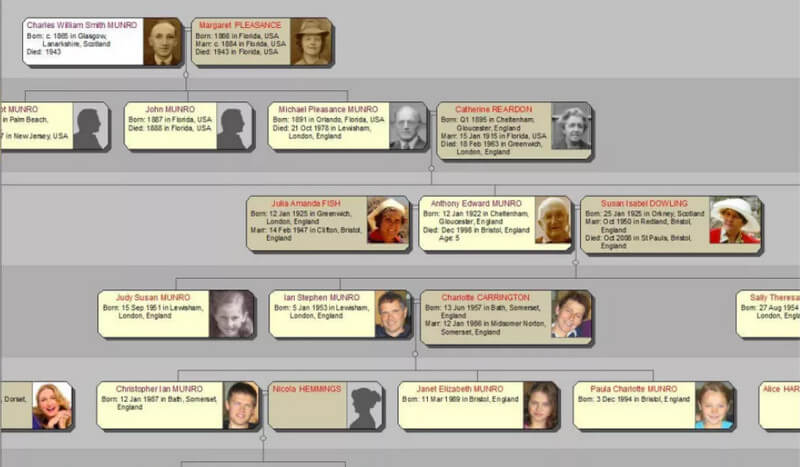 When it comes to genealogy, the Family Historian 7 is one the famous software. Many have tried it and are satisfied with how accurate and flawless it performs in expounding data about families and marriages. Moreover, this powerful software is also known to be a straightforward tool which is shown in its simple interface. This family tree maker for Windows 10 also unites with a web-based database that makes it more powerful. However, just like all, this Family Historian 7 also gives you reasons to avoid it.
Price: With a free trial, $69.95
PROS
It is easy to use.
With intact accuracy.
It comes with multiple formatting, color, size, and font options.
CONS
Old-fashion visuals.
It is not workable on Mac.
2. Legacy Family Tree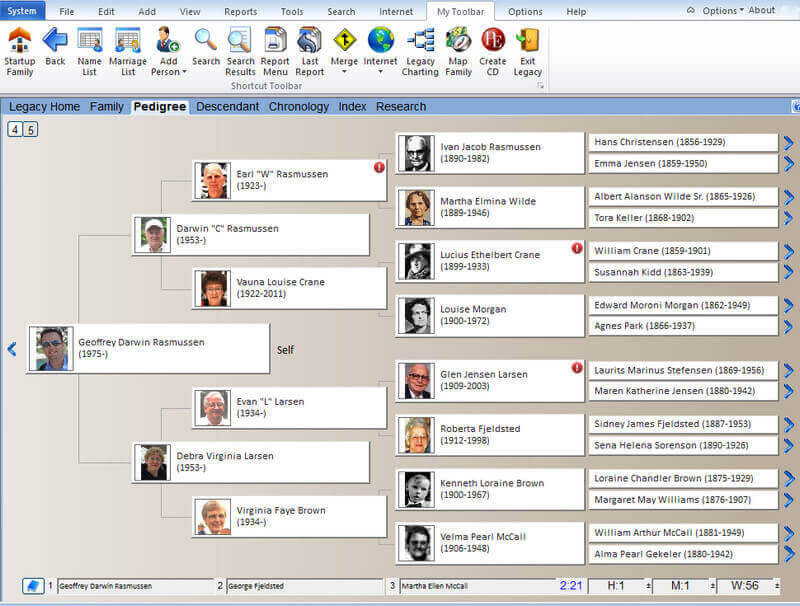 The next of being the most accurate when it comes to GEDCOM tests is this Legacy Family Tree. Yes, as it is written in its name, it is one of the best offline family tree software today. Furthermore, it has a pleasant and straightforward interface that won't overwhelm users when using it. However, unlike the others, you might notice that the simplicity of its interface leads it to look dull and outdated, but regardless, everyone agrees that it is still effective. In addition, it contains good charts, which gives users the control to customize the chats' display.
Price: $26.95
PROS
It comes with great tools for scrapbooking.
It has an intuitive interface.
The perfect software importing GEDCOM files.
CONS
The interface looks old.
It has no redo and an undo option.
3. Mac Family Tree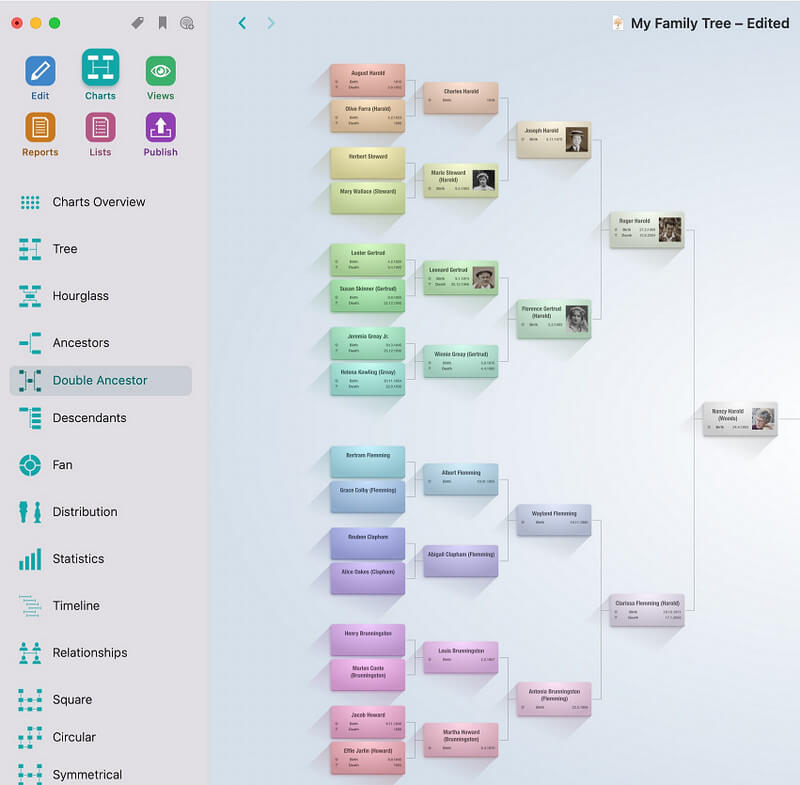 Now presenting you this family tree maker for Mac, as its name suggests, the Mac Family Tree. This software is mostly intended to cater to the latest OS X Yosemite. Like the others, this too is infused with great features and an intuitive interface. However, one drawback that makes the users hesitant to acquire is its steep price. As a matter of fact, it doubles the cost of other software with the same purpose. Nevertheless, everyone must agree on how fully functional this software is despite having drawbacks that make it less priority by the users.
Price: $49.00, but with a free trial.
PROS
It is easy and fast to use.
This family tree maker is easy to install.
It is infused with beautiful stencils.
It is packed with great features.
CONS
It is pretty expensive.
Not applicable on Windows.
The free trial can't save and print the project.
4. Ancestral Quest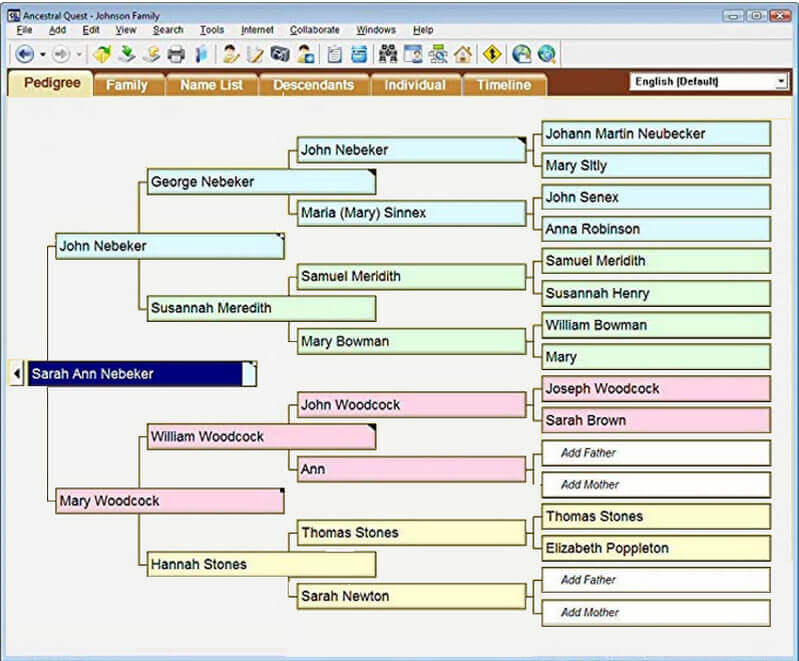 Ancestral Quest is another full-featured software to use on this task. It is also compatible with GEDCOM files and comes with various charts relating to making a family tree, just like timelines, fan charts, ancestry charts, family group sheets, and many more. In addition, it is also capable of editing numerous databases and has excellent options on languages, stencils, and themes. However, it lacks advanced features in sourcing and tracking assistance. Also, if you want to enjoy its annotated and themed charts, you must upgrade to the premium package of this family tree maker from its free version.
Price: free trial, $19.95, $29.95, and $34.95, depending on the category.
PROS
It comes with hundreds of templates.
It is compatible with GEDCOM.
It allows users to record DNA tests.
It marks the confidentiality of family members.
CONS
It works only on Windows.
It is not that easy to install.
The free version has minimal features.
5. GenoPro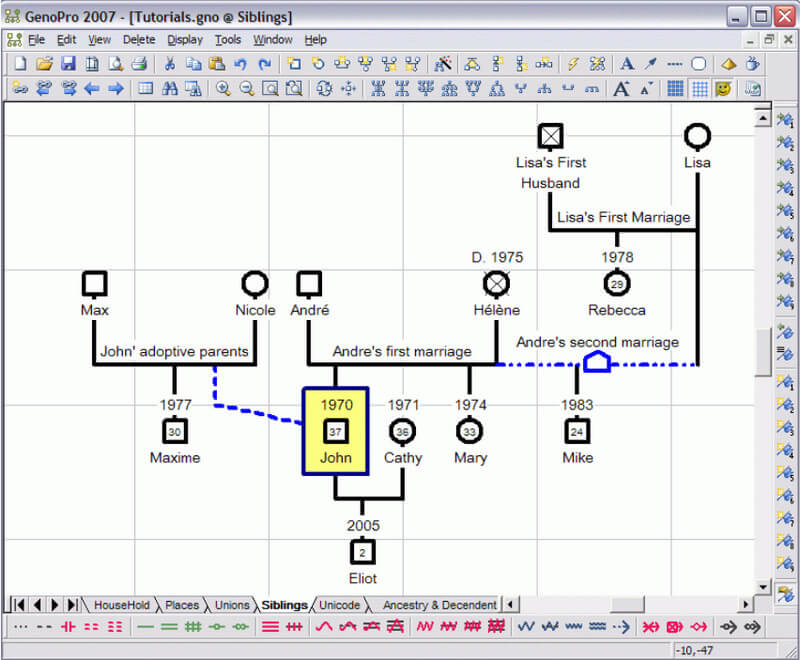 Last but surely not least is the GenoPro. This software is widely known to professionals and other sectors. As a matter of fact, they use GenoPro even in their line of work. Meanwhile, you will enjoy the interface this family tree creator has, for it makes the users at ease while using it due to its drag and drop procedure. However, this is not enough to label it an easy-to-use software because many users still find it complex. Nevertheless, it can add images and create photo albums.
Price: Free trial, $49.00 up to $395.00 for an unlimited site license.
PROS
It allows a broad mapped family tree.
It comes with customizable symbols.
GEDCOM compatible.
CONS
It is not that easy to use.
The premium packages are costly.
Part 3. FAQs Regarding Family Tree Makers
What is the best family tree maker app?
Among the presented tools above, MindOnMap and MyHeritage are the best apps you can use on your mobile devices.
Are the Family tree and Genogram makers the same?
Yes. You can also use makers of the family tree in making genograms. This is because genograms and family trees have the same structure, but they are different regarding purpose.
Can I make a family tree without using a tree as an illustration?
Of course, you can. Unlike before, making a family tree nowadays follows the innovative software procedure. So, as long as you can present well and show the connection of the family members, it doesn't matter what illustration you use.
Conclusion
To wrap this up, all the family tree makers shown here are indeed great with outstanding features. Brace yourself as you decide which among them you think can give you everything you need. In choosing, go for the one that will be multifunctional for you. Otherwise, you will look for another tool for a different task. And we recommend an easy-to-use tool - MindOnMap.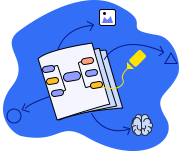 Create Your Mind Map as You Like