The Perfect Guidelines on How to Make a Mind Map in Photoshop: Give Yourself a Try!
Can you really make a mind map in Photoshop? Well, Photoshop is renowned software that professionally edits graphical images developed by Adobe Inc. Furthermore, as time goes by, users have addressed this powerful raster graphics editor as one of the iconic photo manipulating tools. On the other hand, this program has been a tool helping educators and students in E-Learning, particularly in mind mapping. In fact, one of its functions under layout is mind mapping. Hence, Photoshop can use downloadable templates for a mind map that can help learners in creating and finishing one easily.
However, is this software really worth the try in mind mapping? This we will tackle as you continue reading the content below. In addition, for the benefit of the doubt, we will show you the perfect guidelines on how to use Photoshop in building or transforming your ideas into visuals.

Part 1. Detailed Steps on How to Make a Mind Map Using Photoshop
To reiterate, Adobe Photoshop can create a mind map as part of its layout functions. For this reason, many have pondered on utilizing it, for we know how laborious and confusing this program is, especially for beginners. But in all fairness, this program has become one of the photo editing tools that turns newbies into professionals. We could not deny the potency of this software when it comes to photo editing. On the contrary, is it also worth your time in mind mapping? You can find it out by reviewing the complete guidelines for creating a mind map using various templates below.
PROS
It is a popular tool.
Flexible.
Professional.
CONS
Pricey.
Cumbersome to use.
Downloadable.
Difficult to install.
1
Launch the Program
Prior to the guidelines on how to make a mind map in Photoshop, we assume that you have already downloaded and installed the tool. Launch it and start navigating it.
2
Resizing the Canva
On the main interface, click CTRL + N to see a window tab where you can resize the canvas. On the right part of the popped-up window, adjust the Width and the Height for your canvas, and click the Create button afterward.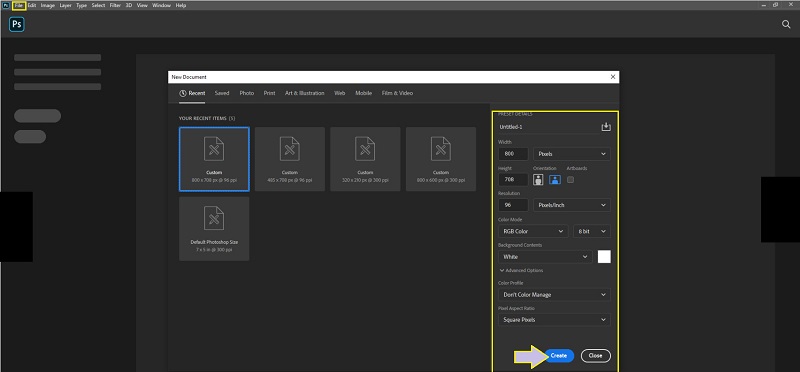 3
Import the Template
From the main interface, hit the File tab and choose Open. Once clicked, a window tab will appear where you can choose your downloaded template and upload it to the canvas.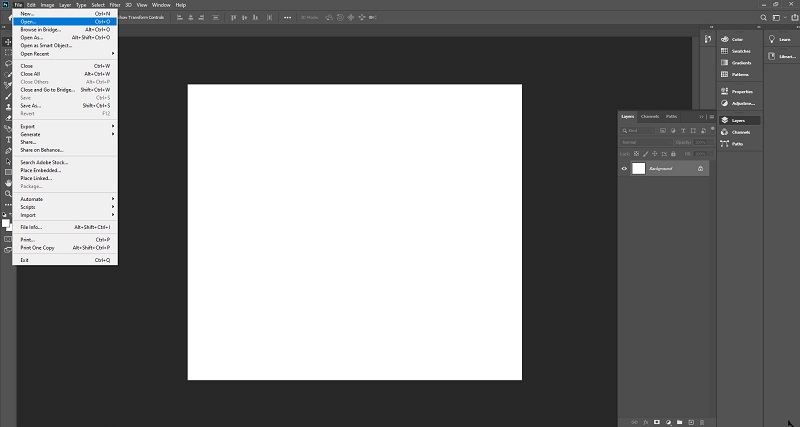 4
Label the Elements
Start labeling the elements and figures of your Photoshop mind map template based on your topic. To do so, click the T icon from the menu bar to initiate adding text. After adding the text, click the check icon.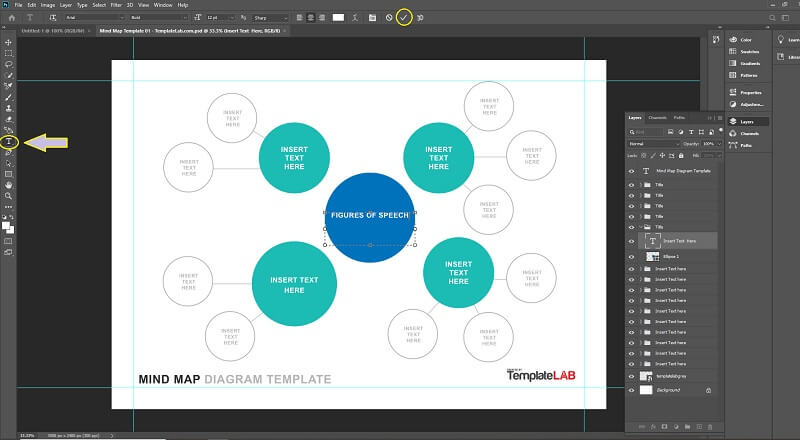 5
Adjusting Elements
Go to the layer tab, where you will see different folders. From there, edit your map's theme, colors, and fonts. Also, you can see multiple effects in there that you can use to beautify your map.
6
Save the Map
Finally, you can save the map by going to File, then Save As. And from the popped-up tab, choose Save On your Computer, a window tab will appear, and there you choose a format for your output, then click Save of the Adobe photoshop mind map.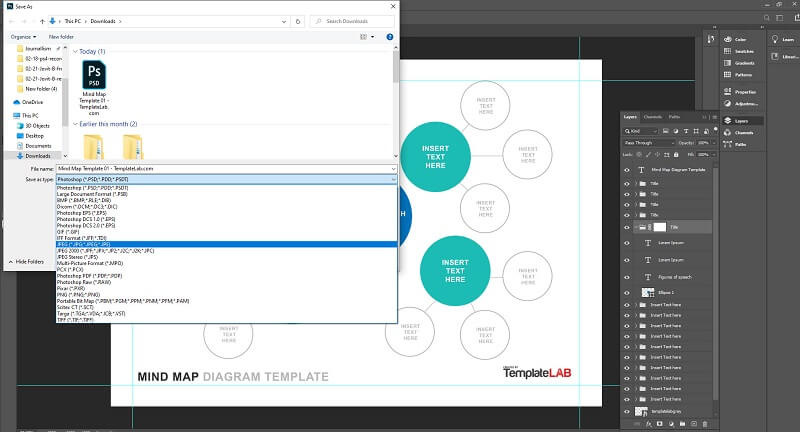 Part 2. The Best Alternatives of Photoshop In Making a Mind Map Conveniently
We all agree here that Photoshop gives perplexing procedures, so why not use the purposive tools for mind mapping? In this part, you will be introduced to the best mind mapping creators that will definitely give you the most convenient ways to create one.
1. MindOnMap
Here comes the best among all the mind map makers in town, the MindOnMap. This online mind map maker has the most intuitive and simplest interface a user can have. Furthermore, it enables you to create professional-like mind maps like Photoshop instantly. Imagine in just a few ticks of your mouse, and you can get all you want for your project! From the beautiful themes, thousands of colors, icons, shapes, and font styles you can use. Also, it allows you to access and add images of your own unlimitedly. So, what are you waiting for? Grab your cursor now, open your browser, and follow the detailed steps below!
PROS
Unlike Photoshop, this mind map tool is free.
Easy to use.
No need to download anything.
For professionals and beginners.
Offer tons of features and presets.
1
Sign in Your Account
On the official website of MindOnMap, hit the Create Your Map tab, and log in using your email account for free!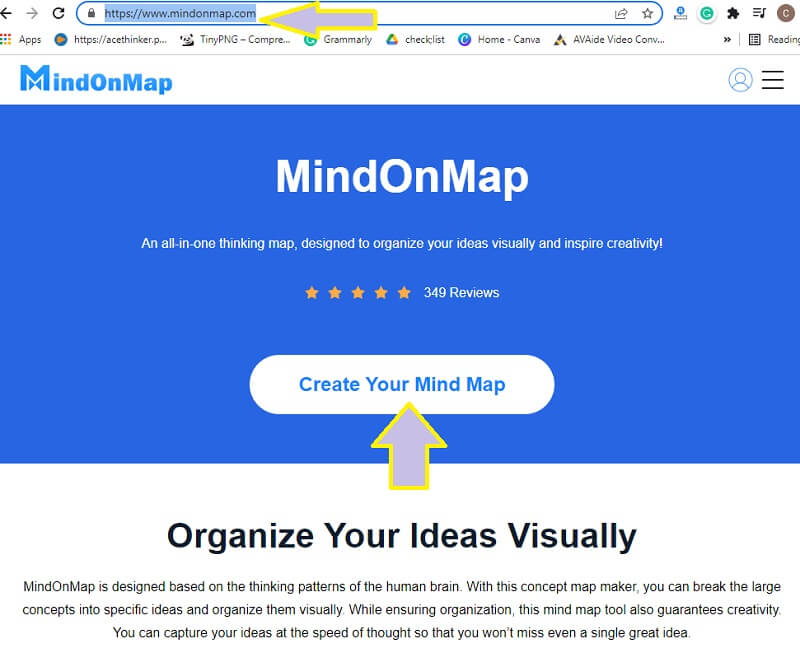 2
Initiate Template
Just like Photoshop, choose a mind map template once you hit the New tab from the interface. Also, as you will see, there are also different styles to choose from, but let us use one from the Themes today.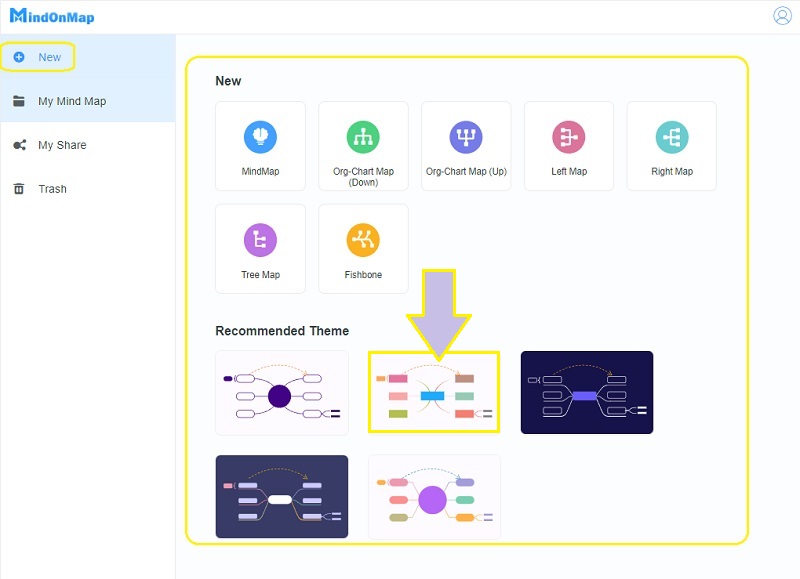 3
Import the Template
Upon entering the main canvas, you will see the Hotkeys about adding nodes to the map itself. This time, just double click the node and name it according to your topic, start on your primary subject.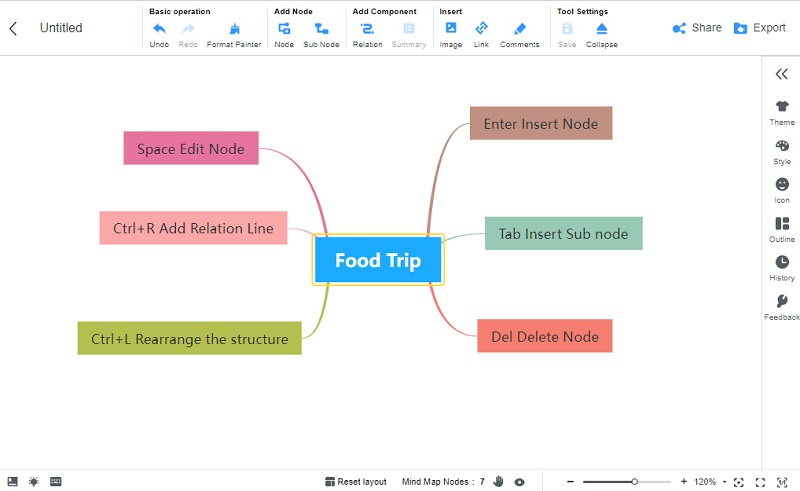 4
Add Images
It wouldn't be a mind map without an image. Therefore, add photos on the nodes by going to the Insert. Click Image, then Insert Image. This time, unlike Photoshop, the mind map can have the background to make your map look fancier. Just go to the Menu Bar, then click theme>Backdrop.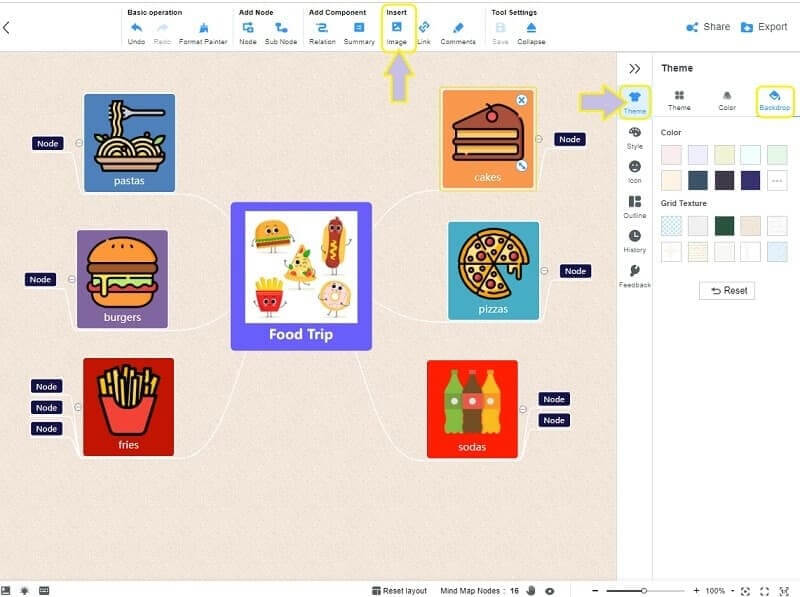 5
Rename and Share the Map
This time, we encourage you to make a title for your map and try to share it with your friends. How? Click the Share button and customize the details on the window tab.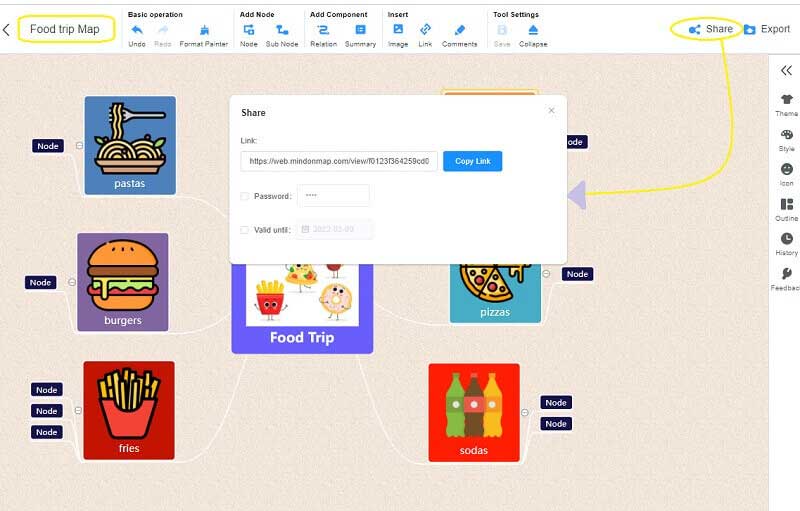 6
Export the Map
Finally, you can export the map to have a copy on your device. Just hit the Export button next to share, then choose your preferred format.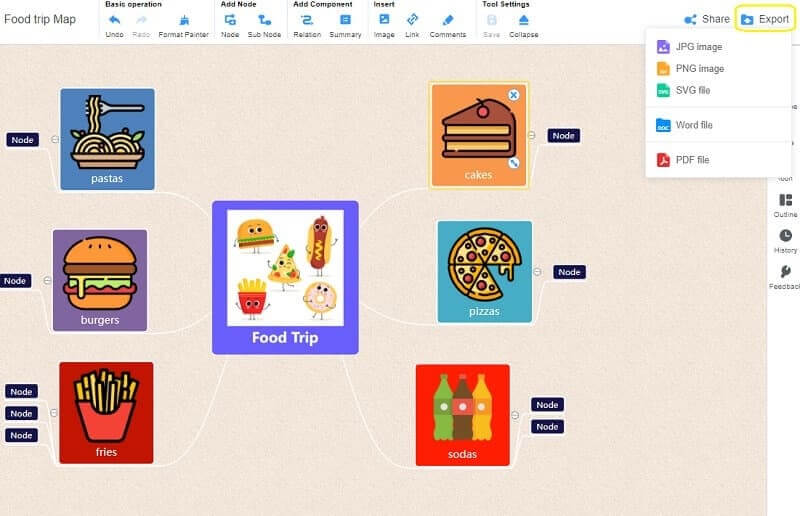 2. Whimsical
Another good alternative to Photoshop is this Whimsical, another free mind map software that creates wonderful mind maps, diagrams, charts, etc. Furthermore, Whimsical also allows users to collaborate with their friends, enabling their digital collaboration. In addition, just like the MindOnMap, this too gives the most straightforward interface that beginners love. Everyone must agree to the wonders of this tool. However, unlike the previous online tool, Whimsical could not give its users a totally free service, although it gives them the chance to avail themselves of its free trial version similar to Adobe Photoshop in making mind maps.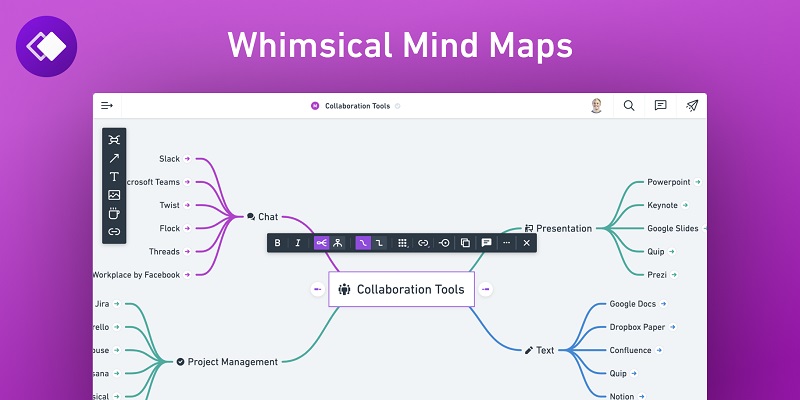 PROS
Easy to use.
For all types of users.
Offer multiple features.
CONS
Internet-dependent.
Not completely free.
Part 3. FAQs Regarding Photoshop and Mind Mapping
How much will it cost me to acquire Adobe Photoshop?
One of its best deals will cost you $19.99 per month.
Can I still make mind maps using Adobe Photoshop for free?
Yes. Adobe Photoshop is giving its first-time users a one-month free trial. Therefore, you can still use this program in creating mind maps for free.
Can I make a mind map in Photoshop using my mobile device?
Yes. Photoshop offers an application for mobile devices, and you can also use it for mind mapping but with minimal features.
Conclusion
There you have it, the detailed steps in creating mind maps with Photoshop that are worth the try. However, as you see, some tools will give you a more convenient way. So, if you are confused about what to use right now, we highly recommend you to go for MindOnMap, and unleash your creativity in you in the easiest way!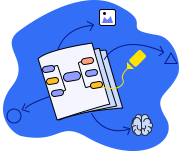 Create Your Mind Map as You Like
Get Started