Top 5 Leading Free Alternatives to Visio You Should Master
Ranging from essential to complex diagrams, there is no denying that Microsoft Visio may accomplish it. It is a robust tool especially for creating and designing visual representations for your business or study needs. Visio comes with all the necessary features and functions to help with building professional-looking diagrams. In addition, it hosts an extensive library of shapes, elements, and templates for detailed charts and illustrations.
The tradeoff is that it does not have a Mac counterpart. It does not offer support to mobile devices. Furthermore, many users find this app expensive. Therefore, this post collated the hot Microsoft Visio alternative picks. Learn further about these tools by reading below.

Part 1. Brief Review of Visio
Microsoft Visio is a vector and diagram graphics application that you can use to map out flowcharts, floor plans, network diagrams, pivot diagrams, etc. Using this program, you can access shapes adhering to diagrams you wish to create. For instance, if you choose to make a flowchart, Visio will provide the flowchart shapes you will need for making one. Additionally, you can modify the look and feel of the diagram along with the theme of your diagram. The best of all is that it comes with an auto-align feature to ensure all the shapes are aligned and spaced correctly. Here are some other features you should look forward to in Visio.
Major Features Offered in Microsoft Visio:
◆ It allows for collaboration and sharing of diagrams.
◆ Create a new diagram from data (import data from Excel).
◆ Deliver the diagram as a presentation using the Presentation Mode feature.
◆ More themes and variants are available.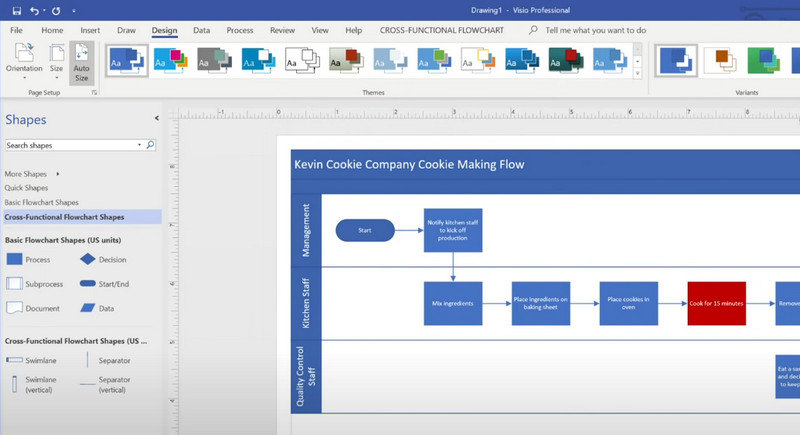 Part 2. Best 4 Alternatives to Visio
There will be a case where the feature you need is not available in Visio. Moreover, you may find Visio very expensive, yet the features and functions are almost the same as an alternative. Explore the best free alternative to Microsoft Visio. Here we curated a list of programs in replacement for Visio. Continue reading to get the necessary information.
1. MindOnMap
First, we have MindOnMap. It is a free web-based diagramming tool that you can use in place for Visio. The tool can compete with Microsoft Visio owing to its premium features. Through sharing your work with others, you can consider it a collaborative program. Moreover, it provides shapes, templates, and layouts to develop comprehensive and stylish diagrams. Also, you can use this online Visio alternative to modify the text color, node color, size, border thickness, etc.
In the case of big and extended diagrams, you can quickly locate and select the node you wish to edit using the Outline option offered by the tool. Meanwhile, if you are interested in changing the background of your work to fit your requirements, the tool provides various backdrops, ranging from plain colors to grid themes.
PROS
Automatic saving to avoid data loss.
It exports projects in various formats, such as PNG, JPG, Word, and SVG.
It works with all mainstream browsers.
Easy sharing of projects for idea collision.
Add unique icons to personalize maps.
CONS
It requires an internet connection.
You cannot work with others remotely.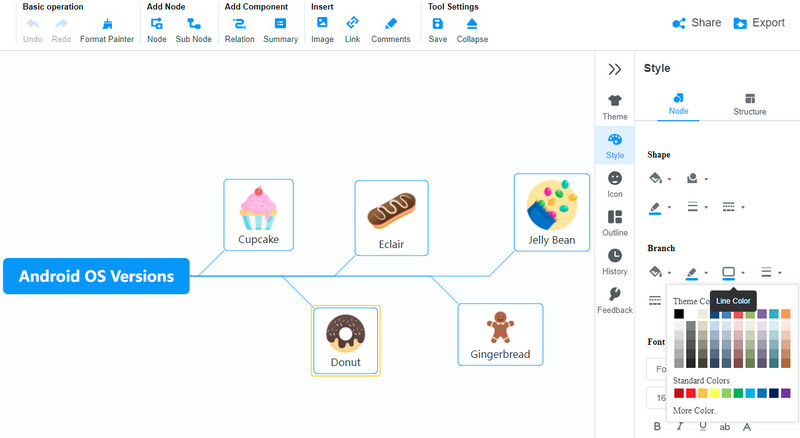 2. Creately
Designed for project and task management, you can unleash your creativity with Creately. What is remarkable about this tool is you can go to a higher-level view using the @mention feature to link to other docs. Furthermore, it comes with real-time collaboration, allowing you to work with others no matter how far apart you are from each other. It is as if you are working in the same room. It is a decent Microsoft Office Visio alternative choice for creating flowcharts and diagrams.
PROS
Create diagrams from templates to save time.
It offers 2-way links to data and documents.
Data-driven documents are possible.
CONS
Added features are available in the premium version.
Occasional graphical glitch.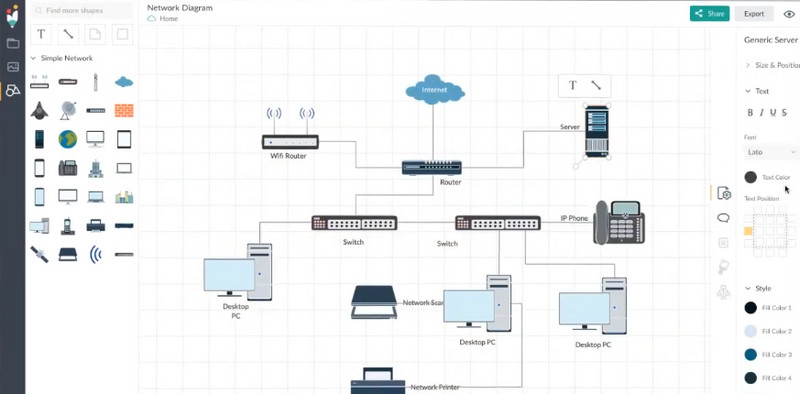 3. SmartDraw
You can also use SmartDraw instead of Visio to make flowcharts and diagrams. This software program is available on various platforms, including Windows, Mac, iPad, and Web. Similarly, it comes with different templates that are highly customizable and can be downloaded for free. On top of that, you may use it to import and open files from Microsoft Visio. In addition, it is compatible with MS office Google Workspace and Atlassian applications for integration.
PROS
Compatible with computers and tablets.
Extensive library of templates.
It allows access to thousands of symbols.
CONS
The sidebar navigation is difficult to navigate.
The autosave function is not working well most of the time.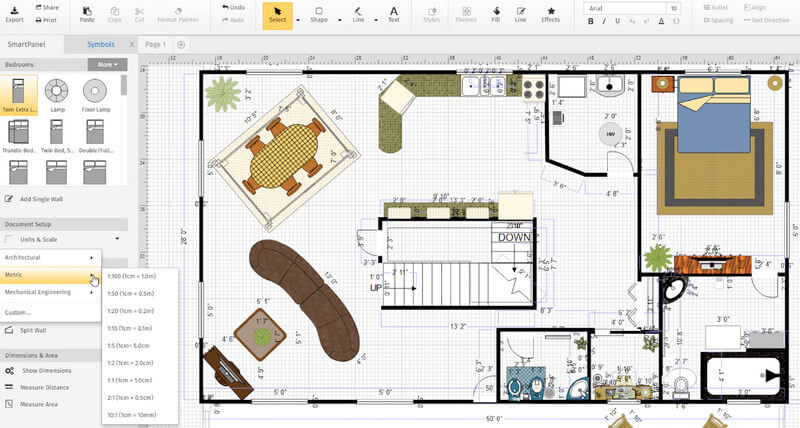 4. Lucidchart
The last program you should consider as an alternative software for Visio is Lucidchart. It is a diagram-making utility with a sleek and straightforward editing panel. With this program, you can use drag-and-drop shapes to quickly build network diagrams and process maps. There are hundreds of shapes designed to meet the standards of different industries. It works on the web and runs on macOS and Windows systems, which means you utilize it as a Microsoft Visio alternative for Mac for free. More importantly, it can integrate with several productivity tools, like Google Drive, Confluence, Jira, Jive, and Google applications.
PROS
Work on your projects across various platforms.
It provides user account management and adds a layer of security.
Productivity apps integration is available.
CONS
Integration with other tools is somewhat limited.
Lucidspark could have been included inside Lucidchart.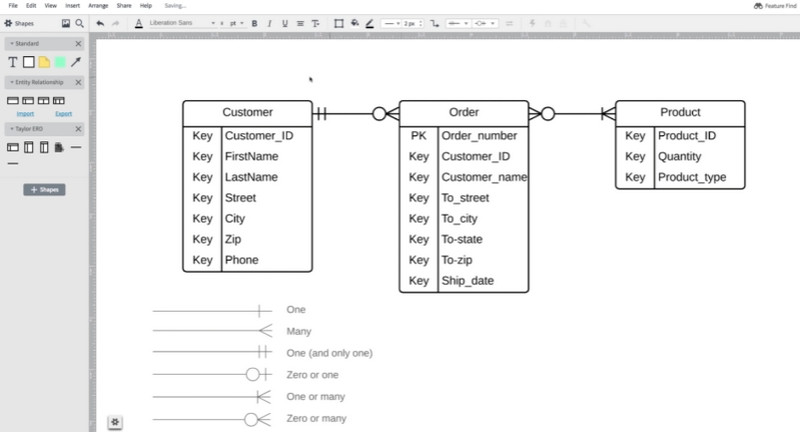 Part 3. Comparison of the Programs
To assist you in choosing which alternative is best for creating diagrams and charts, you may refer to the comparison chart below.
| | | | |
| --- | --- | --- | --- |
| Alternative Tools | Supported Platform | Unlimited Features | Paid or Free |
| Microsoft Visio | Web, Mac, iPad | Unlimited feature are accessible in the premium version | Paid app |
| MindOnMap | Web and Mac or Windows online | Everything is free and unlimited | Free app |
| Creately | Web, Windows, and Mac | Unlimited feature are accessible in the premium version | Paid; Offers free version |
| SmartDraw | Web, Windows, and Mac | Unlimited feature are accessible in the premium version | Paid; Offers free version |
| Lucidchart | Web, Windows, and Mac | Unlimited feature are accessible in the premium version | Paid; Offers free version |
Part 4. FAQs About Visio
Is there an available open-source Visio alternative?
Yes. One of the free and open-source programs you can have is Dia Diagram Editor. Interestingly, it comes with many advanced features and is helpful for both non-tech and tech-savvy people.
Can I use Google Docs as a Visio alternative?
Google Docs may create and build simple diagrams. However, it lacks the necessary features like graphs and charts customization options.
Is there a good Visio iPad alternative?
Yes. Since Lucidchart offers a mobile version supporting the iPad, you can use it instead of Microsoft Visio.
What is an excellent Microsoft Visio Google alternative?
You can use Google Docs or online tools, such as those mentioned in this post.
Conclusion
Those are some of the great Visio alternative tools for building and developing diagrams or charts. We also provided a table to compare each program for your convenience. On the other hand, you can try them out to test which program best fits you. Meanwhile, if you are looking for an application that provides unlimited access to features and functions for free, look no further than MindOnMap.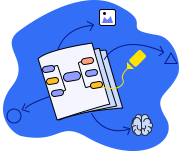 Create Your Mind Map as You Like